DICK'S Sporting Goods Employs 100+ Team USA Athletes In USOC ACE Program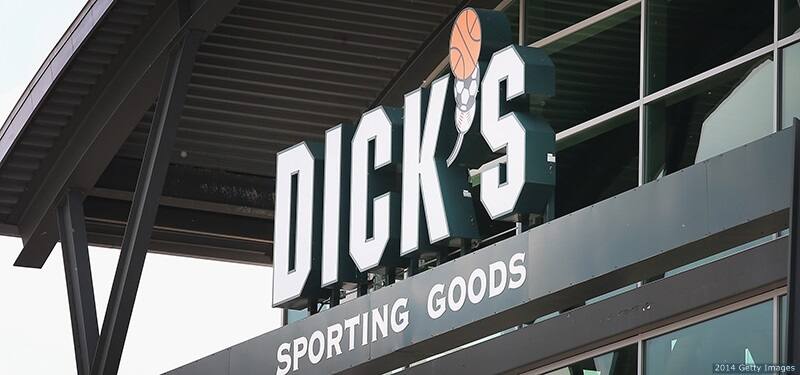 Over her long career in track and field, Liz Podominick has learned the fine art of job juggling.
As an Olympic-hopeful discus thrower — she was second in the 2014 U.S. outdoor championships — Podominick has churned through a series of jobs to help support herself while training.
Often they haven't worked out as well as she'd hoped.
"I've been in jobs," she said, "where they say we're flexible and super excited, and then when it comes to the reality of it, when they find out, 'Oh, you're going to be gone a lot,' that's when a lot of the issues come up, and then you don't really have a job."
Podominick, a former Big Ten champion in the discus and shot put at Minnesota, laughs when she talks about the employment pitfalls she's encountered. She's been looking for the right fit for a long time.
Finally, she's found it.
Podominick recently was hired by DICK'S Sporting Goods as part of the company's sponsorship of the United States Olympic Committee. She's one of 100 Olympic and Paralympic athletes and hopefuls hired by DICK'S since the sponsorship was announced in February. The company is providing those athletes with the support they need through jobs with the flexible work schedules required to balance with training, travel and competition.
Podominick works in the company's El Cajon, California, store, helping in apparel. She's working 12 to 15 hours per week and said the job has been exactly what she needs. Just after starting, for example, she needed time off to shoot a promotional video.
"They're like, 'OK, that's fine. Just let us know,'" she said. "If you ever have to make some changes, it seems like they're really flexible. I haven't had any issues. That's really rare."


Shared Values
The sponsorship designates DICK'S Sporting Goods as the official retail sporting goods sponsor of Team USA. The company will provide jobs for athletes under its Team USA Store Ambassador Program.
The company just passed the century mark for athlete ambassadors hired. They're working in 58 stores across 25 states and include men and women from 30 Olympic or Paralympic sports.
"Supporting the Olympic and Paralympic movements aligns with our company's core belief that sports make people better," said Dave Natale, director of sports and event marketing for DICK'S Sporting Goods. "As a longtime supporter of amateur athletics, we are supremely proud to support Team USA hopefuls."
"The character traits these athletes show are examples to us all that the hard work, dedication and perseverance that sports promotes pay dividends both on and off the field. At DICK'S our daily commitment is to help athletes achieve their personal best, and we will be there to support them during their Olympic and Paralympic journeys."
Allysa Seely, who recently won the gold medal at the ITU Elite Paratriathlon World Championships in Chicago, is another athlete grateful for the opportunity DICK'S has provided. She admits her schedule can be "crazy" and can be difficult to mesh with what employers require.
"I have had some amazing jobs that I loved, but they didn't understand or were not able to accommodate the time I needed off for traveling to races or the weird hours required so I could accomplish all my training goals," said Seely, who works as a footwear specialist at the DICK'S store in Scottsdale, Arizona.
The job, she said, allows her "to support my dream of being in Rio" while providing flexibility. She said many people she meets don't understand that U.S. Olympic and Paralympic hopefuls need to work to help support themselves. She said a program like this one is necessary.
"It is hard to get the most out of every training session if you are constantly trying to fit workouts in around work schedules, meetings and other responsibilities or over lunch breaks and worrying about if or if not you will be able to get the time off for important races," she said. "It can become quite stressful."


Sharing With Customers
Podominick, who lives and trains at the U.S. Olympic Training Center in Chula Vista, California, said several other athletes work at her El Cajon store. She said it's fun for the athletes to talk about their sports careers with their coworkers and customers.
"They're always coming up and asking us questions and sharing their sports stories," she said.
She figures that the longer she works at her store, the more questions she'll get — especially when she wears DICK'S Sporting Goods T-shirts that carry the slogan, "Grit Before Gold," that go with its USOC marketing program.
"I think that might open up conversation," she said. "And I am a tall person, a 6-foot-1, athletic, muscular woman, so I kind of stand out. 'Oh, are you an athlete?' I'm like, 'Yep.' So I have had a few questions already."
Natale, too, said the athletes are terrific representatives for DICK'S Sporting Goods.
"We've heard many stories of how customers have enjoyed getting advice and being helped by an elite athlete," he said. "We also have seen the inspiration they have provided to other DICK'S associates as well."
Doug Williams covered three Olympic Games for two Southern California newspapers and was the Olympic editor for the San Diego Union-Tribune. He has written for TeamUSA.org since 2011 as a freelance contributor on behalf of Red Line Editorial, Inc