Athlete Career Education Summit Helps Team USA Athletes Plan For Their Future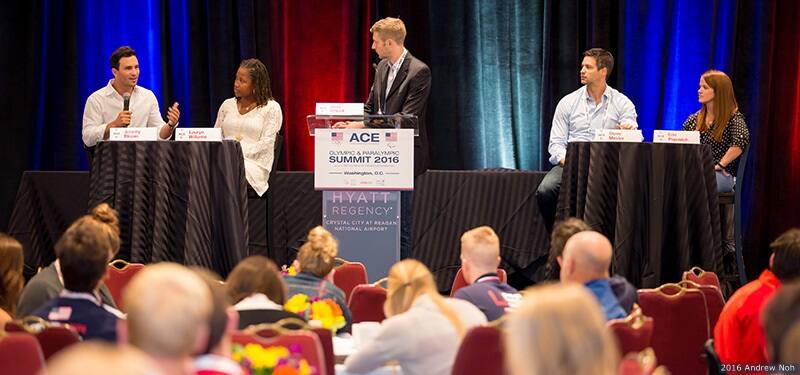 (L-R) Jeremy Bloom, Lauryn Williams, Steve Mesler and Erin Popovich speak on a panel moderated by Joey Cheek at the 2016 Olympic & Paralympic Athlete Career Education Summit presented by The Foundation for Global Sports Development on Sept. 30, 2016 in Arlington, Va.

ARLINGTON, Va. — Since hanging up his bobsled spikes six years ago, three-time Olympian and Olympic champion Steve Mesler has dedicated much of his time to Classroom Champions, an international education organization he founded and leads which connects Olympians, Paralympians and hopefuls with students in high-need schools. But earlier this month, he helped champions recognize their potential in a different kind of classroom: the 2016 Olympic & Paralympic Athlete Career Education (ACE) Summit, where he spoke to his fellow Team USA athletes about planning for life outside sport.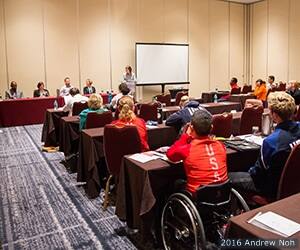 The ACE Summit, presented by The Foundation for Global Sports Development, was a three-day program designed to provide Team USA athletes with tangible and actionable resources for career and life, both during and after competition. More than 200 members of the 2016 U.S. Olympic and Paralympic teams participated in workshops, sat in on seminars and networked with a group of business professionals and retired athletes who were there to advise Team USA on life post-Games.
While Mesler, also a member of the United States Olympic Committee board of directors, might seem like a shining example of finding success off the field of play, he admits the transition was far from easy.
"It was something that I struggled with," said Mesler, who spoke on a panel with fellow retired athletes turned business professionals Jeremy Bloom (freestyle skiing), Erin Popovich (Paralympic swimming) and Lauryn Williams (bobsled, track and field).
"I've had so many athletes come up and ask me what it was like, how it felt after my last Olympics and how I am doing the things I'm doing now. To have those conversations and for them to actually hear it from another fellow athlete, I think it makes it real for them."
The concept of an athlete summit was revived after the Sochi 2014 Olympic Winter Games following an eight-year hiatus, and ACE now has plans to organize the program after every Olympic and Paralympic Games.
In addition to presentations on public speaking, networking and fiscal responsibilities, the athletes were gifted business cards and treated to headshots taken by a professional photographer.
Another resource for the athletes will be the new platform that the USOC launched at TeamUSA.org/ACE in July.
"There, athletes can access all the education scholarships (through DeVry University) and jobs that are available," said Leslie Klein, the USOC's director of athlete career and education services. "One goal for the program is to have athletes understand what's out there and available to them year-round."
Adecco, the largest staffing agency in the world, was also on hand to help athletes find jobs that will work with them and their hectic schedules. Gary Janas, who runs staffing and operations, admitted to being excited when presented with the opportunity to partner with the USOC's ACE program. "I jumped at the chance," he said. "The athletes were equally excited — two Olympians even got the idea to divide up the seminars and trade notes after."
Mariya Koroleva, a two-time Olympic synchronized swimmer who retired after Rio, chose to sit in on a social media session and a workshop on how to find your professional personality.
"I'm transitioning out of the athlete world and more into the business world, so I was really interested in the workshops and seminars specifically about that and how to manage the transition," said Koroleva, who has a bachelor's degree from Stanford University and a master's from University of San Francisco.
Four-time Olympic gold medalist basketball player Tamika Catchings — who also chose to retire after Rio — was in a similar situation.
"One of the sessions was about entrepreneurship, and one day I'd like to have my own business," Catchings said. "So being able to develop not just what we do in our particular sport but even beyond that, like how do we build our brand? How do I utilize my social media? I definitely feel like it was a huge asset."
Catchings also enjoyed the time she had throughout the summit to bond with her U.S. teammates from other sports.
"Because we have such a big gap between the Olympics and Paralympics, I really liked being able to meet a lot of Paralympians and just talking to them," she said. "Not just them, but even other Olympians. Opening Ceremony might be the only time we're together. So it's nice to have the opportunity to sit at a table with people you don't know and make that connection."
Providing space to create those connections was part of the goals of the ACE Summit, noted Klein.
"Aside from creating awareness of the ACE program and providing resources, we really wanted the athletes attending to understand that they are part of a broader family of Olympians and Paralympians," Klein said. "Our Team USA family is a grand network that is here to support athletes beyond Rio. These are connections that we hope can serve athletes for life."
The program had something of value to offer athletes at all stages of their careers – whether they're just starting out, planning for retirement or unsure what the future holds.
Three-time Paralympic sitting volleyball player Katie Holloway is debating whether or not to call it quits after winning a historic gold medal in Rio.
"Coming back, you always do a reevaluation after every four years," she said, so the conference helped her "learn who I am separate from who I am as an athlete."