U.S. Olympic Committee Welcomes More Than 200 Team USA Athletes To The 2016 Olympic & Paralympic ACE Summit Presented By The Foundation For Global Sports Development
by United States Olympic Committee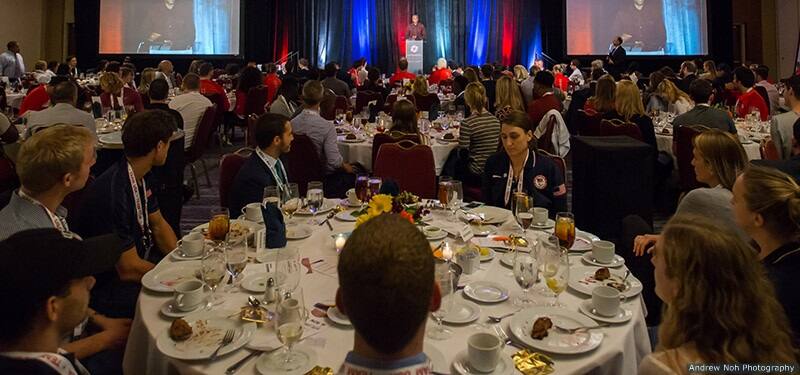 Team USA athletes listen to a speaker at the 2016 Olympic & Paralympic Athlete Career Education Summit presented by The Foundation for Global Sports Development on Sept. 29, 2016 in Arlington, Va.

COLORADO SPRINGS, Colo. – The 2016 Olympic & Paralympic Athlete Career Education Summit presented by The Foundation for Global Sports Development – a program that provides U.S. athletes tangible and actionable resources for career and life, both during and after competition – began yesterday in Arlington, Virginia. More than 200 Team USA athletes will hear from inspirational speakers and participate in workshops geared at professional development during the three-day program.
"The incredible commitment and effort required to make Team USA and compete at the Olympic and Paralympic Games often means America's elite athletes are focused only on sport, and not on planning for a career after competition," said Leslie Klein, director, USOC Athlete Career and Education Program. "The ACE Summit offers a unique opportunity for U.S. athletes to learn how to better position themselves to ensure success beyond the field of play by providing them access to a number of relevant career and education resources."
The summit is designed to give current athletes the tools to explore career and education interests, while retired athletes will have access to career counseling services and information about employment opportunities. Athletes will learn more about resources available to them through ACE and have the chance to speak with their peers and teammates about preparation for retirement and life beyond sport.
"We are proud to support the 2016 Olympic & Paralympic ACE Summit, and believe strongly that the impact of Team USA athletes can be as profound off the field of play as it is in competition," said Dr. Steven Ungerleider, Executive Board member of The Foundation for Global Sports Development.
"This summit provides great opportunities to learn and network – essential skills for planning for a career after sport – all while encouraging America's elite athletes to be active in inspiring youth, young adults, and the Olympians and Paralympians of tomorrow," added GSD Executive Board member, David Ulich.
In addition to presentations on public speaking, networking and fiscal responsibilities, Chobani – the official yogurt of the 2016 U.S. Olympic and Paralympic Teams – will host an interactive "Learn to Cook" program with USOC senior sport dietitian Alicia Kendig. Athletes will be able to work alongside Chobani chefs to learn how to cook healthy, inexpensive meals – both for athletes in training and athletes no longer competing.
The presenting sponsor of the summit is The Foundation for Global Sports Development and associate sponsors include Adecco and DeVry University.
About the Athlete and Career Education Program
The ACE Program delivers high quality, comprehensive career and education services aimed at enhancing performance and personal development to both current and retired Team USA athletes. For more information about the Athlete Career and Education Program, visit TeamUSA.org/ACE.
About the USOC
Founded in 1894 and headquartered in Colorado Springs, Colorado, the U.S. Olympic Committee serves as both the National Olympic Committee and National Paralympic Committee for the United States. As such, the USOC is responsible for the training, entering and funding of U.S. teams for the Olympic, Paralympic, Youth Olympic, Pan American and Parapan American Games, while serving as a steward of the Olympic and Paralympic movements throughout the country. For more information, visit TeamUSA.org.