How The USOC's Athlete Career Program Helped Chris Murphy Go From eBay Parts To World Titles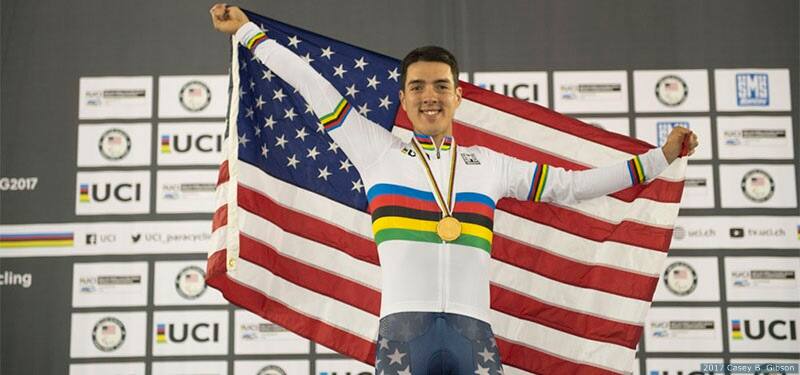 Chris Murphy won his first UCI Para-cycling world title at the track cycling world championships in Los Angeles in March.
Paralympian Chris Murphy used to scour eBay, trying to source used competitive cycling equipment for bargain prices. Sometimes he scored a deal, but many times he had to pay more than he had budgeted to build up his gear.
It wasn't the best route for a burgeoning elite cyclist to locate his bikes, but Murphy's slender finances didn't allow for traditional buys.
He was caught in the dilemma faced by many athletes seeking to reach the Paralympic or Olympic Games: trying to balance work and training, and keeping a healthy bank account to finance training, competition and gear expenses.
Murphy, 32, now sees the results of his dedication, as he competed in the Paralympic Games Rio 2016. He also has paved a strong career path, thanks to the United States Olympic Committee's Athlete Career Education (ACE) program.
Download the Team USA app today for breaking news, Olympic and Paralympic team bios, videos and more.
He won two gold medals and a bronze in last month's track world championships, and looks to add more at this week's USA Cycling Para-Cycling Road National Championships on April 27-29 in Grand Junction, Colorado. He credits ACE, which helped him build his career skills, for his "perfect" new job working as a technical assistance advisor at the Rocky Mountain ADA Center in Colorado Springs, Colorado. The organization helps provide information on the Americans with Disabilities Act to individuals and organizations throughout six states.
"Things are going really well right now, and I am really grateful," said six-time national champion Murphy, who turned to competitive cycling after a career as a professional musician. "My current situation is extremely accommodating. It usually gets harder to balance work with training, but the Rocky Mountain ADA organization is extremely accommodating with my schedule. I'm working with an amazing group of people, in a very cool office, and I get to help people.
"Having a stress-free job that I love lets me enjoy it. And then when I train, I can dedicate myself to that."
The ACE program, which provides career and life counseling services for Olympians, Paralympians and hopefuls, provided assistance for 137 athletes who competed in Rio. Twenty-nine Paralympic medalists used ACE services.
The program has been active since 2014, aiming to support athletes in building their lives outside of sports and future careers.
Murphy turned to ACE two years ago, when his eBay bike budget was scraping the bottom. He needed a job, a way to train and make money, and better gear. Murphy met Terris Tiller, one of ACE's athlete career coaches, and found some options.
He gained employment as a part-time associate with DICK'S Sporting Goods, an ACE partner helping employ elite American athletes, and things turned around. Murphy was able to have an income, while DICK'S understood his need for a flexible schedule for training and competitions.
The DICK'S job lasted nearly 18 months and helped Murphy build his résumé and experience to advance his career.
"Chris is the ideal example of what we want to see the program achieve and help athletes with," Tiller said. "Chris came on board, and we helped him with résumés and interview stuff. We want to help athletes like him get a job, develop new skills and get that extra income on side. We're lucky to have such a great partnership with DICK'S Sporting Goods, because they work with the athletes. That partnership helps develop athletes; DICK'S gets some great employees.
"When you see Chris do what he's doing right now, winning world championships and having a great job too, that gives him extra confidence. You can see it is all working."
Murphy added, "I don't think people sometimes understand that we have to take on a decent amount of expenses to compete at this level, even though we do get support. You have to qualify for races, you need your own equipment and it all costs a lot of money. Even with the team support, you're still paying out some.
"Before I worked for DICK'S, I was pretty desperate. Having that job through the ACE connection made a big difference. It eliminated a lot of stress and helped me push myself more in training."
Murphy said his confidence is high right now, thanks to great training sessions and recent wins. His goal, at start of the year, was to build toward being more internationally competitive — and hopefully medal.
It's now the end of April, and he can already check that big to-do as done.
"It's going well right now, and I want to continue that trend on the road side," Murphy said. "I'm really happy to see the improvement, because that's what I am working on every day in training. It's a progression, and I'm setting concrete goals to keep myself having something tangible to shoot for."
Joanne C. Gerstner has covered two Olympic Games and writes regularly for the New York Times and other outlets about sports. She has written for TeamUSA.org since 2009 as a freelance contributor on behalf of Red Line Editorial, Inc.