Athletes Learn To Lean On Each Other As They Pivot To Life After Sport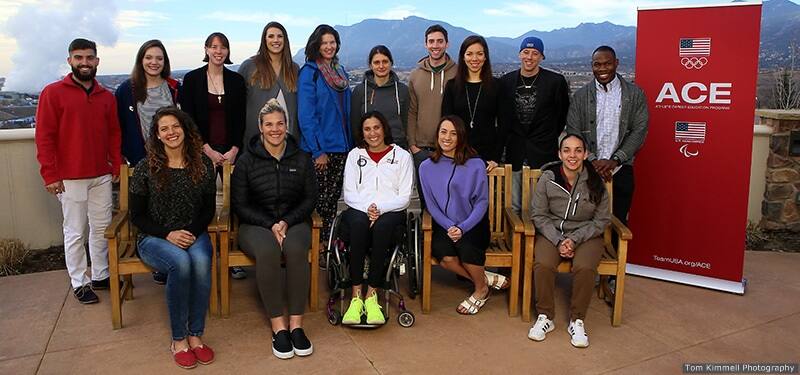 Participants in the third cohort of the United States Olympic Committee's Pivot program pose before their day of workshops on March 10, 2017 in Colorado Springs, Colo.
COLORADO SPRINGS, Colo. -- Elite athletes spend their days facing an endless gauntlet of challenges: lifting more weight in the gym, running a new personal best, reaching the podium, talking to the press after a tough competition. But in many cases, their most difficult challenge isn't found in the gym or during competition, but rather in retirement.
No more gyms, no more competitions, no more teammates… so what's next?
It's a question the United States Olympic Committee's Athlete Career Education (ACE) Program is trying to help athletes answer. The ACE Pivot Program was founded to help athletes do just that: pivot to a successful life beyond elite competitive sport.
Facilitated by sports psychologists and professional career transition specialists, cohorts of up to 24 athletes are guided through two-day workshops focused on personal and professional growth. Either retired or planning for life post-retirement, these athletes walk away with resources and reassurance that they're not on this journey alone. After the workshop, the Pivot program supports athletes for a year through monthly video conference sessions facilitated by a leadership consultant.
"Pivot was an idea that we came up with understanding that athletes have a difficult time with the psychological and identity transformation that needs to happen when you are no longer an elite athlete," said Leslie Klein, Director of Athlete and Career Education Services. "It's really difficult. Many athletes struggle with the unspoken challenges of coming home from the Olympic or Paralympic Games."
Athletes are run through problem-solving exercises, self-assessment tests and journaling assignments to learn more about their own psychology and how they relate a world outside of competitive sport. Perhaps most beneficial is the time the athletes spend with each other one-on-one, not facilitated and not observed.
One of the major goals of the program is to allow athletes across diverse sports – summer and winter, Olympic and Paralympic – to bond with each other and form a support network of peers. Klein says that with each of the first three Pivot Workshops this bonding process began to happen immediately.
Download the Team USA app today for breaking news, Olympic and Paralympic team bios, videos and more.
"We picked the athletes up at the airport in a van, and by the time we got to the hotel, the lightbulbs were already starting to go off that, 'I'm not alone and there's nothing wrong with me that I'm struggling to go through this,'" Klein said.
Kami Craig won back-to-back water polo gold medals at the London 2012 and Rio 2016 Olympic Games and a silver in Beijing in 2008. Upon returning home from Rio, she knew it was time to consider retirement but found herself wondering what her next step was. Her invite to the Pivot Workshop came at just the right time.
"I went from six and a half hours a day with 13 girls every day with every resource that I needed, to now I wake up in my apartment like '…okay!'," Craig said. "That can be really extreme. Even having something totally set in stone to put yourself into right away, there's still that emotional transition that you have to go through, because you're letting go of something that was really big and a part of you."
Craig found it beneficial to focus on the emotional aspect of transitioning to life after sport, as the highs and lows are what took her by surprise most when she decided to step back from her sport.
Similarly, Paralympic soccer player Adam Ballou returned from Rio and found the lack of closure to be jarring as he decided whether or not to continue his athletic career.
"I came into this weekend knowing what the topic was, but I didn't know there was going to be things that could impact my day-to-day that I didn't know about before," Ballou said of Pivot. "Closure from the Games and my mental outlook on things as far as everyday life, which I just never paid attention to. And now that they were brought up it'll ease the thought, because I'm constantly replaying things in my mind from Rio, like what could've happened, what could've been different, what could've changed.
"It was cool to hear other people's experiences and learn from them and some awesome career coaches that ACE has. There's a lot of people here looking out for you."
That's the crux of the Pivot program, as Klein hopes that more athletes make use of the resources the USOC provides.
"There are career coaches. There are jobs and employers. There are mentors and there's school and there's an alumni association… It's a positive move-on (from sport) instead of a negative," Klein said. "I think right now, for a lot of the athletes, sport is all they've known, so they see retirement as a black abyss of nothingness. We want to change that."
Ballou found his next job through the 2016 Olympic & Paralympic ACE Summit in Washington, D.C., after Rio and looks to be professionally well-positioned as he contemplates his future in sport. Even with a concrete next step ahead of him, having people looking out for him has gone a long way in easing his mind.
Craig echoes those sentiments, finding herself with a new team even in retirement.
"I feel supported. I think that the mental and emotional challenge will continue, but now I have supportive tools," Craig said. "I know that there's a team behind me here still; I'm not alone through the process. I understand that there's other athletes going through the same thing and I'm not abnormal or crazy for feeling these emotions."
ACE plans to host the next Pivot workshop in the fall of 2017. For more information on the workshop or the ACE program, or if you are an Olympian/Paralympian struggling post-retirement, please reach out to ACE at ACE@usoc.org.