Advice For Your Career And Life From 5 Olympic And Paralympic Legends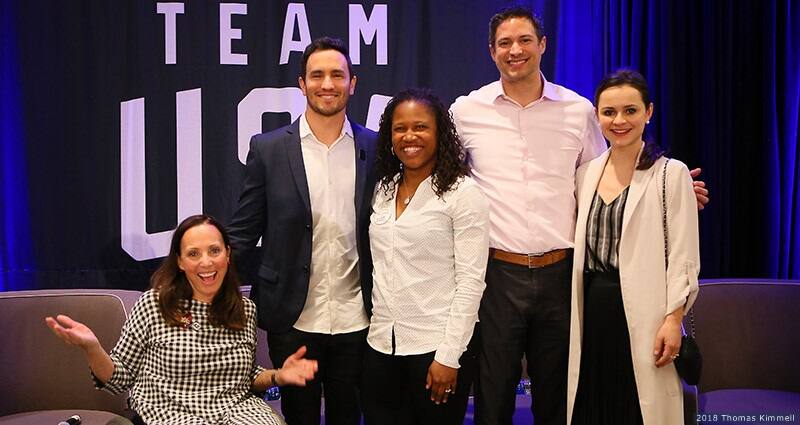 (L-R) Candace Cable, Jeremy Bloom, Lauryn Williams, Steve Mesler and Sasha Cohen pose after speaking on a panel at the 2018 ACE Olympic and Paralympic Summit on April 25, 2018 in Washington, D.C.
Athletes are known – understandably so – for their abilities on the field of play. But an elite group of athletes-turned-businesspeople assembled at the Athlete Career and Education (ACE) Olympic and Paralympic Summit 2018 proves that there is far more to be accomplished once competition ends.
Sat on a panel were Sasha Cohen, a two-time Olympian and silver medalist in figure skating, current associate at financial firm Morgan Stanley; Lauryn Williams, three-time Olympic medalist in track and field and bobsled, founder of financial planning organization Worth Winning; Jeremy Bloom, Olympic moguls skier and NFL player, current technology entrepreneur and founder of marketing software company Integrate; Steve Mesler, three-time Olympian and gold medalist bobsledder, founder and CEO of Classroom Champions; and Candace Cable, a nine-time Paralympian and 12-time medalist, current business consultant and activist for change.
The five spoke for an hour in front of an audience of 2018 U.S. Olympians and Paralympians about their own careers and retirement, and gave advice on how to transition to the working world and find success. But much of this advice isn't just applicable to athletes. Read on for career advice from some of Team USA's best.

"Give yourself permission to figure it out, permission to fail forward." -Sasha Cohen
Cohen was defined by her life on the ice until she was 25 years old, first as a competitor and then as a professional skater. When she found her life on tours and performing in shows was no longer fulfilling her, she knew it was time to step away. Attending Columbia University was a new challenge and may not have given her all the answers, but it gave her valuable time to experiment."I was able to be a person," Cohen said.
Rather than be a skater, she could experiment. She took a variety of classes in different fields, made mistakes typical of any college student and relished not having to be defined as an athlete. She graduated without a clear goal, but now has a successful career at Morgan Stanley because she gave herself permission to figure it out.


"Joy and love are really the basis of going forward in whatever you're going to do." -Candace Cable
Cable summarized the post-competition pursuits of athletes by pulling out one common thread: The members of the panel each found a new passion with which to move forward. Competing in athletics at an elite level requires an incredible amount of passion and dedication, and to find that level of excitement in the next phase of their lives, they had to find what would drive them. For some it was finance, for some it was nonprofit work, but regardless of the direction, they all moved forward from a place of love.


"Never network. Build your tribe. Networking is, 'What can you do for me?' Building your tribe is, 'What can I do for you?'" -Jeremy Bloom
Bloom is a two-time Olympian in moguls skiing and was then drafted into the NFL, and those might be the least impressive things about him.
At an event years ago, Bloom found himself chatting with a stranger who told him he worked at YouTube. Only later did Bloom discover that the man was actually Chad Hurley, YouTube's co-founder and former CEO. Instead of asking Hurley for a job, Bloom came at him in an unconventional way: he invited him to do the leg workout of an Olympic athlete.
"He puked, and then we were best friends," Bloom said.
That one instance of giving someone else a positive experience opened more doors for Bloom than any conventional networking tactic could have. If you approach people with the mindset of, "What can I do for you?," you build lasting connections.


"There's no one thing, no silver bullet. The details matter." -Steve Mesler
Mesler pointed out that, much like in the athletic world, the professional world has no magical solution. There's no one way to go about things, no surefire move when choosing a career path. While clear-cut solutions might sound like they'd be a welcome relief, the ability to put in a good-faith effort in a chosen direction allows for more freedom. Athletes are trained to wake up every day and train hard, leaving no stone unturned en route to achieving their goals, and many of the same attributes transfer to the professional world as well. If you put in the work, good things will happen.


"Move on to the next thing despite what's happening and continue to pursue figuring it out. There's no real answer to what 'figuring it out' is. But if you can pursue that, that's the best thing that you can do." -Lauryn Williams
Williams first retired from competition in 2013, one year after competing at her third Olympic Games in track and field. She then stumbled into bobsled, making her first winter Olympic team mere months after pushing a sled for the first time. Following the winter season, she took time off, contemplating retirement. She stopped working out and ate bonbons on her couch before realizing she'd gained too much weight. So she began working out again, was suddenly back in bobsled shape and decided to rejoin the national team halfway through the season.
"But I realized I was just doing it to have something to do," Williams said.
She retired from bobsled at the end of that season, saying that making the decision to leave the team was one of the hardest decisions she's had to make. But she came to the conclusion that it was better to walk away than continue to compete lackadaisically.
Even while still competing, Williams had an eye on the future (or a "looming anxiety," as she puts it) and earned her Master's degree in business administration and completed coursework for certified financial planning. Three years after retiring, Williams has her own financial planning company.
"Figuring it out" won't look the same for everybody. Williams' version looked like eating bonbons on her couch. But she persisted – and cut back on the junk food – and is now celebrating the second birthday of her company. The continued pursuit is what really matters.