More Than 100 Full-Scholarship Team USA Athletes Have Graduated From DeVry University
by United States Olympic Committee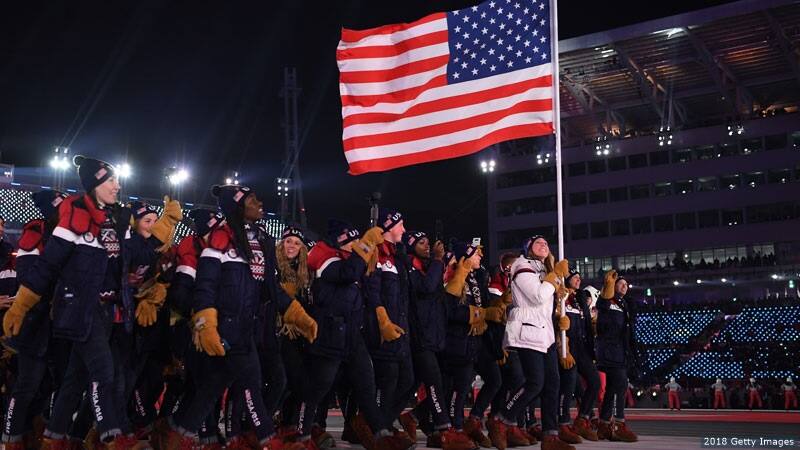 Erin Hamlin carries the U.S. flag at the Opening Ceremony of the Olympic Winter Games PyeongChang 2018 on Feb. 9, 2018 in PyeongChang, South Korea.
COLORADO SPRINGS, Colo. – With four Team USA athletes graduating in the spring of 2018, more than 100 student-athletes have now graduated from DeVry University and its Keller Graduate School of Management since becoming the official education provider of the United States Olympic Committee in 2011. The university's scholarship offerings and flexible class scheduling give Team USA athletes opportunities to work around rigorous training and competition schedules while maintaining a focus on their education.
Of the 103 total graduates, 58 earned a master's degree and 41 received a bachelor's degree, while three earned an associate degree and one received a graduate certificate in entrepreneurship. For a complete list of Team USA graduates, click here.
"Completing my degree at DeVry's Keller Graduate School of Management enhanced my knowledge and strengthened my skill set," said Carissa Gump, 2008 Olympic weightlifter and current executive director at the National Strength and Conditioning Association Foundation. "I implemented what I had studied to advance my career to become a successful nonprofit professional. The partnership with Team USA allows athletes to obtain a degree while planning ahead for life after competing."
DeVry was instrumental in the successful launch of the USOC's Athlete Career and Education Program in 2014. Formerly known as the Athlete Career Program, the USOC expanded the initiative to emphasize education and provide a full post-competition service to Team USA athletes. ACE provides current and retired Team USA athletes with career, education and life skills resources to support athletic performance goals and facilitate successful transition to careers post-competition.
Want to learn to curl like the pros? Looking for breaking news, videos, Olympic and Paralympic team bios all at your fingertips? Download the Team USA app today.
The 100-graduate milestone comes on the heels of a successful year that saw DeVry award more than $1 million in tuition scholarships to 167 athletes – including 27 graduates – through ACE. In all, the ACE program helped deliver career and education services to nearly 1,700 Team USA athletes in 2017, representing 84 percent of sports.
"ACE ensures Team USA athletes perform their best in every area of their lives," said Elana Meyers Taylor, a three-time Olympic medalist in bobsled who earned an MBA in finance from the Keller Graduate School of DeVry in 2015. "By helping me find scholarships and career opportunities, I can advance professionally and still focus on performing at my very best for my country."
Following graduation, Team USA athletes continue to make an impact at organizations both inside and out of the Olympic and Paralympic movements. Mark Grimmette – a five-time Olympian in luge who earned a bachelor's in technical management in 2015 – is the high performance director at USA Luge, while Ashley Walden – 2002 Olympian in luge who earned a master's in business administration in 2015 – is the high performance director at USA Bobsled & Skeleton. Anna Johannes is a Paralympic bronze medalist in swimming and currently works at Boston's Children's Hospital Trust after receiving her business administration degree in 2016.
Through DeVryWORKS, the university's workforce solutions division, DeVry offers degree programs in Business, Tech, and Health for Team USA athletes, making it possible for them to pursue their Olympic and Paralympic aspirations, while planning for life after sport. Since the program began in 2011, more than 375 U.S. Olympic and Paralympic athletes and training hopefuls have enrolled in a DeVry University associate, bachelor's or master's degree program, including 103 graduates.


About the USOC
Founded in 1894 and headquartered in Colorado Springs, Colorado, the United States Olympic Committee serves as both the National Olympic Committee and National Paralympic Committee for the United States. The USOC is focused on protecting, supporting and empowering America's athletes, and is responsible for fielding U.S. teams for the Olympic, Paralympic, Youth Olympic, Pan American and Parapan American Games, and serving as the steward of the Olympic and Paralympic movements in the U.S. For more information, visit TeamUSA.org.
About DeVry University
DeVry University's mission is to foster student learning through high-quality, career-oriented education integrating technology, business, science and the arts. Founded in 1931, the university offers undergraduate and graduate programs onsite and online within its five distinguished colleges of study: Business & Management, Engineering & Information Sciences, Health Sciences, Liberal Arts & Sciences, and Media Arts & Technology. The university is accredited by The Higher Learning Commission (HLC, www.hlcommission.org). To learn more about DeVry University, visit devry.edu.
About DeVryWORKS
DeVryWORKS consults with today's leading companies to build custom talent solutions capable of solving real business challenges. This comprehensive service offers strategic guidance and support to help companies execute around talent acquisition, talent development and skills-gap training. DeVry University has decades of experience working in close collaboration with leading companies to ensure students acquire in-demand skills needed in the employees of tomorrow. DeVryWORKS builds on that heritage with tailored partnerships including custom curriculum to target specific education and training needs, on-site class offerings, and qualified candidates emerging from DeVry University with the qualifications sought by growing companies. To learn more about DeVryWORKS' strategic solutions to talent business challenges, go to www.DeVryWORKS.com.