How The USOC's ACE Program Helped Team USA's Best Make A Living, Earn Degrees While Training For PyeongChang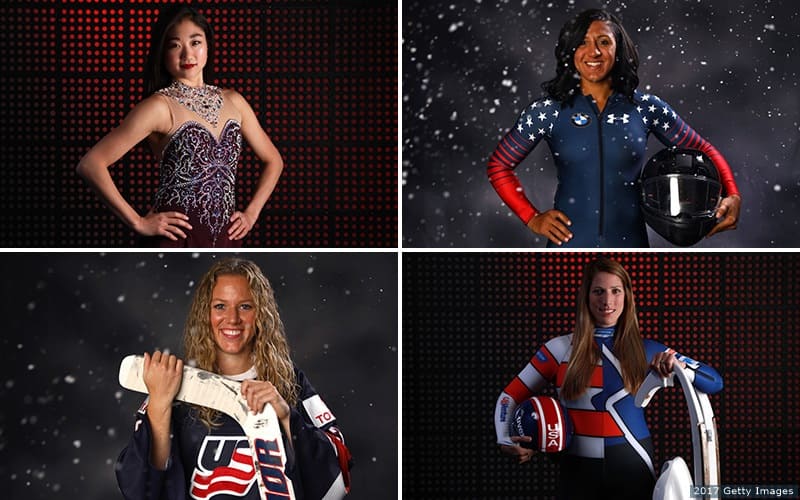 (Clockwise from top left) Figure skater Mirai Nagasu, bobsledder Elana Meyers Taylor, luger Erin Hamlin and ice hockey player Alex Rigsby are all ACE athletes that have qualified for the Olympic Winter Games PyeongChang 2018.
Anyone who watches the Olympic and Paralympic Winter Games PyeongChang 2018 beginning in a few weeks will undoubtedly understand that the athletes competing have spent years, perhaps even their whole lives, training to get to that point.
What few outside of the world of elite athletes probably think about, however, is how difficult it can be for many of these athletes to find jobs or go to school and still have time for all that training, or how tough it might be for them in the coming years as their athletic careers fade.
That's where the United States Olympic Committee's Athlete Career Education — or ACE — program comes in. In 2017, the program helped a total of 1,673 athletes with services such as job placement, college education services, personal branding and life skills. More than 50 athletes who have benefitted from the services provided by ACE will compete in PyeongChang, including figure skater Mirai Nagasu, bobsledder Elana Meyers Taylor, curler Becca Hamilton, ice hockey player Alex Rigsby, luger Erin Hamlin, sled hockey player Brody Roybal and long track speedskater Erin Jackson.
They are part of one group of athletes that the ACE program assists, those still actively training and competing.
"For a large group of those athletes, they need jobs to be able to continue to support their training at the level they need to in order to improve," said Leslie Klein, a 1984 Olympic canoeist who has served as director of the ACE program since mid-2015.
Coaches, equipment, facilities, travel and other training expenses can add up, yet how many people can walk into a job interview, dictate the hours they can and can't work and demand extensive time off to travel and compete all over the country and world? The ACE program works with partners such as DICK'S Sporting Goods that allow these particular employees to do exactly that. Last year ACE assisted in 133 job placements.
ACE also tries to help solve the conundrum of how athletes can train while getting an education by partnering with all-online DeVry University, with 99 undergraduate and 27 graduate students enrolled in 2017. The program offered tuition grants and scholarships to the tune of nearly $1 million last year and helped secure in-state tuition for athletes training in Colorado and Utah.
"If you're in a non-NCAA sport, athletes run a really high risk of not getting an undergraduate degree while training as an elite," Klein said. "ACE can allow athletes to, in parallel with their training, chisel away at a degree."
Download the Team USA app today for breaking news, Olympic and Paralympic team bios, videos and more.
The program also aims to improve what they call athlete retention. Kelly Clark is 34 years old going for her fifth trip to the Games and is the most decorated Olympic snowboarder ever, but in 2001 her parents gave the 18-year-old a year to show that snowboarding could be a viable career before she'd need to move the sport to the back burner and attend college.
"From a parent's perspective, why wouldn't you say that?" Klein said. "But from the USOC's perspective it's like oh no, it might take five years to show that. There's a whole aspect of athletes who quit their sports not because they weren't getting better but because they were falling behind their peers and there was a sense of panic about whether they'd ever be able to catch up educationally or professionally and be where they should be at 28 years old, 32, 35, so they're quitting before they reach their full potential.
"If parents or athletes can see a program that helps take care of their education and career path while training, doing both in parallel, both athletes and their families might view their training more positively and not think it's causing them to get derailed from a traditional educational and career path."
For athletes transitioning away from their sports, the program can help them adjust to a new life and new identity and the psychological impacts of leaving something they've been singularly focused on for 10 or 20 years or even their whole lives. ACE also helps with things such as translating skills learned in their athletic lives to marketable skills on a resume and how to prepare what can be maddeningly complicated tax returns.
Ultimately, Klein said, they hope the program will make the idea that an athlete can train as an elite while still going to school or preparing for a career become ingrained in the minds of everyone involved.
"We hope it becomes institutionalized from the moment the athlete is first identified as a national team member in whatever sport it's in with the athletes, the coaches, the (national governing bodies), the high-performance staff, etc.," she said. "In whatever way is right for that athlete, we hope they are able to have some plan to move ahead and plan for when they're done competing."
Karen Price is a reporter from Pittsburgh who has covered Olympic sports for various publications. She is a freelance contributor to TeamUSA.org on behalf of Red Line Editorial, Inc.