U.S. Olympic Committee Teams With Colorado Springs To Enhance Municipal Career Opportunities For Team USA Athletes
by United States Olympic Committee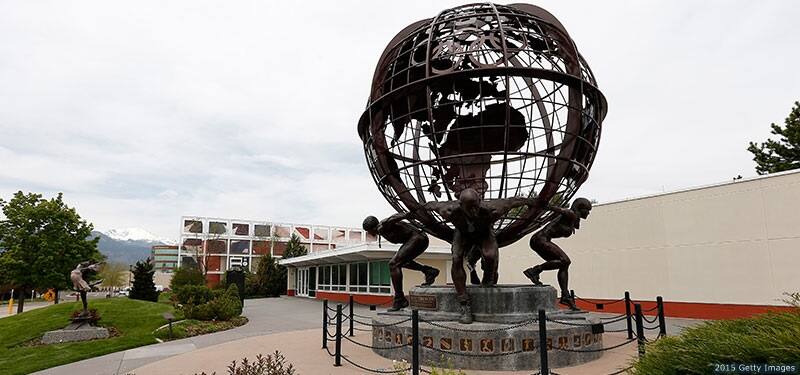 A photo of the atlas sculpture at the United States Olympic Training Center on May 14, 2015 in Colorado Springs, Colo.
COLORADO SPRINGS, Colo. – The United States Olympic Committee's Athlete Career and Education program announced an exciting collaboration with the City of Colorado Springs – Olympic City USA to promote career opportunities for Team USA athletes who live and train in the area. With support from the USOC's Official Career Management Services Sponsor, the Adecco Group, the new initiative pairs athletes with career coaches to identify flexible job opportunities that fit their training needs and facilitate career transitions for retired athletes.
Resulting from the joint effort, the USOC and the City of Colorado Springs applaud the hiring of national champion and retired Team USA judoka Bobby Lee, who became the first athlete under the targeted initiative to earn a job placement with the city. He is employed at Valley Hi Golf Course, one of two municipal golf courses in Colorado Springs.
"I am thrilled to have the opportunity to continue to contribute to this community and start my professional career," said Lee. "The support provided by ACE and Olympic City USA has given me the tools to jump start my career and discover new passions outside of my sport."
"We are so proud of Bobby, and all that he has and will accomplish," said Leslie Klein, USOC director of ACE. "The ACE program is designed to give all Team USA athletes the tools needed to thrive in the workforce, and we appreciate the commitment from Adecco and Colorado Springs – Olympic City USA to continue Team USA's success, both on and off the field of play."
As part of the USOC's ongoing commitment to support comprehensive athlete development, ACE aims to provide current and retired Team USA athletes with career, education and life skills resources to support athletic performance goals and facilitate successful transition to careers post-competition. The program offers athletes a variety of services, including personality assessments, career discovery, resume and cover letter assistance, networking and interview practice, and job search strategies.
Want to learn to curl like the pros? Looking for breaking news, videos, Olympic and Paralympic team bios all at your fingertips? Download the Team USA app today.
Through ACE, the USOC has provided more than 1,500 U.S. athletes with career and education services across 91 percent of U.S. Olympic and Paralympic sports. Helping drive professional opportunities for Team USA, Adecco employs personal career coaches to help athletes discover additional career paths beyond their Olympic and Paralympic aspirations.
With an added focus on Olympic City USA, ACE aims to inspire long-term positive engagement within Colorado Springs, which is home to nearly half of the U.S. Olympic and Paralympic family's 50 National Governing Bodies.
"As Olympic City USA, Colorado Springs is proud to work with the USOC's ACE program to promote municipal employment opportunities to qualified and deserving Team USA athletes like Bobby," said Mayor John Suthers. "We look forward to hiring more athletes in the future so they can continue to live, train and positively contribute to Colorado Springs. With their innate drive and determination, we know these athletes are the types of professionals we want to retain and engage to keep our city striving to continuously exhibit the Olympic values of excellence, friendship and respect."
In April, representatives from the city office met with ACE at the USOC Headquarters to discuss their career interests and offer suggestions for potential leads in the area. Plans are also underway to host an athlete job shadow week in the fall with several local organizations expected to participate.
Formerly known as the Athlete Career Program, the USOC expanded the program in 2014 to emphasize education under the new name, ACE. The program – which is supported by Adecco and the USOC's Official Education Provider, DeVry University – delivers high quality, comprehensive career, education and life skills resources to help promote athlete performance, and personal and professional development. For more information, visit TeamUSA.org/ACE.