How Paralympic Medalist Tucker Dupree Is Helping Teach Others About Living With A Disability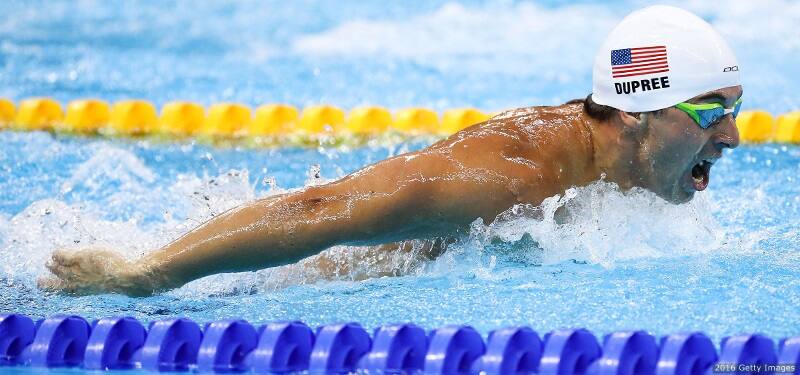 Tucker Dupree, pictured at the 2016 Paralympic Games, led a "dinner in the dark" accessibility event in July for Adecco, a sponsor of the U.S. Olympic & Paralympic Committee.
Four-time U.S. Paralympic medalist Tucker Dupree used to do a lot of public speaking during his competitive swimming days. His talks would often challenge the audience to think differently about people with disabilities.
"I'd always open my speech with, 'As a person with a disability, I belong to one of the largest minorities in the world, and on top of that, it's a minority that anyone in this room can become a part of at any point in their life,'" he said. "You can acquire a physical disability at any point in your life, and disability comes in every culture and in every color. Don't be scared to talk about it. Don't be afraid of it. But instead, understand the reality of it."
Now retired from swimming, Dupree is working full-time in corporate America in digital communications for BP. He found his job with the help of the United States Olympic & Paralympic Committee's Athlete Career and Education Program (ACE), which is supported by career management services sponsor Adecco.
Dupree, a three-time Paralympian who lost 80 percent of his vision in high school, retired on his own terms after winning three medals, including one gold, at the 2017 World Para Swimming Championships. Those were three out of 16 total medals he won at the world championships in his decorated career. He also won a silver and two bronze medals at the Paralympic Games London 2012, and added another bronze in Rio in 2016.
Throughout his career, he began more and more to "understand the power of the platform" he was given. But after living in a world where his athletic victories and story were celebrated for more than a decade, he then had to figure out how to transition from the sport to the corporate world.
"When I was looking at retiring from sport, I had that identity crisis that every other athlete has of, 'OK I was an athlete, what's next?'" Dupree said. "You run into that roadblock of what real-world experience do you have? When I went up against that hurdle, Adecco was really instrumental in helping with that process."
Last month, Dupree gave back to Adecco by serving as the keynote speaker to kick off the opening event at a conference for all the company's female executives held in New York, which was attended by Adecco's global CEO. The opening event was a "Dinner in the Dark," an accessibility event in which all participants ate a full meal in the dark as Dupree shared his story of losing his vision, becoming a Paralympic medalist and then transitioning to the corporate world. For two hours, everyone was blindfolded and had to rely on their senses to determine whether the courses put in front of them were soup, salad or steak, and which utensils to use.
"It was interesting to see people who are fully sighted experience an accessibility event that really gets them to tap into what that would be like to live blind day to day," Dupree said. "This opportunity was something I really appreciated because you have a place like Adecco that first wants to help people with disabilities get jobs, but also has an agenda to get their employees to experience what it's like to have a disability. That's impeccable. It's very admirable."
Dupree, who eats all of his dinners in the dark, is one of hundreds of current and retired U.S. Paralympians teaching others about living and competing with a disability. Whether it be through visualization in speaking engagements or sport demonstrations, U.S. Paralympians have been using experiential learning more and more to push the public out of their comfort zone, and educate and engage them about what it's like to live with a disability.
"We're people and that's the biggest thing about this process," Dupree said. "A lot of people in the United States look at disability as hindering or different or don't know how to interact with it. I think at the end of the day you need to still understand we're people first and should be treated that way."
Stuart Lieberman covered Paralympic sports for three years at the International Paralympic Committee, including at the London 2012 and Sochi 2014 Games. He is a freelance contributor to TeamUSA.orgon behalf of Red Line Editorial, Inc.