Leveraging ACE: U.S. Ski & Snowboard Gets Lift from ACE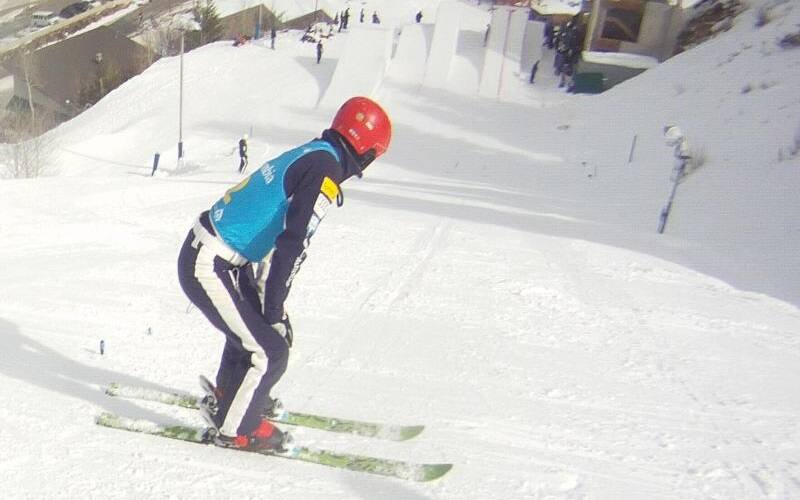 Freestyle Aerial Skier Alex Bowman at the start of a run
National Governing Bodies (NGBs) play an important role in introducing athletes to the United States Olympic Committee's Athlete Career Education (ACE) program, an initiative that provides current and retired Team USA athletes with career, education and life skills resources to support athletic performance goals, facilitate successful transition to careers and inspire long-term relationships with the Olympic and Paralympic movements.
Julie Glusker, Director, Athlete Career & Education, U.S. Ski & Snowboard, shared the following NGB's insights on connecting with ACE to advance athletes competitive and professional edge.
Whether it's delivering a podium performance or assistance in resume writing, tuition grants or athlete mentoring and networking, USA Ski & Snowboard values and supports their athletes on and off the slopes, ensuring success in sport and professional endeavors.
Q/A with Julie Glusker, Director, Athlete Career & Education, U.S. Ski &
Snowboard
How does U.S. Ski & Snowboard leverage ACE programs?

Education is the primary area in which U.S. Ski & Snowboard athletes tap into ACE. There are three times as many athletes in need of education services as career services, and two times as many athletes seeking education services as those seeking life skills resources.
Our athletes frequently access these ACE programs:
Tuition grants
DeVry scholarship program
ACE Olympic and Paralympic Summit
Pivot Program
How many of your athletes engage with ACE on an annual basis?
42% of U.S. Ski & Snowboard athletes engage with ACE.
How do you introduce ACE to your athletes?
Initially, ACE is introduced to athletes during "Rookie Camp", a 2-3-day athlete orientation across all of our teams. Additionally, we send ACE notifications via email to all national team athletes and alumni, and team managers, post to Facebook and the Athletics newsletter. We provide ACE information in workshops, training sessions, and one-on-one meetings. W
What advice would you share with other NGBs about the benefits of partnering with ACE?
There are significant benefits to working with ACE. NGBs should regularly encourage, highlight and reinforce those benefits. ACE allows us to promote whole athlete development to enhance:
Athletic performance - relieve stress and pressure for athletes.

Sport longevity – athletes endure when supported as a whole person.

Career development – help athletes prepare for life beyond sport by fostering future opportunities.

Relationship building – encourage long term association with their ski and snowboard communities and U.S. Ski & Snowboard.

Alex Bowen, Aerial Freestyle Skiing, on
ACE:
"The ACE program team gives athletes the support and confidence they need when they are unsure where to begin. The program provides athletes the means to follow their academic and career dreams during and after their athletic life. Athletes understand how to be solely dedicated to their sport, which at the time is their one true passion. Eventually, it is time to transition and they discover another true passion, and like anybody, what they want most in life is to follow their dreams and feel fulfilled after they are met. ACE programs recognize that so many athletes are still dreaming, and they provide the resources for them to get there."
"I am currently a student at Westminster College in Salt Lake City and will graduate with a B.S. in Psychology in May 2019. Since freshmen year, I have been fascinated by human behavior, and I chose to study psychology with the intention of working in a caring profession. I see myself becoming a 4thor 5thgrade teacher that truly enjoys inspiring students' creativity. My next step academically is to achieve a Master of Arts in Teaching, an advanced degree that builds on my undergraduate degree and desire to teach. I will use an ACE tuition grant this summer towards the first semester, pushing me one step closer to the classroom."
Julie Glusker, U.S. Ski & Snowboard, on
ACE:
"ACE programs support elite athletes in training by allowing them to maintain their educational pursuits throughout a season, develop life skills necessary for career advancement and life responsibilities, enabling athletes to develop as whole people."