Staying Caffeinated, 8-Time Paralympic Medalist Oksana Masters Juggles Full Plate Of Skiing, Cycling And Business School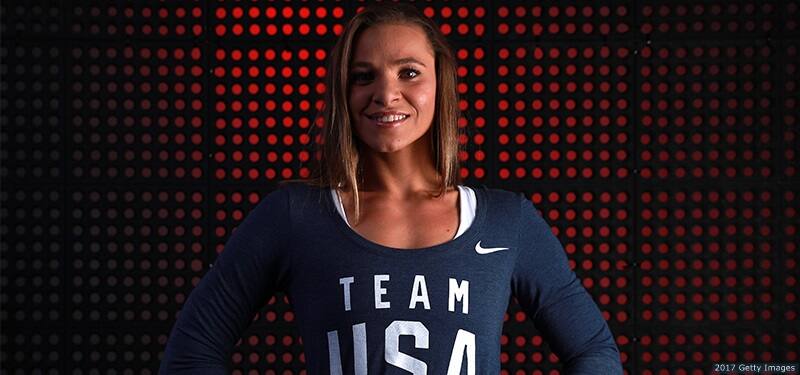 Eight-time Paralympic medalist Oksana Masters enrolled in DeVry University through the U.S. Olympic & Paralympic Committee's Athlete Career and Education Program (ACE).
When Oksana Masters was wrapping up her five-medal performance in Nordic skiing at the Paralympic Winter Games PyeongChang 2018, she was in the dark as to what the next steps would be in her storied athletic career.
After having competed against the world's best in Nordic skiing, cycling and rowing over the last four Paralympic Games, the 30-year-old returned home from PyeongChang to have two surgeries — one on her right elbow and the other on her right arm.
Not knowing if she'd ever be able to get back to her same peak level of competition, Masters, an eight-time Paralympic medalist, decided to go back to school for the first time in 10 years. She went ahead and enrolled in DeVry University through the U.S. Olympic & Paralympic Committee's Athlete Career and Education Program (ACE).
ACE, for both current and retired elite U.S. athletes, provides opportunities and resources for Team USA athletes to pursue training and education for life after their competition days are done.
"I realized my whole entire life and my identity was sport, and I just wanted something to have another identity outside of sport," said Masters, who was born in Ukraine with both of her legs affected by radiation-induced birth defects stemming from the Chernobyl nuclear power plant disaster three years earlier.
Upon enrolling, she was dead set on studying business. After all, she's had a very specific bucket-list dream building outside of her athletic career for quite some time now.
"My goal is to own a coffee shop," she said. "I have this dream of a mobile coffee shop. I also love animals and my goal is to have an established coffee shop with quality coffee, and I want the proceeds when traveling to go to the local humane societies."
It's a natural fit, considering all the caffeine it must take for someone to compete on so many fronts like Masters does. So far, there's been one major challenge in the business process for Masters: she's already getting back to her peak level of competition.
So much for trading in her skis and bike for a business plan right now.
In February, Masters won five world titles in Nordic skiing. She followed that up last weekend with Para-cycling national titles in both the road race and time trial in the H5 classification. Masters transitioned to cycling in late April, training on the Illinois country roads where her boyfriend, four-time Paralympian Aaron Pike, also trains in track and field.
The Paralympic medal stand has been elusive for Masters in cycling after just narrowly missing the podium at Rio 2016 with a fourth-place finish in the road race and fifth-place finish in time trial. She's been very vocal about the Tokyo 2020 podium being her ultimate goal, and she's now trying to get in as many races as possible, as most of her competition races year-round.
"I was quickly remembering how much cycling hurt, because it's the complete opposite motions from Nordic," Masters said. "But it's nice because after a long winter of training outdoors in the cold, you're ready for the summer and I get to challenge myself in a different way. I grow as an athlete and apply what I learn tactics-wise between the two sports. It keeps my mind fresh."
With just over a year until the next Paralympic Games — the Games kick off Aug. 25, 2020 — Masters is working on fine-tuning her cycling stroke and becoming more aggressive on the downhill segments.
But the biggest learning curve for her right now has been adding school to the mix.
"I'm now juggling classes, training and races. Between all of that, I have absolutely zero time for a personal or social life," Masters said. "When traveling for competitions, you know I'm going to be hitting up all the coffee shops. I also travel with a hand grinder, my own hot pot and at least two or three different bags of coffee. I'm totally stocked.
"You don't want to see me without coffee. It's horrible."
Stuart Lieberman has covered Paralympic sports for the International Paralympic Committee since 2011, including the 2012, 2014 and 2018 Paralympic Games. He is a freelance contributor to
TeamUSA.org
on behalf of
Red Line Editorial, Inc.