A Force On The Bobsled Track, Aja Evans Is Finding The Tools To Become A Force In Her Next Career, Too

Aja Evans has been an athlete her entire life.
A standout shot putter, Evans earned All-America honors while competing at Illinois, and got so far as the 2008 U.S. Olympic Team Trials for Track and Field. Then, in 2012, she switched to the back seat of a bobsled, and the success continued. Pushing for pilot Jamie Greubel Poser, Evans qualified for the Olympic Winter Games Sochi 2014, where she and Greubel Poser won a bronze medal. Four years later, they raced to a fifth-place finish in PyeongChang.
By any measure, Evans — who also won a world championship bronze medal in 2017 and 14 world cup medals — is one of the best this country has produced in her sport, and is one of the countless impressive women being honored for Women of Team USA Week. But now, as she approaches her 31st birthday in May, Evans is embarking on a whole new challenge: figuring out what's next.
Evans may want to go for one more medal in bobsled. She may want to retire from sports and go into business. She's not sure, but with the help of United States Olympic Committee's Athlete Career Education (ACE) Program, she knows she's at least going to make a well-informed decision.
Last fall, Evans attended the Pivot Program Workshop at the U.S. Olympic Training Center in Colorado Springs, Colorado, where she found a cohort of fellow athletes who were encountering the same decisions she was as they prepared to transition out of their lives as elite competitive athletes.
"It's a really awkward space to be in after you've done so much with your career, and to be able to be around a lot of athletes that have been in the same position, or are going through the same things as you, it really helped you open up, be vulnerable, to discuss stuff," Evans said.
Want to learn to curl like the pros? Looking for breaking news, videos, Olympic and Paralympic team bios all at your fingertips? Download the Team USA app today.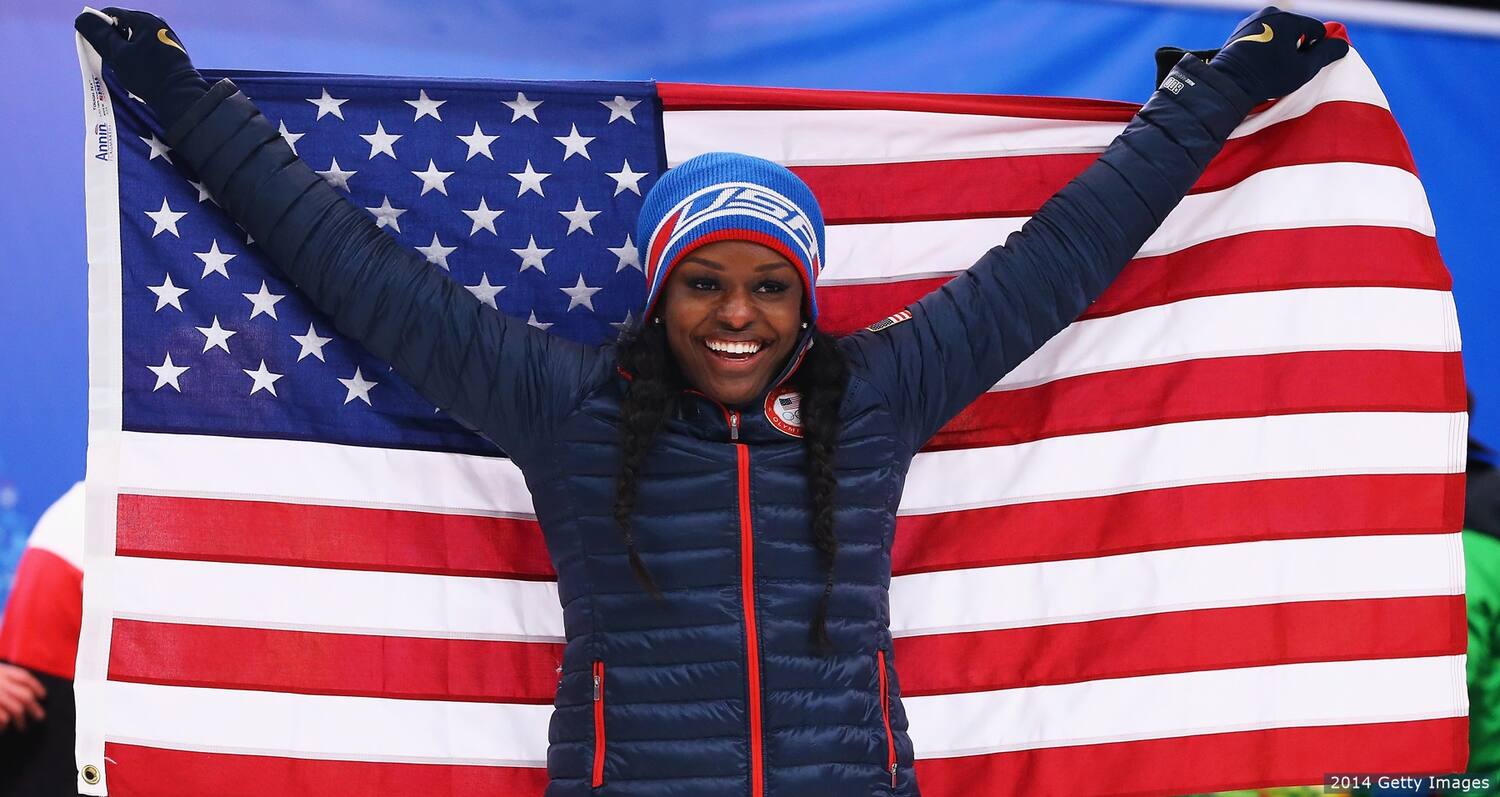 Aja Evans celebrates after winning the bronze medal at the Olympic Winter Games Sochi 2014 on Feb. 19, 2014 in Sochi, Russia.
With ACE, Evans also found an internship that gave her a taste of corporate life. She just wrapped up three months in the communications department at Invenergy, a natural energy company based in Evans' hometown of Chicago.
"It was a really cool experience for me because that was the first corporate, business job experience I've ever had, period," Evans said. "I was a little intimidated at it at first because I had been doing sport for so long. It was a different environment. It ended up being a great fit for me."
In her years competing for the U.S. bobsled team, Evans had learned about branding, social media and working with media to ensure she secured funding to continue her Olympic journey. At Invenergy, she was able to put these skills to use in areas such as working on town halls and writing newsletters and press releases.
"Having that perspective allowed me to bring some unique qualities to the table when it came to working with Invenergy," she said. "I got to offer a different perspective for them, and I got to learn a lot from them, as well."
Running, pushing a bobsledding, throwing a shot put — these aren't skills that immediately translate to the business world. But through the Women's Athletes Business Network, a mentorship program Evans joined through the International Women's Forum, she is learning she doesn't need to put her athletic past behind her to succeed in business. At an event at the Nike headquarters in Portland, Oregon, Evans heard from corporate executives who had, like her, transitioned out of sports.
"I'm realizing who you are as an athlete is still part of you," she said. "That's your superpower, to continue to use that as you navigate through the rest of your life and the rest of your career."
Meeting with successful people has stoked Evans' competitive fire in the past. When she was young, she ran in the Jackie Joyner-Kersee Relays every year in East St. Louis, Illinois. The night before the races, the relays would hold a workshop where runners would get to meet Olympic athletes and hear about their journeys.
"Being able to be exposed to that at an early age really gave me that Olympian bug," Evans said. "I wanted to be that person. I wanted to be like them. I wanted to represent my country. That started it off for me."
Joyner-Kersee — a track star who won six Olympic medals, three of them gold, from 1984 to 1996 — isn't the only woman from Illinois who Evans looks up to. As Evans read "Becoming," the memoir by former First Lady Michelle Obama, she saw the parallels between the two. Like Evans, Obama is a black woman from the South Side of Chicago who took unexpected paths to success.
"I am who I am. I'm a black girl from the South Side of Chicago," Evans said. "For me personally and for a lot of people who I know, I would not be who I am today if it wasn't for sport. Because of where you're from, it can feel like your future is already written for you. You have to learn what's for you, you have to learn the things you need to do to be successful and to follow your heart."
With the next Olympic Games — Tokyo 2020 — less than 500 days away, there will be another crop of athletes soon wondering about the transition to life after athletics. Evans says to start thinking about it now.
"I would encourage them to start thinking about their passions and what they really enjoy doing, where they can see themselves working now, I think that makes it less of a shock if you're able to have some sort of an idea," she said. "Also, I encourage them to use their resources. If they're Team USA athletes, I have used quite a bit of the Team USA resources, and they have so many available to us to help us through that process."
Maggie Hendricks is based in Chicago and has covered Olympic sports for more than 10 years for USA Today and Yahoo Sports. She is a freelance contributor to TeamUSA.org on behalf of Red Line Editorial, Inc.