How Dozens Of Olympians And Paralympians Are Taking The "Next Step" Thanks To Dartmouth And The USOC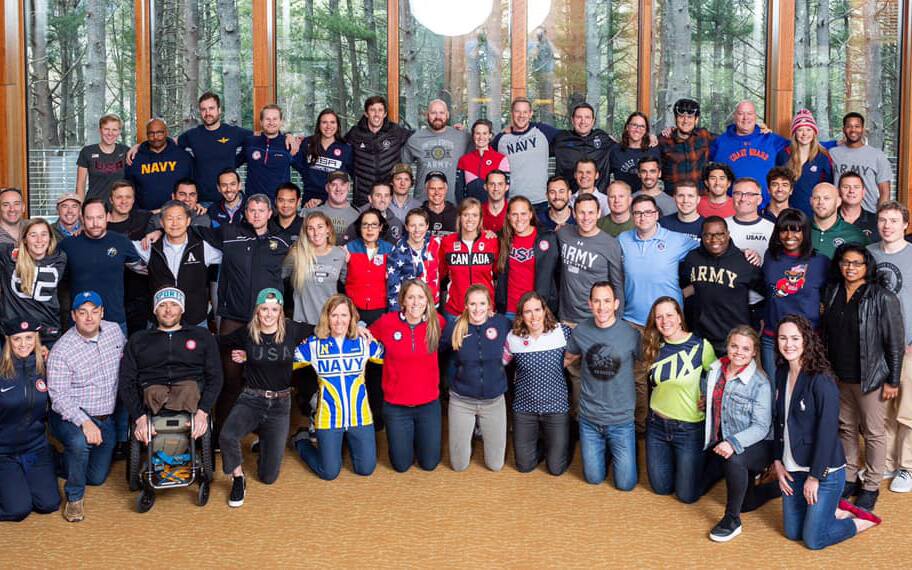 The April 2019 class from Next Step: Transition to Business poses for a photo.
The stakes might be higher in the military than at the Olympic and Paralympic Games, but those who reach the top level of military service or sports often share similar qualities — and then face similar challenges once those journeys are done.
The Tuck School of Business at Dartmouth College has created a program to help both groups, elite athletes and military veterans, transition into a 21st century business environment.
The Next Step: Transition to Business program began as a way to help veterans make the transition, and then the Tuck School reached out to the United States Olympic Committee.
"So many athletes, when they retire, haven't had the chance to explore what they want to do with their life," said Leslie Klein, a 1984 Olympic canoeist and the USOC's director of athlete career and education services. "Many don't have a good idea of what they want to do next. And if they did go to college, they probably spent more time training."
Former ice dancer Ben Agosto fits this profile. Agosto, a two-time Olympian and 2006 silver medalist, spent almost his entire life figure skating. Upon retirement, after the Olympic Winter Games Vancouver 2010, he found his most obvious career path was one he wasn't particularly interested in.
"I always knew that when I'm done skating, I don't want to be a coach," Agosto said. Yet, "At that moment of retiring and no longer performing, and needing an income, I started coaching to supplement my income."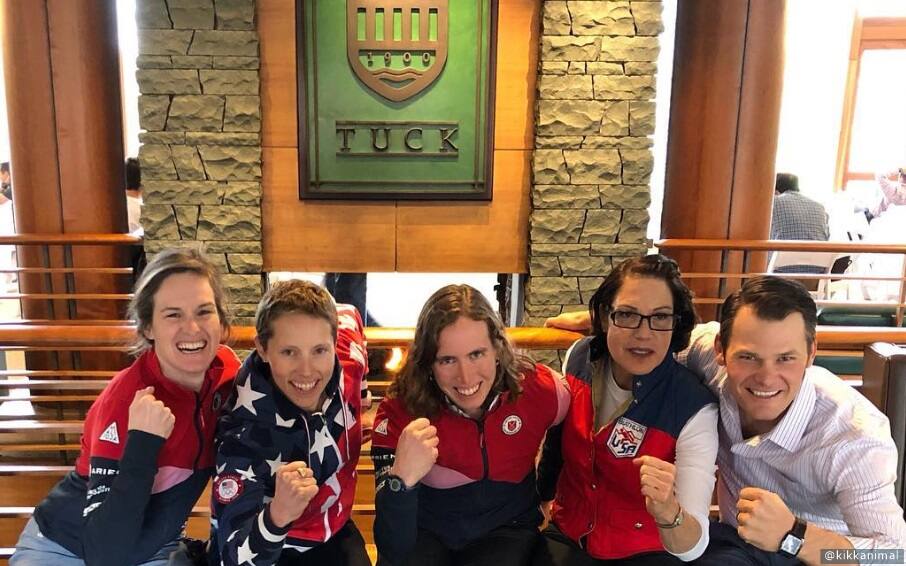 Cross-country skiers and biathletes, including Clare Egan (L), Kikkan Randall (2nd L) and Susan Dunklee (C) pose for a photo at Next Step: Transition to Business.
Agosto recently began doing research to further his education, and he applied for the Next Step program. After two weeks of intense schooling with other Olympic and Paralympic athletes, as well as Navy SEALS, Green Berets and high-ranking retired military, Agosto walked away with a certificate that goes on his wall. But more importantly for him, the program provided him a wealth of knowledge, a networking circle and a nice addition to his resume.
"Everybody there was in the same boat as, 'What do I do next?'" Agosto said. "The instruction there was top-level. It's like they brought out its all-star faculty, and they didn't take it easy on us."
Retired Para-cyclist Greta Neimanas said her identity most of her life had been "Greta the bike racer," and that she felt lost and alone when it was all over. That led her to the program in 2019, where she joined Agosto and 19 other U.S. athletes last month.
"Athletes need to plan for their retirement from sport from the time they start their sports journey," said Neimanas, who competed at the 2008 and 2012 Paralympic Games and won 15 career world championship medals. "You cannot do your sport forever, and that's OK. You have to be multi-dimensional because you never know when your athletic career will come to an end."
Next Step: Transition to Business began in 2017 as a pilot program with only a handful of U.S. athletes attending. It was designed to help veterans and athletes take their skills and apply them to the business world.
Download the Team USA app today to keep up with your favorite Olympians and Paralympians and all your favorite sports, plus access to videos, Olympic and Paralympic team bios, and more.
The program has since grown, and the April 2019 class featured U.S. athletes who have won a combined 19 Olympic or Paralympic medals at 39 Olympic and Paralympic Games, and competed in over 2,000 international events.
That class ranged from currently competing biathletes Susan Dunklee and Clare Egan to 1988 Olympic rhythmic gymnast Diane Simpson, and also featured athletes such as Anthony Ervin, who in 2016 became the oldest individual Olympic swimming gold medalist, and Meghan Duggan, who in 2018 helped Team USA earn its first women's ice hockey gold in two decades.
The two-week course is like a boot camp of crash-course learning in the business world.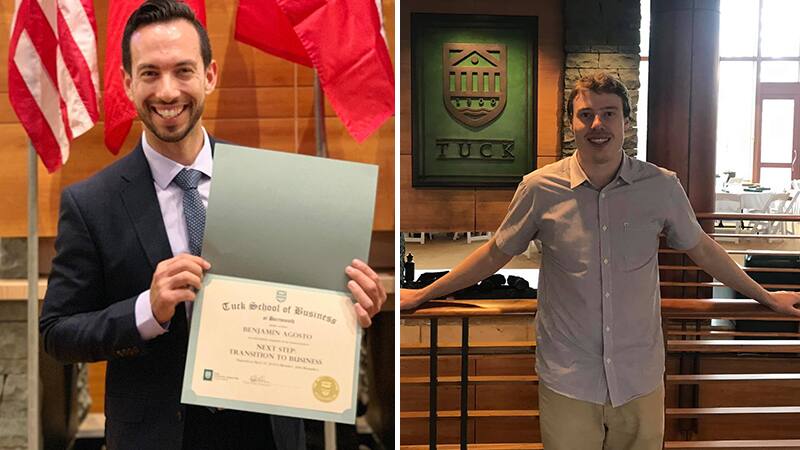 Figure skater Ben Agosto (L) and long track speedskater Brian Hansen pose for photos at Dartmouth's Tuck School of Business.
The program covers a wide range of topics across the spectrum, such as business strategy, innovation, marketing, branding, negotiation, financial analysis, building spreadsheet models, understanding balance and income statements, and getting a deal on a business loan.
The students spend an entire day on entrepreneurship activities, from designing a plan to creating solutions and presenting them to the class.
In addition to the eight hours of classroom instruction, there were after-hours networking events with leaders of corporations, cocktail networking with Dartmouth MBA students, fireside chats at dinner and team-building projects between veterans and athletes.
"They get one-on-one with business professionals, and it's super interactive," Klein said. "They bring in a lot of outside people from the community as well. And best of all, it's Dartmouth, it's business and it's an Ivy League School."
But it's not free. Though the Tuck School of Business heavily subsidizes the program, there's still a cost to the athletes and veterans. The USOC offers scholarships in tiers of $2,500 and $5,000 — funded by private donations, Klein said. Of the 21 athletes in the recent class, 18 of them received some sort of assistance from the USOC.
The tuition includes room and board. Students stay across the street at a hotel and eat at a campus cafeteria.
Klein said the program will now be offered twice a year, with the next class Sept. 3-13. The deadline to apply is May 24. Interested athletes should click here to apply. If an application into the program is accepted, then the athlete applies to the USOC for a scholarship, and those are granted based on financial need.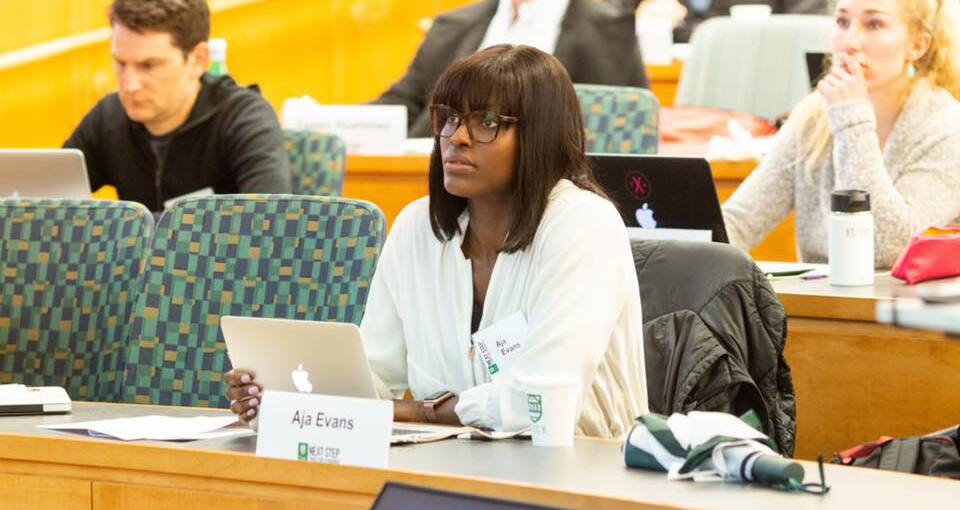 Bobsledder Aja Evans participates in a course at Next Step: Transition to Business.
Agosto was on a partial scholarship, but the dividend could be huge as he now plans to restart a business that got sidetracked during his skating career.
One day while in a locker room, he noticed his skates had an odor permeating from them. Regular deodorizers and scents weren't working, so he developed his own all-natural odor eliminator spray that works on skates and other athletic gear such as shoulder pads, cleats and anything that accumulates odor.
"This program gave me the motivation and inspiration to pick that project back up and start my own business on the side while I still do my other jobs," said Agosto, who choreographs ice shows for Cirque du Soleil and provides color analysis for NBC broadcasts of ice dance.
Neimanas said she plans to finish her undergraduate degree this year and maybe start a business of her own.
"Meeting, working and learning with so many like-minded individuals gave me confidence and reassurance as I'm still working through this transition out of sport," Neimanas said. "I don't have it all figured out, but I have left the Next Step program with a sense of calm and self-assurance that things will work out the way they are supposed to and that's it OK to not have all the answers right now."
Scott McDonald is a writer from Houston who has covered sports for various outlets since 1998. He is a freelance contributor to TeamUSA.org on behalf of Red Line Editorial, Inc.