In 2 Short Months, Chris Fogt Earned Military Promotion, Master's Degree, Upgraded Olympic Medal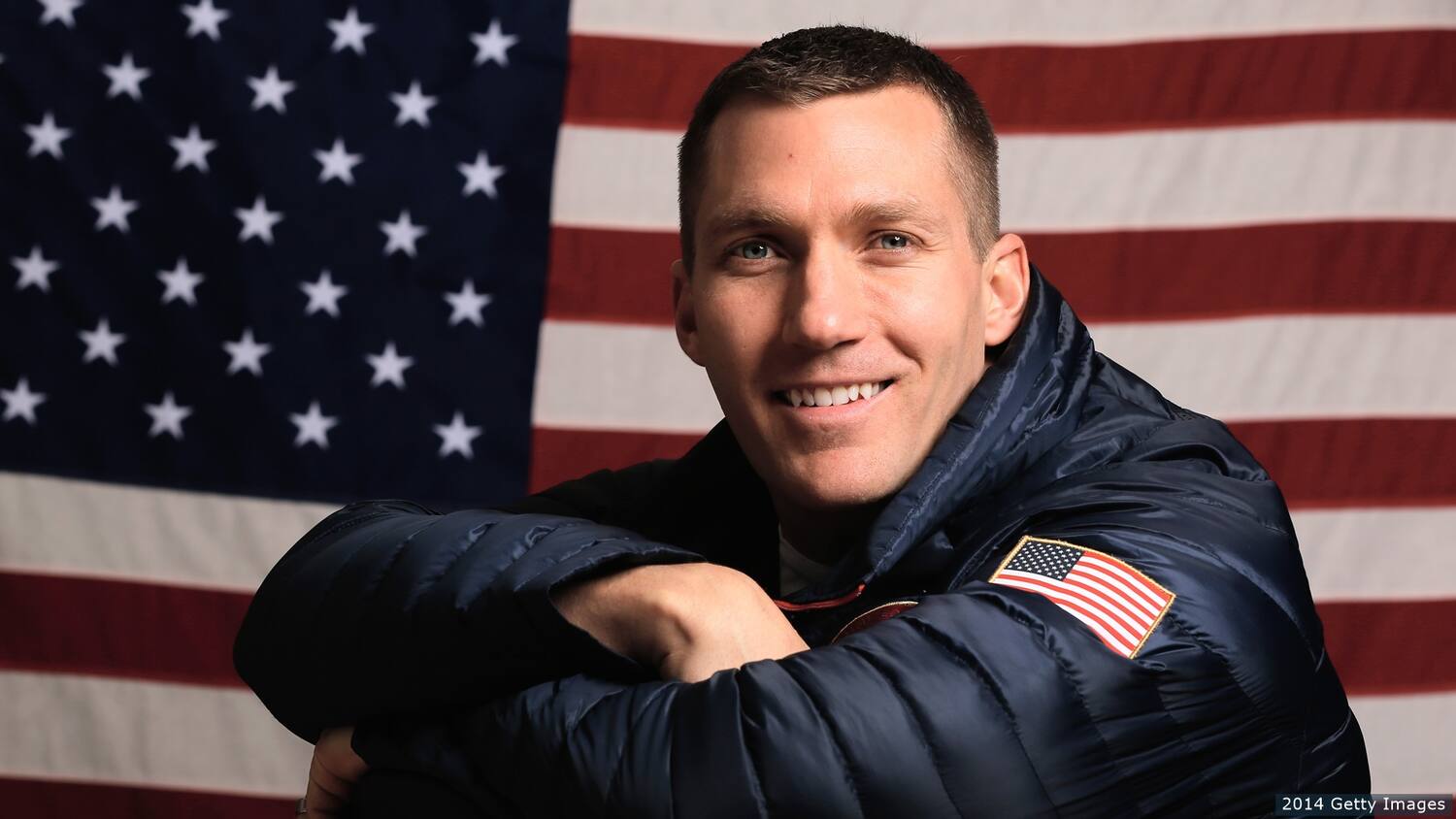 (L-R) Chris Fogt and his wife Rachel smile for a photo.
Imagine getting a huge promotion at your job the same month that you earn a master's degree. Pretty cool, right?
Now imagine finding out that you're suddenly an Olympic silver medalist on top of all that.
Welcome to the life of Team USA's Chris Fogt, a three-time Olympian who just might be having a better two-month stretch than anyone else.
It all started in late March, when the International Olympic Committee announced that several bobsled medals from the Olympic Winter Games Sochi 2014 were officially being reallocated. That bumped Fogt and his teammates in the four-man bobsled event — Steve Langton, Curt Tomasevicz and the late Steven Holcomb — from bronze medalists into the silver-medal positions.
That U.S. team had initially finished third in Sochi, but two athletes from Russia's gold-medal squad were later disqualified for doping offenses and stripped of their medals. Although Fogt and his teammates were aware of the rumors several years ago, it wasn't until November 2017 that the IOC formally announced the disqualification of those athletes. Then came a lengthy appeals process. Now that those appeals have been exhausted and the original medals returned, their bronze medals are turning into silver.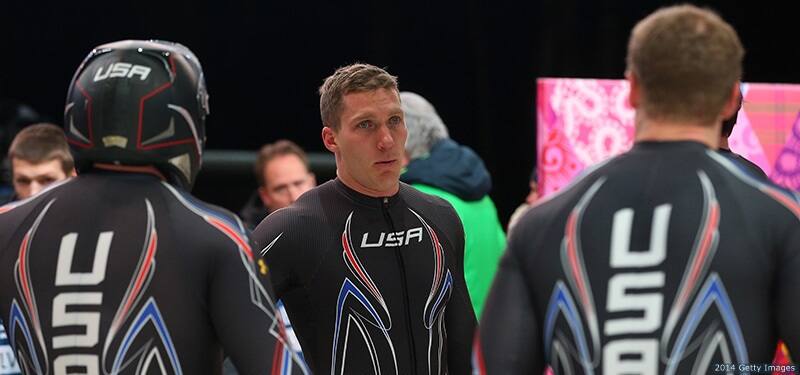 Chris Fogt (C) reacts after a four-man bobsled run at the Olympic Winter Games Sochi 2014 on Feb. 22, 2014 in Krasnaya Polyana, Russia.
It was an exciting moment for Fogt, Langton and Tomasevicz when they got the news, albeit one that Fogt admits was bittersweet given the void left by the unexpected passing of Holcomb, America's most decorated bobsledder who had piloted their medal-winning sled in Sochi, two years ago.
"This result appropriately bolsters Holcomb's legacy as one of the very best athletes to ever drive a bobsled," Fogt, Langton and Tomasevicz said in a joint statement after the medal upgrade became official. "Being the fierce competitor and advocate for clean sport that that he was, he would be smiling knowing that we're one step closer to a fair playing field."
A few weeks after the IOC's announcement, Fogt was honored at Utah's State of Sport Awards. With his parents and Holcomb's mother in attendance, the Beehive State native was named Male Olympian of the Year — no small feat considering how many Olympic athletes call Utah home.
Download the Team USA app today to keep up with bobsled and all your favorite sports, plus access to videos, Olympic and Paralympic team bios, and more.
But it's not just on the bobsled track that Fogt has proudly represented his country. He's also had a long, rewarding career as an intelligence officer in the U.S. Army. And earlier this month, he was promoted from captain to major.
That promotion comes with added responsibility and leadership roles for Fogt, who spent a year deployed in Baghdad training Iraqi intelligence agencies following the Vancouver Games. He now has the chance to move from working with several hundred soldiers as a company-grade officer to several thousand soldiers as a field-grade officer.
But the recent accomplishment that Fogt is most proud of? He now holds a master's degree in business and organizational management.
While stationed at Fort Leavenworth, Fogt began taking classes three nights a week at the nearby University of Kansas. He spent a year working toward that degree, and though there were challenges along the way — Fogt called it a "humbling experience" having to relearn math — he officially graduated two weeks ago.
"The Army, that's my job, so getting promoted is an expectation," Fogt said. "The master's degree was something I did not have to do. To receive a master's I never thought I would get, that's what I'm most proud of."
Fogt sees that particular degree as something that's applicable to both of his passions: bobsled and the military.
"There's some commonalities between the two," he noted. "In a team sport like bobsled, teamwork is very important. Being in the Army's the exact same thing. You spend all day training with these guys, so it's very important to have healthy teamwork and good camaraderie. Understanding now the science behind that and how to improve the probability of having good teams, I'll be able to apply that going forward in the Army, and if I ever come back to sliding again — or become a coach in the future — I think it will help make me a better leader."
Between Olympic training, military duties and the pursuit of education, Fogt has had a lot to balance over the last decade. And in recent years, he's added fatherhood to that mix, which has made prioritizing his time more important than ever before and given him a whole new set of challenges.
"With college, bobsled and the Army, there's some similarities, but parenting, I've never had any training for that," he said. "Kids will throw you for a loop. That's been the hardest thing, to have to learn a whole new skillset from scratch."
Fogt and his wife, Rachel, already have two young kids: a 4-year-old and a 2-year-old. Their third child is due in September.
According to Fogt, Rachel has been his "number one supporter," as her willingness to stay home with the kids has enabled him to pursue all his various endeavors. When it comes to his education, he also credits the United States Olympic Committee's Athlete Career and Education, or ACE, Program, which awarded him grants that helped pay for about half of his tuition at Kansas.
As for what the future holds, Fogt, who is celebrating his 36th birthday today to boot, says he's about "99.8 percent done" with bobsled — at least for now. It's something he'll reassess when the time comes, but he has plenty on his plate until then. He was accepted into the School of Advanced Military Studies, which will keep him at Fort Leavenworth for one more year in pursuit of another degree. After that, he owes the Army a utilization tour that's set to last between 12 and 18 months.
That wouldn't leave much time for a potential comeback ahead of the next Olympic Winter Games Beijing 2022, but Fogt's been in that position once before. After an anticipated deployment to Kuwait fell through before the 2018 Winter Games, he found himself with just enough time to get back in shape for bobsled. A few months after announcing his comeback, Fogt received news of Holcomb's passing, and for several weeks after that he was unsure whether or not he still wanted to compete. After talking with his wife and some of his teammates, Fogt decided that he wanted to carry on Holcomb's legacy as best he could, and he ultimately made the team and headed to PyeongChang for his third Games.
"Being an athlete and competing at the Olympic Games, wearing the 'USA' on your chest, and being able to represent the country, there's not another thrill like that," Fogt said. "It's definitely a thing that you miss when it's over with.
"Ever since I was a Boy Scout, I've always worn a uniform with some sort of (American) flag on it. I love this country. I love what it represents. To be able to wear that and represent that in sports and in the Army, there's a pride you get when you're able to do it at that level. It's just indescribable."
Shawn Smith is a freelance contributor to TeamUSA.org on behalf of Red Line Editorial, Inc.