New Scholarships Help Current And Former Team USA Athletes Learn In-Demand Skills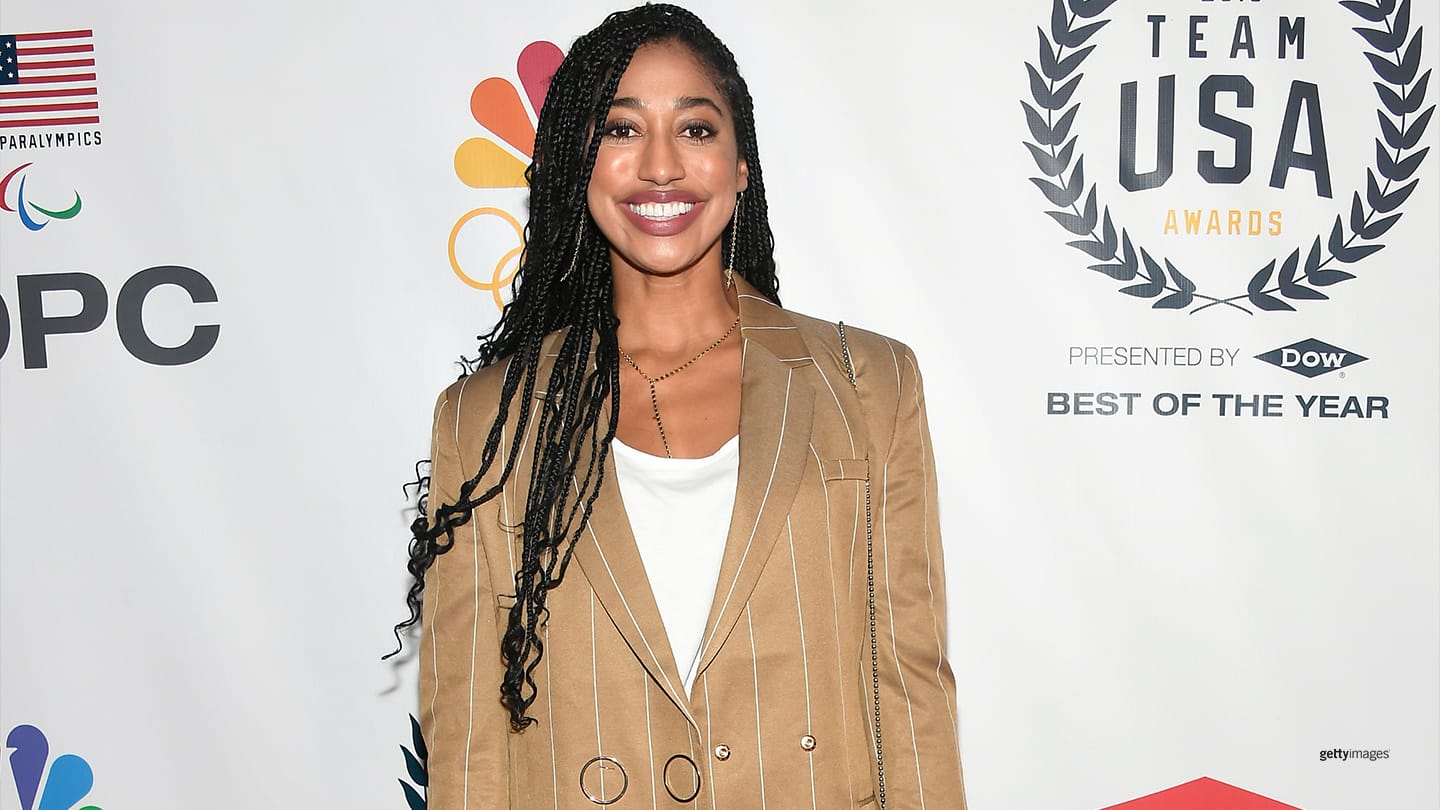 Whitney Dosty attends the 2019 Team USA Awards on November 19, 2019 in Universal City, Calif.
Whitney Dosty started thinking seriously about getting into the fashion industry after an ankle injury ended her professional volleyball career a few years ago.
She had been sewing since she was a kid, and she had taken a few formal sewing and design classes over the years. However, she didn't know as much about how to market her fashion ideas once they came to life.
That interest in fashion never left as Dotsy transitioned to sitting volleyball, making the U.S. women's national team for the first time in 2016, and it remained as she worked toward making the 2020 Paralympic Games this summer in Tokyo. With those Games now postponed until 2021, however, Dotsy is able to use this time to take an online class and prepare to launch Wavelength Swimwear, her own swimwear line for women with longer torsos.
Dosty was one of 10 current or retired Team USA athletes to earn a scholarship through a new partnership between General Assembly, the Adecco Group and the United States Olympic & Paralympic Committee's Athlete Career and Education, or ACE, program. She's using the opportunity to take a digital marketing course through General Assembly, an international professional development division of the Adecco Group.
"I love learning, so the idea of learning new skills really excites me to be back in school," Dosty said.
The scholarships allow the athletes to take part-time courses in such in-demand skills as software engineering, digital marketing and data analytics, with the goal of helping the athletes transition into new lines of work after their competitive careers.
"We live in such a digital age right now, and I am eager to learn as much as I can in as many different arenas as possible with skills that will lend support to me being a first-time business owner," said Dosty, who graduated from the University of Arizona with a degree in family studies in 2010. "Digital marketing appealed to me as a valuable skill to have."
Meanwhile, four-time Olympic cross-country skier Torin Koos was intrigued by the information he might be able to uncover from collecting data. With help from the ACE program, he enrolled in a 10-week data analytics course taught by General Assembly. His first day of class was Aug. 10.
Koos retired from competing after appearing in the Olympic Winter Olympics Sochi 2014. He earned a master's degree in professional communication from Westminster College one year later, and he moved to Switzerland in 2016 to work for the International Olympic Committee.
Over the years, Koos has tried to stay updated on the different resources provided to U.S. Olympians, even while living overseas. He applied for one of the 10 scholarships through the ACE program and received it.
"Having educational opportunities like this shows the commitment and respect that the American sports leaders have for the athletes pursuing their Olympic dreams," Koos said. "From first being part of the NCAA running and skiing programs at the University of Utah to combining courses at Westminster College while skiing for Team USA to today, there's nothing I'm prouder to be associated with than being part of the U.S. Olympian community."
The scholarship Koos received covers his data analytics course. He attends classes online two nights a week, and he spends a few more hours every week doing homework and projects for class.
"I see data analytics as an extension to my original interest in being an investigative reporter, where you do a deep dive into a topic of interest, uncover some hidden truth, and then you get to tell the story with the bark still on the tree, so to say," said Koos, who earned a degree in mass communication from the University of Utah in 2004.
"I see data science as playing in the same sandbox, just with a different toolset. Instead of investigating leads, you are extracting and wrangling data with the hopes of uncovering nuggets of truth."
Dosty said she learned about the scholarships available to U.S. Olympians and Paralympians from Terris Tiller, her athlete career coach in the ACE program. She began her digital marketing course on Aug. 17.
Dosty initially thought she'd be preparing in mid-August for the Paralympics, not the first day of class. Her plans changed, however, after she learned the Paralympics had been postponed.
"As an athlete that has been putting work in for the past four years for an opportunity at the Paralympics, it was sad to hear. However, the postponement is out of our control, and safety and health is the most important," Dosty said. "We have to adapt to another year of training and new ways of getting better. It's all a part of this new journey to Tokyo 2021."
There was at least a bright spot for Dosty, though. She said she probably would have had to wait a year to go back to school and learn about digital marketing if the Paralympics had gone as planned.
Alex Abrams has written about Olympic sports for more than 15 years, including as a reporter for major newspapers in Florida, Arkansas and Oklahoma. He is a freelance contributor to
TeamUSA.org
on behalf of
Red Line Editorial, Inc.