National Disability Employment Awareness Month Calls Attention To Underrepresented Workforce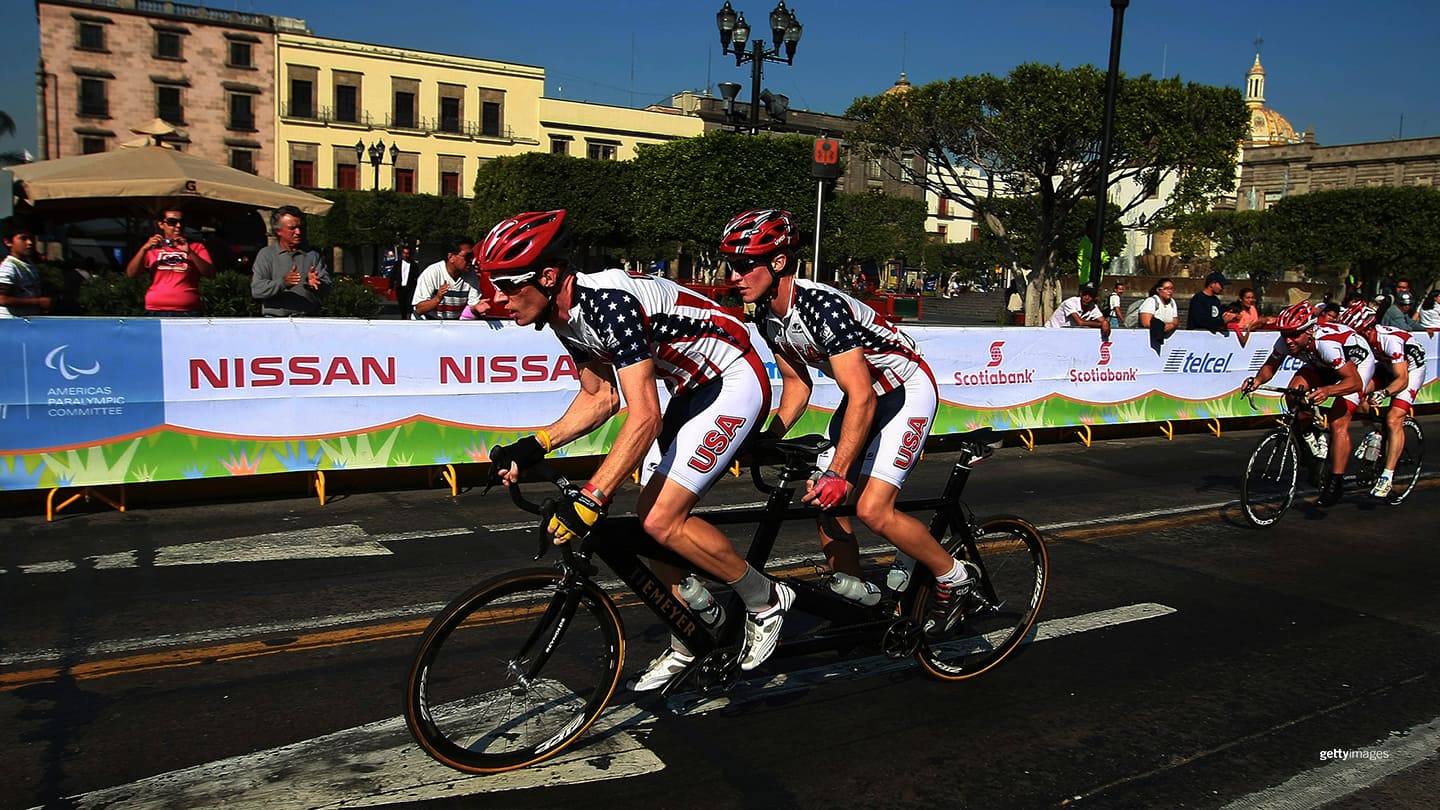 Clark Rachfal and David Swanson compete in the Men's Road Race B at the 2011 Parapan American Games on Nov. 19, 2011 in Guadalajara, Mexico.
Paralympian Clark Rachfal is well aware of job interviews that go nowhere.

"You look great on paper," he said, "but as soon as you enter that room with a white cane, a guide dog or a wheelchair, you can just feel the energy change."

"And you get the 'We'll call you back. We'll be touch,' and you know exactly how that's going to go.'"

Rachfal, a para-cyclist who is the Director of Advocacy and Governmental Affairs at American Council of the Blind, is among those working to change that outcome for the better.

October is National Disability Employment Awareness Month, celebrating the skills and creativity that people with disabilities bring to America's workplaces while reminding employers to utilize inclusive hiring practices.

"It's important to have National Disability Employment Awareness Month because people with disabilities are still severely underrepresented in the workforce," said Rachfal, who competed in tandem cycling at the Paralympic Games London 2012. "Some of that is implicit and unintentional bias and in other cases it's employers placing low expectations upon what people with disabilities are capable of doing."

As of July 2018, only 29 percent of Americans of working age (between 16 and 64) with disabilities participated in the workforce, compared with 75 percent of Americans without a disability, according to a 2018 study by Accenture called "Getting to Equal: The Disability Inclusion Advantage."

In 2017, the unemployment rate for people with disabilities was more than twice that for those without a disability, 9.2 percent vs. 4.2 percent.

The study pointed out that there are 15.1 million people of working age living with disabilities in the United States.

"It sounds so easy - just hire more people with disabilities. Just do it, right?" said Susan Katz, Senior Talent Attraction Partner at Biogen, a Boston-based biotech company, and a wheelchair basketball gold medalist at the Paralympic Games Athens 2004.

But it is so much more complicated.

"There are a lot barriers earlier in life that prevent people with disabilities from being able to get employment in regards to access to education," said Katz. "And transportation can be a huge obstacle."

She said that during the pandemic, with many people working remotely, employers have seen that workers can be just as productive from home.

"It is something that has opened a lot of eyes," Katz said. "It's helping people understand this might be a reasonable accommodation for those who have disabilities. This person is fully capable. There's no reason not to hire them."

Katz, who was recently named Global Co-chair of AccessAbility, Biogen's disability employee resource group, said diversity, equity and inclusion initiatives are at the forefront among employers more than ever before.

However, she noted that race, gender, sexuality and religion often get more attention as underrepresented categories than disability does.

"To have this month is certainly a celebration," Katz said, adding that studies show that hiring employees with disabilities "raises your bottom line."

According to Accenture, companies that excelled in hiring people with disabilities have higher revenue and shareholder returns.

And don't forget that employees with disabilities are also consumers.

The U.S. Office of Disability Employment Policy categorizes persons with disabilities as the third-largest market segment in the U.S. after Hispanics and African Americans, noting that their discretionary income of $21 billion is more than that of the Hispanic and African American segments combined.

"When you make it known that you are a disability-friendly company, people with disabilities will buy your products," said Katz, who was born with spina bifida and has used a wheelchair since age 10.

The Accenture study said that if the employment rate of people with disabilities went up by just 1 percentage point, that would result in a $25 billion increase to the GDP.

"So, not only is it good from a social standpoint, but it's good from a financial and economic standpoint for people with disabilities to be involved in the workforce," Rachfal said.

The U.S. government began educating the public on issues relating to disabilities in employment in 1945 by making the first week of October "National Employ the Physically Handicapped Week." The word "physically" was removed in 1962 to include individuals with all types of disabilities.