U.S. Olympic & Paralympic Foundation News
U.S. Paralympics' Gateway to Gold program finds talent at local level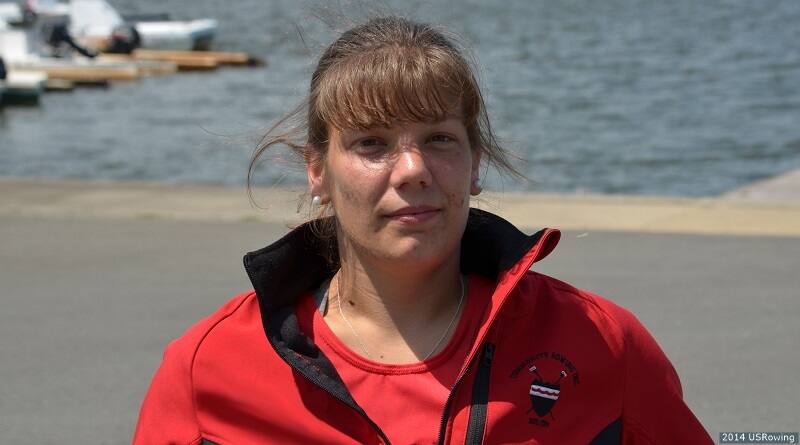 Gateway to Gold participant KateLynne Steinke, new to rowing just three months ago, recently earned her spot on the USRowing Para-Rowing National Team.
KateLynne Steinke held the potential of an elite athlete.
She just didn't know it yet.
Fortunately, Steinke was able to make that discovery when she attended a "Gateway to Gold" event hosted by Community Rowing, Inc., in Brighton, Massachusetts, this past March. This nationwide talent-identification program, launched by U.S. Paralympics in 2013, aims to introduce people with physical and visual disabilities to adaptive sport at the local level.
As a cornerstone of Gateway to Gold, U.S. Paralympics and its community partners, including National Governing Bodies, Paralympic Sport Clubs and veteran organizations, are hosting introduction to sport and talent identification clinics across the country. In addition to simply growing the number of Paralympic-eligible athletes competing in sport, these events are designed to identify competitive talent and lead potential elite athletes into the pipeline for the U.S. Paralympic Team.
Steinke was one such athlete who got noticed right away. Her performance in multiple fitness and agility tests stood out from the rest of the participants and caught the attention of US Rowing Director of Para-Rowing Tom Darling, who encouraged her to try competing nationally.
Less than three months later, Steinke was poised at the start line of her first-ever rowing competition – the U.S. Para-Rowing National Team Trials on Lake Mercer in West Windsor, N.J.
"I came here to row with no expectations," Steinke said. "I was more preoccupied with getting my boat and my equipment in order."
In fact, she went on to win the arms and shoulders women's single sculls division, edging Capital Rowing Club's Dana Fink, who finished ninth in the event at the 2013 World Rowing Championships. With the victory, she earned her spot on the 2014 US Rowing Para-Rowing National Team.
"I'm shocked to make the national team, and in general, with the support that everybody has given me," Steinke said. "I plan to train hard over the next month and learn all I can from everyone around me."
Now, Steinke is dreaming big. After finding herself at the top her class in the United States, she would like to see what she can accomplish on the international stage. She will get that opportunity at the 2014 FISA World Rowing Championships, which are set for Aug. 24-31 in Amsterdam. And if all goes according to plan, she may also find herself representing Team USA at the 2016 Paralympic Games in Rio de Janeiro, Brazil.
Gateway to Gold changed Steinke's life in a dramatic way – but she is far from the only one impacted by the program's mission. According to a 2010 study conducted by Harris Interactive/Disabled Sports USA, more than 68 percent of persons with disabilities and 52 percent of wounded warriors that are participating in physical activity programs are likely to be employed compared to 33 percent of adults with disabilities not participating.
The study also showed that more than 76 percent of persons with disabilities and more than 52 percent of wounded warriors participating in physical activity programs reported being in excellent or very good health compared to just 25 percent of adults with disabilities not participating.
Because the United States Olympic Committee and U.S. Paralympics do not receive government funding, programs like Gateway to Gold would not be possible without the financial commitment of American donors. Through a gift to the Paralympic Champions Fund, you can help athletes like Steinke discover adaptive sport, tap into their athletic potential and ultimately pave their way to the podium.
For more information on Gateway to Gold and upcoming events in your area, visit TeamUSA.org/US-Paralympics/Gateway-to-Gold. To learn more about how to donate to the U.S. Olympic and Paralympic Foundation, visit Give.TeamUSA.org.