U.S. Olympic & Paralympic Foundation News
Sarah Hammer aims to turn silver into gold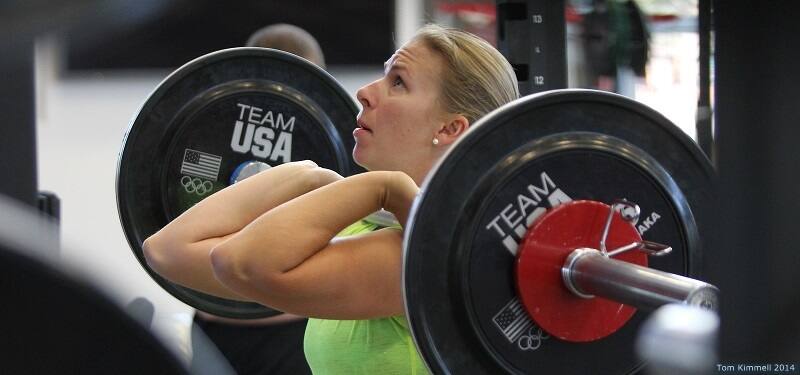 Living at the U.S. Olympic Training Center has allowed two-time Olympic silver medalist Sarah Hammer the opportunity to daily with a strength coach.
So far in her storied track cycling career, Sarah Hammer has been overwhelmingly successful. With two Olympic Games, two Olympic silver medals and seven world championship titles under her belt, she could walk away now at age 30 and hang her hat on an impressive career.
But Hammer has a champion's will to win. It's what has taken her this far, and it's what she hopes will take her to her first Olympic gold at the Rio 2016 Games.
"I won two silver medals in London, and now I want to turn them into gold," Hammer said. "That was my biggest reason to come back to Colorado Springs."
About a year before the London Games, where she medaled in both the team pursuit and the individual omnium, Hammer relocated to Mallorca, Spain. She wanted a change of pace, and being based in Europe made it convenient for her travel for international competitions.
But the situation wasn't perfect – and in a sport where hundredths of a second separate silver from gold, Hammer knows better than anyone else that the smallest advantage can make all the difference. For top-level coaching and athlete services, Hammer found that life in Europe could not compare to the U.S. Olympic Training Center in Colorado Springs.
Hammer is no stranger to the OTC. She attended her first camp there as a 13-year-old. At 18 she moved there as a resident athlete, staying for two years.
So Hammer knew what it was like to live at the hub of the Olympic Movement in the United States. She felt it was just the motivation she needed as she looked ahead to Rio.
"Being around Olympic-caliber athletes all the time, there is no excuse not to work hard," Hammer said. "It's inspiring to be around that kind of talent."
In Spain, Hammer had to travel to several different locations to receive sports medicine, recovery and strength and conditioning services. At the OTC, those resources are housed in one building – all at her fingertips, and always available.
"As an older athlete, I am taking advantage of sports medicine all the time. That's a huge thing for me," Hammer said. "The recovery center is fantastic, too. And I've been spending a lot more quality time in the gym with a strength coach, which is something I never had before."
The cycling superstar has now been living and training out of Colorado Springs since June 2013. Her hard work is paying off, as she earned her second straight omnium victory at the UCI Track Cycling World Championships in March of 2014.
Hammer has been chasing the dream of Olympic gold for more than 20 years. But as a full-time athlete, she is faced with travel, equipment and training expenses that continue to rise each year.
Without the financial support of American donors, athletes like Hammer would struggle to manage the costs associated with training for the Games. The U.S. Olympic and Paralympic Foundation exists to support such dedicated athletes, ensuring that Hammer and her fellow Rio hopefuls are able to fully focus on training, competition and that long-awaited spot at the top of the podium.
To make a gift today and help support Team USA on the Road to Rio, visit Give.TeamUSA.org.