U.S. Olympic & Paralympic Foundation News
Tokyo Tips: Odaiba
by U.S. Olympic & Paralympic Foundation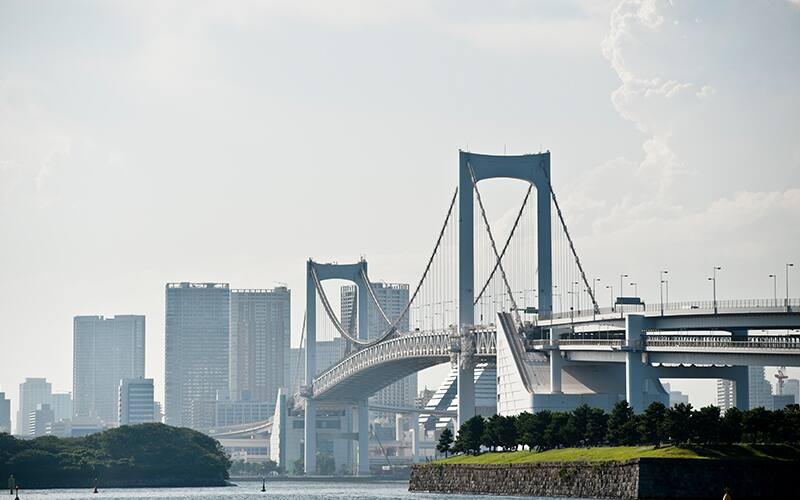 Tokyo Tips is a content series designed to help you make the most out of your time in Tokyo, before, during and after the Olympic Games. With almost one year to go before the Opening Ceremony, Tokyo Tips will deliver a new recommendation each month so you can fill your itinerary with some of the most exciting attractions the city has to offer. This month, read up on Odaiba, a series of man-made islands flush with shopping and entertainment in Tokyo Bay.
Just over the Rainbow Bridge from the Shibaura Pier is Odaiba, a grouping of islands ("daiba" means "island" in Japanese) in Tokyo Bay. The islands were originally built during the Edo Period to protect Tokyo from water attacks and later expanded through the use of repurposed trash in the 1980s.
City planners envisioned Odaiba as a futuristic escape, with modern hotels and shopping options aplenty. But with the Japanese property market collapse in the early 1990s, plans were put on hold, and Odaiba remained mostly vacant.
In the late 1990s, the Yurikamome elevated train line opened, connecting Odaiba to Tokyo proper and revitalizing the empty island. Developers flocked to Odaiba and built unique hotels, shopping malls, museums and other entertainment options that made the island a popular destination for tourists and locals alike.
On Odaiba, visitors can find a replication of Edo Period hot springs at Oedo-Onsen Monogatari or stroll through what feels like an 18th century European town at the Venus Fort shopping mall. Other attractions include the National Museum of Emerging Science and Innovation, Aquacity Odaiba (which includes a ramen theme park, where ramen from all across Japan is served), and Toyota Mega Web, where Toyota's latest models and technology are on display for the public.
Odaiba will play host to triathlon, open water swimming and beach volleyball during the Olympic Games Tokyo 2020. The island is a 20-minute drive from the Olympic Stadium and takes around 50 minutes to reach by train.
To learn more about the USOPF's philanthropic giving levels that allow you to reserve your spot at the Tokyo Games, please email foundation@usoc.org.