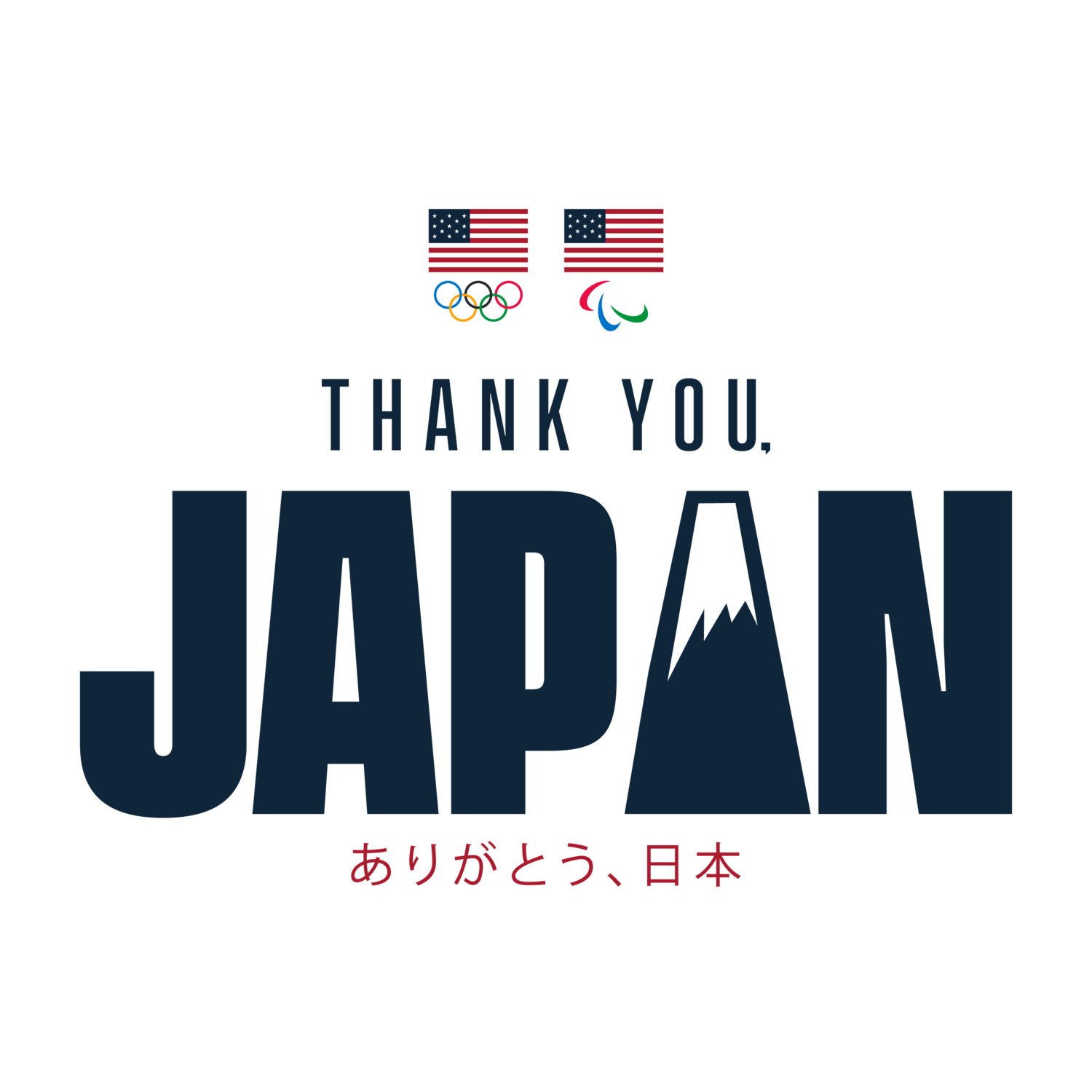 Team USA's "Thank You, Japan" initiative is an international goodwill campaign that aims to contribute to the positive legacy of the Tokyo 2020 Olympic and Paralympic Games and to share the Olympic and Paralympic values with the Japanese community.
Through "Thank You, Japan," Team USA athletes will have the opportunity to say thank you to the people of Japan for hosting the world at the Games next summer, experience the culture and sights that they seldom have time to explore during their busy competition schedules, and interact with Japanese athletes outside of competition. "Thank You, Japan" activity will include Team USA athlete exchanges, youth sport clinics, introductions to Japanese culture such as a Team USA manga comic strip series, and various community relations events.
「Thank You, Japan(ありがとう、日本)」イニシアティブは、東京2020オリンピック・パラリンピック大会がもたらすポジティブなレガシーに貢献し、オリンピック・パラリンピックの価値を日本のみなさんと共有することを目的としたTeam USAによる国際親善キャンペーンです。
Team USAの選手は「Thank You, Japan」を通じて、この夏行われる大会のホスト国を務める日本のみなさんへの感謝を伝え、競技期間中には忙しくてできない文化や名所を体験し、競技の外で日本との交流を深めます。「Thank You, Japan」ではTeam USA選手との交流、ジュニア向けスポーツクリニック、また、Team USAのマンガシリーズの作成を含む日本文化との触れ合い、その他様々なコミュニティ関連イベントを行っています。
News and Events
最新情報・イベント
MICHAEL NORMAN SPENDS TIME WITH CHUO UNIVERSITY'S HAKONE EKIDEN TEAM
マイケル・ノーマン 中央大学駅伝チームを訪問
November 24, 2019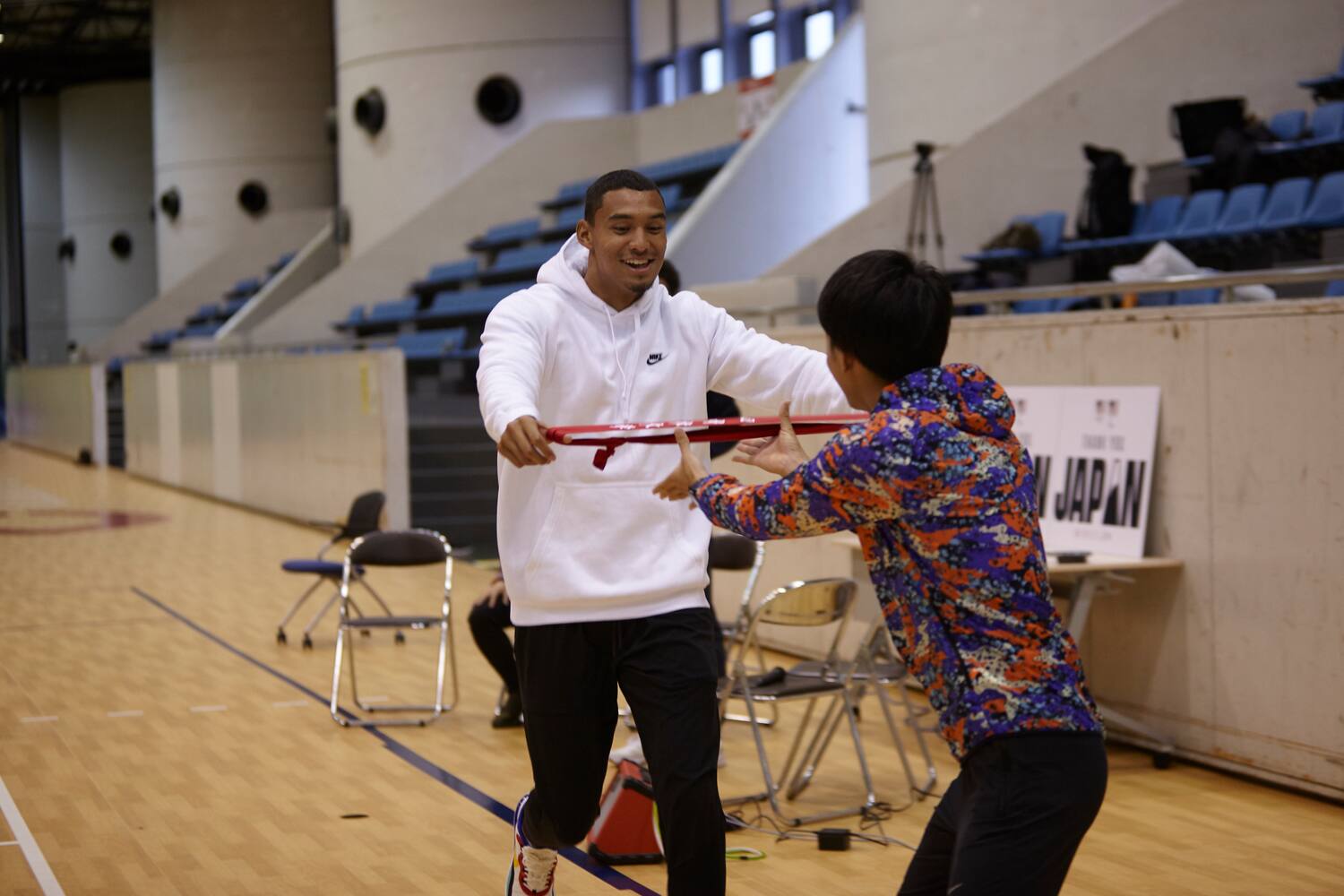 アメリカ陸上選手のマイケル・ノーマンが、中央大学の陸上競技部を訪問し、箱根駅伝について学ぶ
During his time in Tokyo in November 2019, Michael Norman visited with Hakone Ekiden athletes from Chuo University in Japan to exchange knowledge about starting a professional athletic career and also learn about Japan's deep Ekiden culture. The event started with a skills exchange and Q&A session that touched on Michael and the students' shared passion for the sport and how key skills can be implemented in life, both on and off the track. It concluded with an Ekiden lesson during which the students taught Michael how to hand the Tasuki – Mi.
2019年11月、訪日中のマイケル・ノーマンが中央大学の箱根駅伝選手を訪問し、プロ選手への転向についての知見を交換し、また歴史深い日本の駅伝文化についての知識を深めました。技術面の意見交換に始まり、質疑応答ではノーマンと中央大学学生に共通するスポーツに対する熱い思いや、陸上において、そして陸上以外において重要な技術をいかに実現するかについての議論が交わされました。駅伝についての学びの最後には、ノーマンは学生たちからたすきの渡し方を伝授されました。
TEAM USA ATHLETES VISIT NEW HOME FOR TOKYO 2020 TRAINING IN SETAGAYA CITY
東京2020大会のキャンプ地・世田谷にTeam USA選手が訪問
November 23, 2019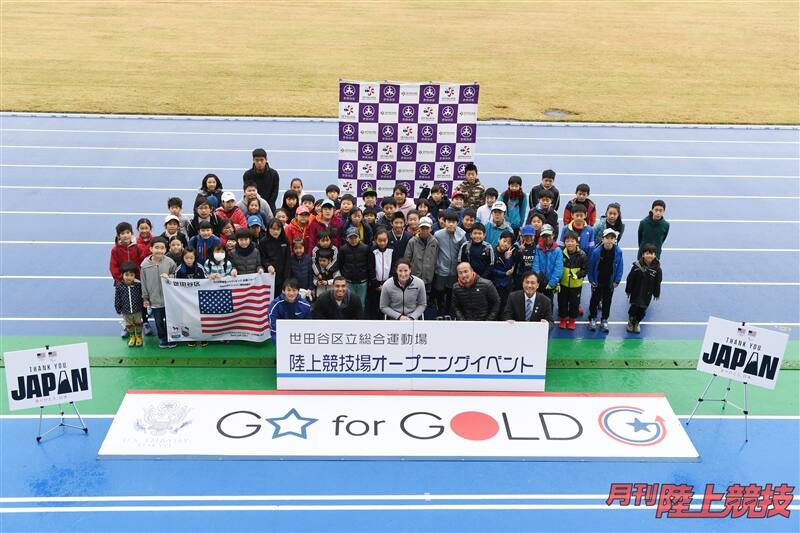 アメリカの陸上選手、タチアナ・マクファデンとマイケル・ノーマンが地元の青少年に「Thank You, Japan(ありがとう、日本)」を伝える
Team USA athletes Tatyana McFadden and Michael Norman visited Okura Sports Park in Setagaya City on Nov. 23, 2019, to officially unveil the newly renovated track and field at the facility. Okura will be the location of Team USA's High Performance Center for U.S. athletes at the Tokyo 2020 Games, with hundreds of U.S. athletes expected to utilize the world-class facilities during their preparation for competition.
Team USAアスリート、タチアナ・マクファデンとマイケル・ノーマンが2019年11月23日、世田谷区の大蔵運動公園を訪れ、総合運動場陸上競技場のリニューアルを記念するオープニングイベントに参加しました。大倉運動公園には東京 2020オリンピック・パラリンピック大会においてアメリカ選手向けのTeam USA「ハイパフォーマンスセンター」が置かれ、競技への準備期間には何百人ものアメリカ選手が世界レベルの施設を活用します。
McFadden, a 17-time Paralympic medalist, and Norman, the 400-meter indoor world record holder, are both names to watch at the Tokyo 2020 Games. They participated in a panel discussion and youth meet-and-greet as a part of the unveil, during which the they shared their excitement to experience Japanese culture ahead of and during Tokyo 2020.
これまでに17のパラリンピックメダルを獲得したマクファデンと、400メートル室内世界記録保持者であるノーマンは、どちらも東京2020大会での活躍が期待されます。二人はオープングイベントのパネルディスカッション、青少年との交流に参加し、東京2020大会前に日本の文化を体験できることへの興奮を語りました。
ACCESSIBILITY TOUR AND SYMPOSIUM ON ACCESSIBILITY WITH TEAM USA WHEELCHAIR RUGBY
Team USA車いすラグビー選手がアクセシビリティ体験イベントとシンポジウムに参加
October 21, 2019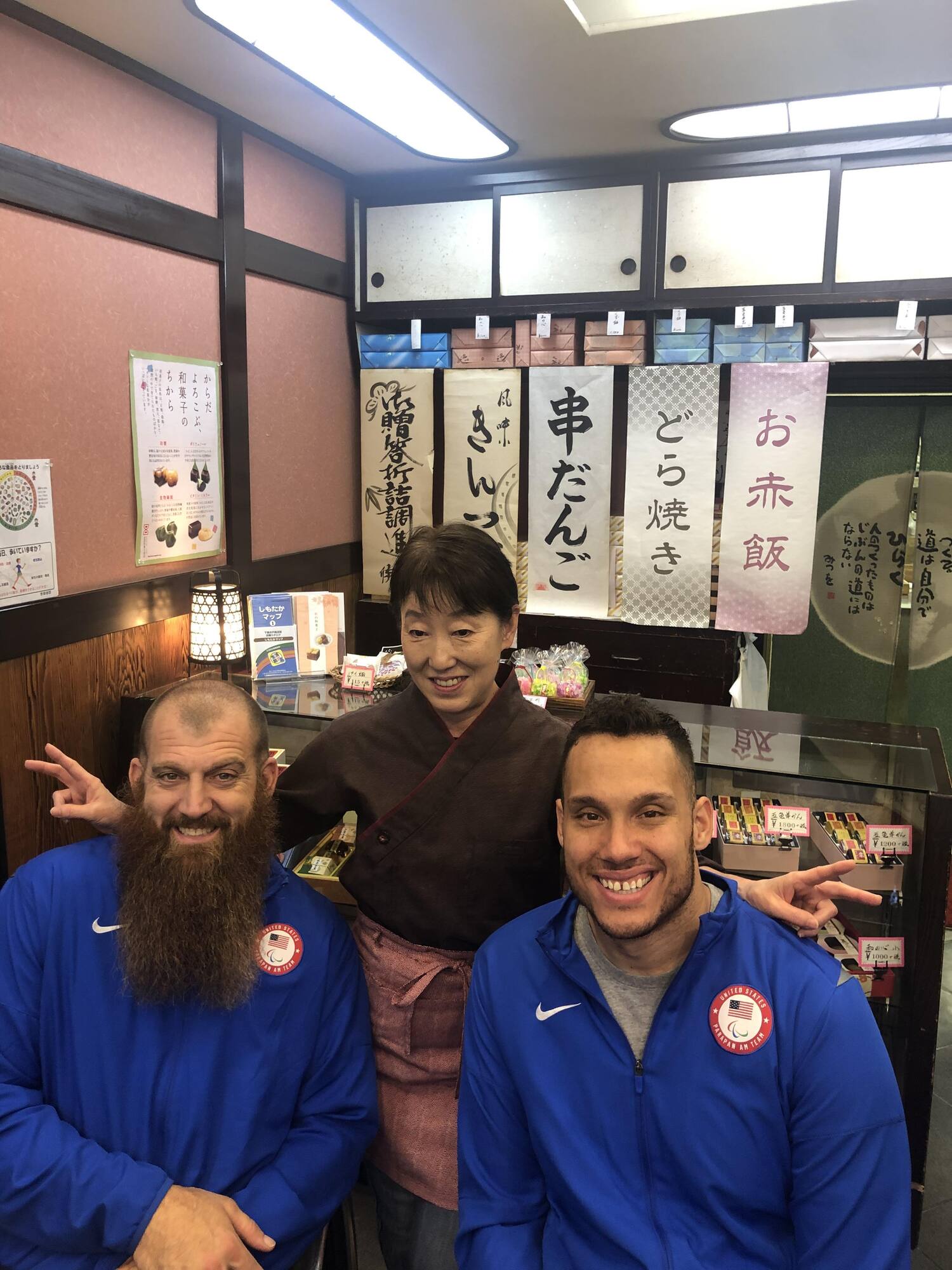 アメリカ車いすラグビーチーム選手が世田谷の商店街を視察し、シンポジウムでThank You, Japanの立ち上げを発表
To launch the Thank You, Japan goodwill initiative on October 21, 2019, members of the U.S. Wheelchair Rugby National Team visited Setagaya City for a full-day immersion experience centered around accessibility in the busy shopping areas of Setagaya. During their visit, the team saw the accessibility enhancements firsthand and recognized the collaborative efforts of Setagaya City to enable accessibility for Tokyo 2020 and beyond. Team USA athletes then participated in a Symposium on Accessibility at Nihon University, and were grateful to spend time with the community to discuss the important topic of accessibility. All of the symposium guests enjoyed a closing reception and rejoiced in the excitement of the upcoming Olympic and Paralympic Games with local athletes and legends, including Japanese rugby sensation Toshiaki Hirose.
国際親善イニシアティブ「Thank You, Japan」の立ち上げ発表に先立ち、アメリカ車いすラグビーナショナルチームの選手は2019年10月21日、買い物客で賑わう世田谷・下高井戸商店街で行われたアクセシビリティに関する一日体験イベントに参加しました。チームはアクセシビリティの向上を実地体験し、東京2020大会とそれ以降に向けてアクセシビリティを向上するための世田谷区の取り組みを認識しました。その後Team USAアスリート達は日本大学で開催されたアクセシビリティに関するシンポジウムに参加し、アクセシビリティについての様々な重要なトピックについて、地元のみなさんと議論を交わしました。参加者はシンポジウム後に開催されたレセプションで、地元のアスリートや、ラグビーの廣瀬俊朗氏などの伝説的なスポーツ選手と、来るオリンピック・パラリンピック大会への興奮を共有しました。