U.S. Olympic & Paralympic Foundation News
Team USA Endurance Takes on New York City Marathon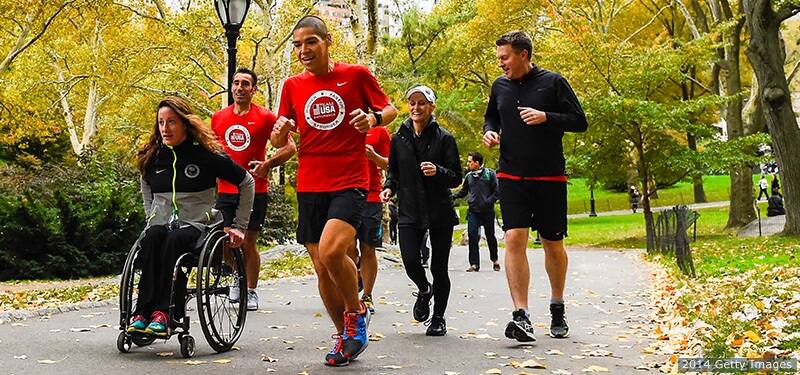 Members of 2014 Team USA Endurance participate in a fun run at Central Park prior to the New York City Marathon.
NEW YORK – It might have been Halloween, but Gene Derkack wasn't fooling around.
"How about if we run the mile at what will be Meb's marathon pace, about 4:54?"

Silence.

"Or how about Tatyana's pace, about 3:54?"

After a quick chorus of "No ways," a dozen or so Team USA Endurance members set off for a one-mile loop through New York's Central Park Friday afternoon, running alongside 2004 Olympic silver medalist Meb Keflezighi and 11-time Paralympic medalist Tatyana McFadden.

The group returned about nine minutes later, not even winded, to take a few photos and talk strategy for Sunday's New York City Marathon with Keflezighi and McFadden.

The runners were a part of this year's Team USA Endurance, and their donations will help provide training equipment, coaching and other support services for American athletes in preparation for the Olympic and Paralympic Games.

"This is our second year," said Derkack, director of leadership & capital gifts for the U.S. Olympic and Paralympic Foundation (USOPF). "Last year, the program raised $100,000, and we were close to doing so again this year."

In return for their support, team members had the chance to interact with Team USA Endurance co-captains Keflezighi and McFadden throughout their training and in person on race weekend. In addition, they received an automatic race entry to the New York City Marathon and valuable training advice.

"We provide every runner with a training program geared to their level, from beginner through advanced," Derkack said, "and access to one of our track and field coaches, Andrew Allden."

Team USA Endurance members each raised $3,500 for the USOPF, the philanthropic arm of the United States Olympic Committee. Many runners counted on donations from their friends, family and business associates – but anyone can give to support U.S. Olympians, Paralympians and hopefuls via the USOPF website, Give.TeamUSA.org.

"It's one of the things we love about this program," Derkack said. "Anyone can participate, from a dollar up, to help support the athletes. All of the funds go services for the athletes, including the U.S. Olympic Training Centers in Chula Vista (California), Lake Placid (New York) and Colorado Springs (Colorado)."

Last year's Team USA Endurance co-captain, McFadden, enjoyed meeting team members so much, she signed up for another year.

"It's amazing to be part of this," said a victorious McFadden, who on Sunday completed a second marathon grand slam by winning the Boston, London, Chicago and New York City marathons two years in a row. "Training for 26.2 miles is a huge commitment; it's not easy training for hills or headwinds. That's why I love marathons: people come from all walks of life, and we're all on that starting line."

Keflezighi, who inspired many with his surprise victory at the 2014 Boston Marathon in April, recalled breaking his hip during the 2008 U.S. Olympic Team Trials in Central Park, where he finished eighth and did not qualify for the Beijing Olympic team.

"Finances are always a burden for most people," he said. "You have to pay for physical therapy, cross-training or even just shoes. Fundraising is so important.

"When I injured my hip, the USOC came in strong for me. They helped me figure out what was wrong. I went to the training center in Colorado Springs, and I was supposed to stay for two weeks, but it turned into two months."

Keflezighi was the top American finisher Sunday in the men's marathon, placing fourth overall in a time of 2:13:18.

Many Team USA Endurance members have success stories of their own to tell.

Last year, New York-based sports agent Sheryl Shade ran her first marathon in 19 years as a member of Team USA Endurance. She twisted her knee around mile 10, but nevertheless finished. Shade successfully completed the marathon again on Sunday.

"So many of my athletes were sending me texts and notes of encouragement," said Shade, naming 2008 Olympic gymnastics all-around champion Nastia Liukin; Nick Goepper, who won the 2014 Olympic bronze medal in slopestyle skiing; and Angela Ruggiero, a four-time Olympian and member of the gold-medal winning women's ice hockey team in 1998.

"They were offering inspirational messages that they themselves use to gear up for events," Shade said. "The tables have really turned."

Team USA Endurance member Miguel Blancarte Jr., a 27-year-old who hails from Chicago, was overweight as a child, starting almost at birth. In 2012, he weighed 344 pounds. Through a combination of healthy eating and exercise, he has since dropped to around 164 pounds.

"My whole life, I always watched the Olympics, especially the summer Olympics," he said. "I'm always inspired when the athletes show their best effort. Meb was a big influence on me, and (2004 Olympic bronze medalist) Deena Kastor is great. Watching them made me want to get better."

In his first year of running alone, Blancarte finished three half marathons, an Olympic-distance triathlon, a 20-mile race and a full-distance marathon, as well as an ultramarathon. By mid-June, he had racked up nearly 200 consecutive days of running. But after Blancarte joined Team USA Endurance, trainer Allden gave him some important guidance.

"He said my body needed rest – even Olympians need to rest," Blancarte said. "So now I run for five days, and then recuperate for two."

Keflezighi had met Blancarte at previous races, including the Chicago Marathon held in October.

"It's very thoughtful for Miguel to give me some of the credit, but he deserves all of the credit for changing his life," Keflezighi said. "You never know how your running is going to touch people – you just always try to do your best.

"I told Miguel, 'It was hard to get in shape, and harder to maintain it.' I'm proud of him."

Lynn Rutherford is a sportswriter based out of New York. She is a freelance contributor to TeamUSA.org on behalf of Red Line Editorial, Inc.