U.S. Olympic & Paralympic Foundation News
Tokyo Tips: Gotokuji Temple
by U.S. Olympic & Paralympic Foundation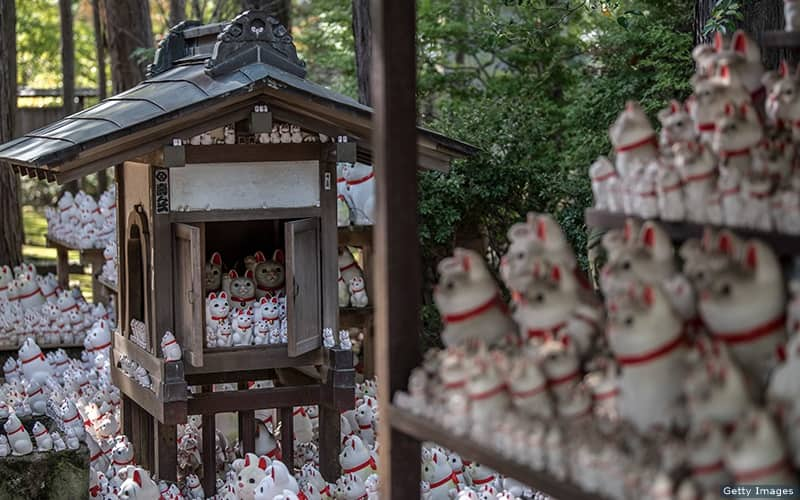 Tokyo Tips is a content series designed to help you make the most out of your time in Tokyo, before, during and after the Olympic Games. With one year to go before the Opening Ceremony, Tokyo Tips will deliver a new recommendation each month so you can fill your itinerary with some of the most exciting attractions the city has to offer. This month, discover the wonderfully quirky Gotokuji Temple, lined with thousands of cat statues to honor the maneki-neko.

Nestled within a residential neighborhood in Setagaya City, a special ward to the west of Tokyo, the Gotokuji Temple sits, unassuming, near an elementary school and a pharmacy. But what makes this temple such a draw grows evident the closer you get: cats. Hundreds and hundreds of cats.

The grounds of Gotokuji are home to a multitude of white cat figurines, each with a raised paw and a bright red collar. The statues pay homage to maneki-neko, "beckoning cat" in English, who plays an important role in the temple's history.

According to legend, this beloved cat belonged to a chief priest at Gotokuji during the Edo period. One evening, a feudal lord was passing by the temple and noticed the cat waving its paw, calling him inside. He followed the cat, who led him to the chief priest, waiting with tea and a sermon. With the men safely within the temple's walls, it began to storm violently outside.

Feeling like the cat had guided him to safety, the feudal lord provided Gotokuji Temple with rice crops and land. The temple grew more prosperous, and over the years, the maneki-neko became a prominent symbol of the area, meant to bestow good luck and safety.

Today, Gotokuji's cat figurines make it a popular tourist attraction. The temple includes a three-tiered pagoda, a compact main hall and picturesque grounds, sprinkled with stone statues amidst the cats. For cat lovers who want to see the maneki-neko in person, Gotokuji is a 20-minute drive from the Olympic Stadium and walkable from the equestrian venue for the 2020 Olympic Games.

To learn more about the USOPF's philanthropic giving levels that allow you to reserve your spot at the Tokyo Games, please email foundation@usopc.org.