U.S. Olympic & Paralympic Foundation News
Team USA Endurance members reflect on successful race weekend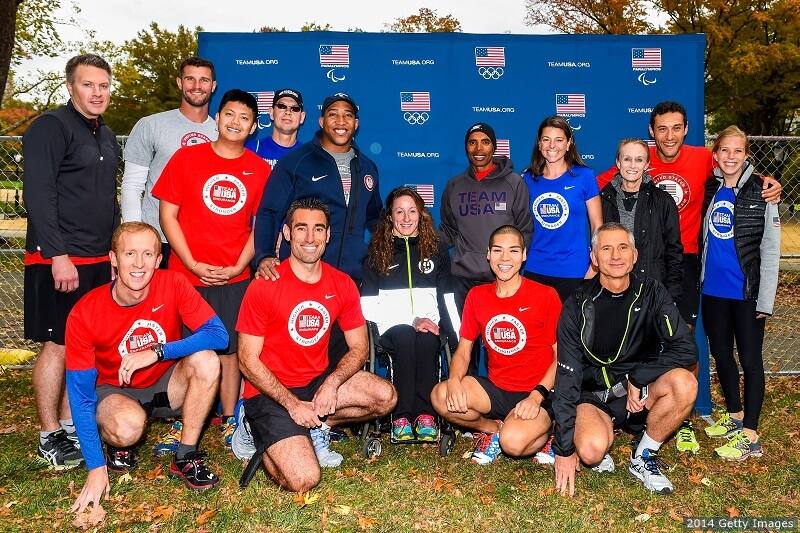 The runners of Team USA Endurance, who together raised nearly $100,000 for the U.S. Olympic and Paralympic Foundation, pose for a group shot with co-captains Tatyana McFadden and Meb Keflezighi.
For Jon Puz, it was the perfect opportunity.
A distance-running veteran with 10 marathons to his name, Puz was looking for a way to make his next 26.2-mile experience mean more. Rather than running for himself, he wanted to do something impactful for his cousin, who was born with spina bifida.
As soon as Puz discovered Team USA Endurance and the New York City Marathon, his decision was made.
As a charity partner of the NYC Marathon, Team USA Endurance raises funds for the U.S. Olympic and Paralympic Foundation. Members commit to raising at least $3,500 each for the athletes of Team USA, and they receive a free marathon entry and valuable training advice in return.
"When I found out about Team USA Endurance, I thought, 'Yep, this is my team,'" Puz said. "I had wanted to do the New York City Marathon, and I thought it would be really cool to connect my cousin with it. I like Olympic sports in general, and U.S. Paralympics brings in athletes with disabilities, so it was perfect."
Funding generated by the 25 members of Team USA Endurance will go to support U.S. athletes training for the 2016 Olympic and Paralympic Games. It will also help fund U.S. Paralympics' grassroots programming, which provides sport and recreation opportunities for people with disabilities nationwide. Such private support is essential for America's athletes, as the United States Olympic Committee receives no government funding for its Olympic programs.
Serving as Team USA Endurance co-captains were 10-time Paralympic medalist Tatyana McFadden and 2004 Olympic marathon silver medalist and 2014 Boston Marathon winner Meb Keflezighi. Keflezighi and McFadden offered words of encouragement to the runners throughout their marathon training and met them for a tune-up run in Central Park the Friday of race weekend.
Puz was thrilled to interact with both Keflezighi and McFadden.
"Tatyana is so well-known in the sport and disability communities, and Meb is obviously a legend, so meeting them was really cool," Puz said. "And just being able to send a picture to folks saying, 'Thanks for your support. You're supporting these athletes.' It made it that much more real to my friends and family who have helped support. These are the athletes who have benefitted, and here's what they've done."
McFadden and Keflezighi certainly did not disappoint on Sunday morning. McFadden cruised to victory to claim her second straight major marathon grand slam, while Keflezighi finished as the top-ranked American in fourth place.
McFadden said she drew as much inspiration from the runners of Team USA Endurance as they did from her.
"The best thing about running marathons is that you get to see people come together from around the world and all walks of life. Once we are on the starting line, it doesn't matter how old you are, how fast you are, or if you happen to be in a wheelchair – everyone is running towards the same finish line," McFadden said. "As part of Team USA Endurance, I was able meet so many people from the wonderful community of runners. I was able to not only encourage them in their own journeys, but also have them encourage me in mine."
For Allison Mignone, who is also on the Board of Directors of the U.S. Olympic and Paralympic Foundation, running with Team USA Endurance was just one more way to spread the word about U.S. athletes' need for private funding.
"I think funding is vital to provide a level playing field in Olympic competition," Mignone said. "Because the United States government provides essentially no funding for our athletes, it's up to the private sector to allow them to hopefully be their best. And I really believe in that."
Mignone ran a personal-best time of 3:37:44 on Sunday, breaking her previous mark by 18 minutes. In addition to working with a coach for the first time, Mignone said running for a cause made a huge difference in her motivation throughout the race.
"Running is an individual sport, and so to be able to feel like you're part of a team when you're running is a very unique experience," Mignone said. "To pursue that individual dream, but being able to do it in a way that you feel supported by your family and your team and the city, is just so cool."
In total, Team USA Endurance raised nearly $100,000 to underwrite coaching, travel, equipment and other expenses for U.S. athletes on the road to Rio.
For an athlete like McFadden, who is a gold-medal favorite in multiple track events for the 2016 Paralympic Games, such support is critical.
"As a full-time athlete, it means so much to me to have Team USA Endurance raise funds that will help athletes with the cost of training," McFadden said. "I don't get a paycheck every Friday, but I still have to budget for the costs of equipment, coaching, travel and basic life expenses. For me, my racing tires cost $300 each, and there was one week that I blew out six tires. It's those types of costs that are part of training that many people don't see."
Though Team USA Endurance won't reconvene until next year's NYC Marathon, U.S. athletes are in need of support all year long. Fans of Team USA can make an online gift to the U.S. Olympic and Paralympic Foundation at any time or visit Give.TeamUSA.org for additional giving opportunities.