U.S. Olympic & Paralympic Foundation News
Donors see what it takes to train like Olympians and Paralympians at third annual Team Behind the Team VIP Weekend
by U.S. Olympic & Paralympic Foundation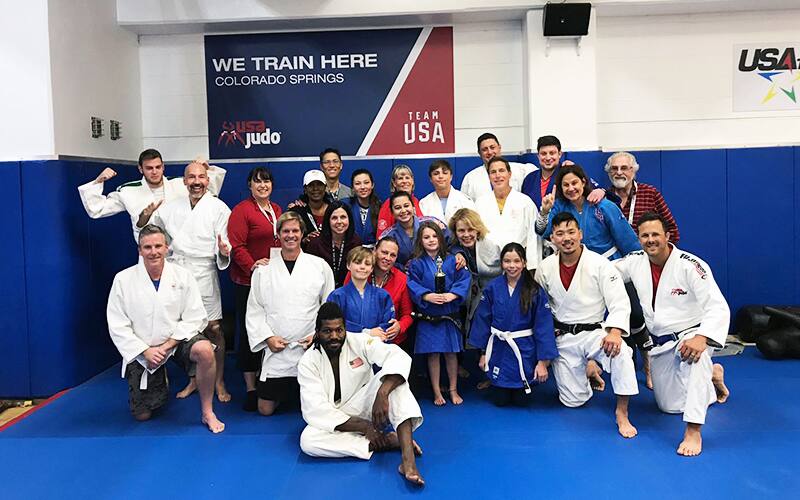 Donors learn how to take down their opponents in the sport of judo from Team USA judokas.
Becoming an Olympian or Paralympian takes grit, determination and hard work. It also takes a team to help U.S. athletes achieve their dreams—a Team Behind the Team.
Donors discovered the importance of that team this year at the third annual Team Behind the Team VIP Weekend in Colorado Springs, Colorado, hosted by the U.S. Olympic & Paralympic Foundation. Thirty-seven donors and prospects got a behind-the-scenes look at what makes Team USA successful, including several exclusive experiences at the Olympic & Paralympic Training Center.
"We wanted to show our donors not only what it takes to be a part of Team USA, but how critical a role they play in the journey of U.S. Olympians, Paralympians and hopefuls to the Olympic and Paralympic Games," said Christine Walshe, president of the USOPF. "None of this would be possible without them, and we hope the weekend showed them their impact."
Guests began the weekend with a tour of the Crawford Family U.S. Olympic & Paralympic Archives, where they were treated to a glimpse of medals, torches and other rare artifacts that are not available for viewing by the public.
A Team USA-themed reception, complete with a demonstration of fencing by modern pentathlete Isabella Isaksen and of boxing by Duke Ragan, rounded out Friday.
On Saturday, donors got their workouts in early with a strength and conditioning session at Ted Stevens Sports Services Center. They then toured the Team USA teaching kitchen, sports medicine and sports psychology before embarking on sport experiences. Guests played goalball (a Paralympic sport for visually impaired athletes similar to handball or soccer that uses a ball with bells) and chose between engaging in a judo match or shooting with some of Team USA's best.
"It was such a treat for me to see how [my sons] were so engaged," said Annie Liu from Washington, who was attending her first Team Behind the Team VIP Weekend with her husband, Ken, her niece, Megan Liao, and her two sons, Jake and Morgan. "In this digital age, kids are on their phones so much playing games, so for them to be completely unplugged the whole time and still having fun? That's amazing."
After lunch at the dining hall with Paralympic snowboarder Brittani Coury, Paralympic alpine skier Tyler Carter, gymnast Eddie Penev and skeleton athlete Veronica Day, the group reunited for a game of sitting volleyball.
That evening, donors got a glimpse at the Paralympic cycling program at the Colorado Springs Velodrome during a sport-themed dinner and celebration. Guests pushed their limits on watt bikes, where they were able to race against Paralympic cyclists Chris Murphy, Shawn Morelli and Justin Widhalm.
The weekend finished with a windy hike through Garden of the Gods with boxer Amelia Moore and wrestler Corey Hope. Donors were guided through the park with an eye toward highlights like Kissing Camels and the Weeping Woman.
One donor, Stacey Von Berg from California, summed up the weekend in speaking about the importance of having a team supporting you.
"It takes a village. It takes a whole team behind you," Von Berg said. "It's not just the individual or their parents helping them achieve success. Each athlete needs a whole team."
The USOPF's Team Behind the Team VIP Weekend is designed to showcase the impact of philanthropic support on Team USA athletes for donors and their families. If you are interested in learning more about the weekend, attending a future event or making a gift, please contact Kate Roberts at kate.roberts@usopc.org.