U.S. Olympic & Paralympic Foundation News
Headed to Harvard, Paralympian Dan Cnossen sets example for those looking to be more than just athletes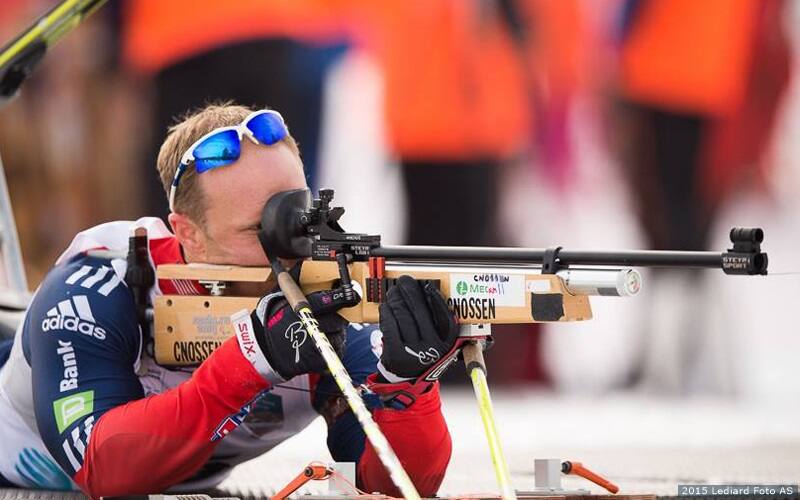 Dan Cnossen, a retired U.S. Navy SEAL and 2014 U.S. Paralympian, began studying public administration this summer at Harvard University's John F. Kennedy School of Government.
For U.S. Paralympian Dan Cnossen, the Kennedy School at Harvard University represents an opportunity to experience something new – to meet new people, solve new problems, and serve the world in a whole new way.
Cnossen, a 2002 graduate of the U.S. Naval Academy, lost both legs in an IED explosion while serving with SEAL Team One in Afghanistan in 2009.
Determined to recover quickly, Cnossen ran a mile on his new prosthetics one year to the date of his accident. From there came 5ks, marathons, Warrior Games medals and ultimately a spot on the U.S. Paralympics Nordic Skiing National Team.
Cnossen made his Winter Games debut last year in Sochi, Russia – and once the ski season ended, he began competing internationally in para-cycling.
The versatile athlete raced last week at the UCI Para-Cycling Road World Championships in Nottwil, Switzerland, where he finished sixth in both the road race and time trial.
But first, he made the move from Colorado to Massachusetts to begin graduate classes at Harvard.
Cnossen is enrolled in the John F. Kennedy School of Government, where he will earn his master's degree in public administration with a possible emphasis on human rights.
He is particularly interested in global human rights issues, ranging from child trafficking to landmine deaths in third-world countries.
"I would like to work for a human rights organization, ultimately, that does something to have an impact on the world," Cnossen said. "I think it's an interesting field, and there's a lot that could be done."
Ever modest, Cnossen claims that the Kennedy School values grade point average less so than it does life experiences – and having served his country, sustained and come back from a traumatic injury, and traveled across the world competing for Team USA, he's had quite a few of those.
Cnossen's professors were able to grant him time off to race at para-cycling worlds – but on a daily basis, he will have to find ways to fit his training in among a demanding course load.
"I think once I'm in school, on an average day I'll be training in the morning, and then going to class and just dedicating the rest of my day to that," Cnossen said. "These two-a-day things that I'm used to, probably not going to happen. It'll be just one good workout each day, and then load it on the weekends."
Cnossen hopes to continue competing in Paralympic sport for as long as his schedule allows – but ultimately, he wants to be more than just an athlete.
Such is the case for many members of Team USA who are planning their futures through the USOC's Athlete Career and Education Program. Available to both current and retired athletes, the ACE Program was developed to help guide U.S. Olympians and Paralympians down successful career and education pathways outside of sport.
The program has recently become a funding priority for the U.S. Olympic and Paralympic Foundation, which invested $2.75 million in ACE's launch. The resulting impact on athletes has been profound.
In 2014, ACE expanded its reach by almost 300 percent due to increased staffing and resources. Today, nearly 1,000 U.S. athletes are taking advantage of mentorship opportunities, customized and affordable educational options, job placement assistance and more.
In addition, the ACE program quadrupled its education and tuition assistance and increased job placements by 36 percent from 2013-14.
The program aims to place currently competing athletes in flexible employment so they can focus on training while earning an income. It also assists retiring athletes in finding a fulfilling post-sport career by developing individualized "exit plans" that outline the process and resources available for a successful transition.
"Moving from being a world class athlete to life after sport is a tough transition," said Benita Fitzgerald Mosley, a track & field gold medalist at the 1984 Olympic Games and currently the USOC's Chief of Organizational Excellence. "Even when you feel like you have the requisite education and job experience and have achieved the desired success in your sport, you can still feel a bit lost.
"It's really important that athletes receive the necessary emotional, psychological and career management support to help them launch a successful life and career off the playing field."
ACE still has room to grow, however. Led by Mosley and Director of Athlete Career and Education Services Leslie Klein, the program's staff has outlined several key objectives for 2015-16.
These include enhancing the ACE Portal, an online hub for athletes that houses scholarship opportunities, job openings and more; launching an on-line mentoring program to allow Olympic and Paralympic alumni and other professionals to mentor and advise athletes; offering life skills courses for athletes ranging from financial literacy to public speaking; and conducting an Olympic and Paralympic Career and Education Athlete Summit at the conclusion of the Rio 2016 Games.
Because the USOC does not receive government funding, those objectives will not be possible without the support of private donors nationwide. In order to complete ACE's initial pilot and invest in future improvements, the foundation must raise an additional $800,000 in philanthropic support.
If interested in making a gift to the USOC's Athlete Career and Education Program, please email foundation@usoc.org or contact Blanton Jones at (719) 866-3342 for more information.