U.S. Olympic & Paralympic Foundation News
Athlete Career and Education Program awards more than $240K in athlete tuition grants, a 75% increase from last grant term
by U.S. Olympic & Paralympic Foundation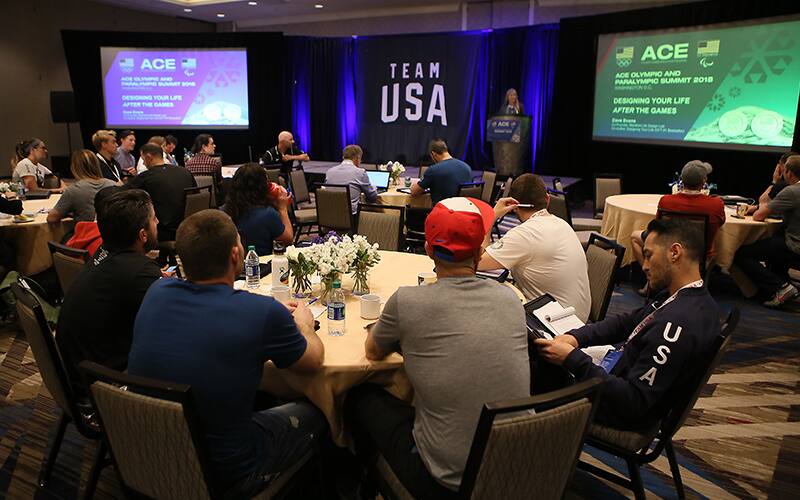 Athlete participants hear from ACE Director Leslie Klein at the 2018 ACE Summit, held every two years after the Olympic and Paralympic Games.
The U.S. Olympic and Paralympic Foundation, in partnership with the U.S. Olympic Committee, today announced that the Athlete Career and Education (ACE) Program will disburse $240,895 in higher education tuition grants during the spring term for application to any academic term over the next 18 months.

In total, 95 athletes were awarded tuition assistance, including $81,315 earmarked for active Olympians and Paralympians. Olympic and Paralympic hopefuls will receive $63,530, and ACE will distribute $96,050 to retired Olympians and Paralympians.

"We are proud and honored to be able to support the higher education aspirations of our Olympians, Paralympians and hopefuls," said Leslie Klein, director of ACE. "Our hope is to continue to grow the USOC's tuition assistance program so Team USA athletes can access the tools and develop the skills they need to be successful off the field of play."

Twenty Olympic and 13 Paralympic sports were represented in the grant recipient pool, as well as 69 different higher education institutions, including MIT, Stanford, Brown, Columbia and more. Eight athletes are in pursuit of doctorate degrees, and more than half of the athletes are first-time grant recipients.

ACE tuition grants are largely funded by donors to the USOPF. In particular, $50,000 of this term's grant allocation was gifted by USOPF Board Member Benjamin Sutton, who has been contributing to the ACE Program since its inception in 2014.

"Mr. Sutton's generosity, and the generosity of others like him, is transformative for athlete programming like ACE," said Christine Walshe, president of the USOPF. "We appreciate his philanthropic commitment and support of these hardworking athletes of Team USA, who are able to pursue their career and education goals with assistance from donors to the ACE Program, and we hope this inspires others to invest holistically in Team USA athletes."

In addition to donor contributions, $102,345 of the total disbursement came from the Utah Olympic Legacy Foundation. Not included in this term's calculated total is an additional $12,000 granted by The Dow Chemical Company Foundation for use by 18 athletes who participated in Dartmouth's Tuck School of Business Next Step program, designed for military veterans as well as Olympians and Paralympians transitioning to careers in business.

Since ACE began administration of the USOC's tuition grants in 2017, the program has distributed $684,467 in tuition grants to 242 athletes, in addition to the support provided by USOC partner DeVry University, which awarded $1.5 million in full-tuition scholarships to athletes and celebrated its 100th Team USA graduate in 2018.

But the need for education resources remains great. The total tuition costs incurred by the nearly 120 athlete applicants during the most recent grant period exceeded $2 million, and room and board costs approached $1 million.

However, with additional funds from Sutton and the Utah Olympic Legacy Foundation, ACE was able to provide athletes with 75% more grant funding than the last period, an upward trend that Klein and Walshe hope to see continue.

"Donors make what we do possible, and their impact on these athletes in invaluable," Klein said.

ACE awards tuition grants twice per year, in the spring and fall. Athletes are encouraged to apply for the next grant term through ACE's website, or by contacting the ACE team. For more information on the USOPF and how to contribute to the ACE Program, please contact foundation@usoc.org.