U.S. Olympic & Paralympic Foundation News
At 19 years old, swimmer Haley Beranbaum will be a leader for teammates in Toronto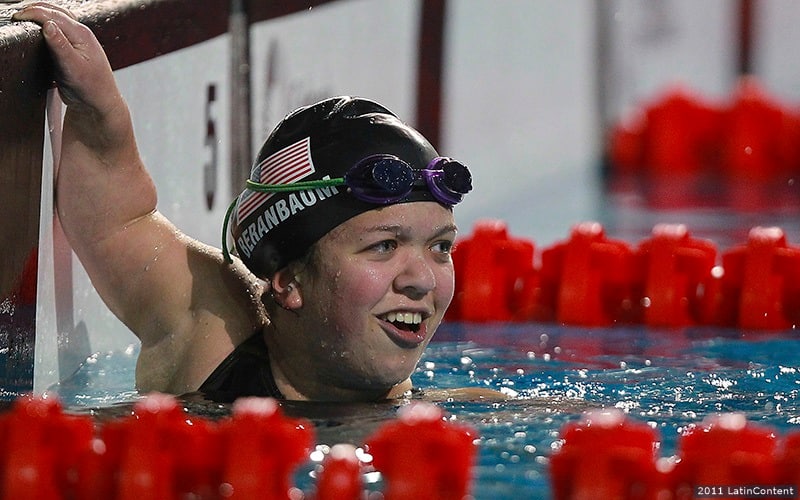 Haley Beranbaum celebrates a victory in the women's 200m freestyle at the 2011 Parapan American Games in Guadalajara, Mexico. Beranbaum is one of 20 U.S. swimmers who will compete at the 2015 Parapan American Games in Toronto from Aug. 5-17.
Haley Barenbaum has done this before.
The 19-year-old Paralympic swimmer from Snohomish, Washington, made her international debut with Team USA at the 2011 Parapan American Games in Guadalajara, Mexico. She won a gold medal in the 200-meter IM and a bronze in the 50m butterfly – and she was just 15.
"In 2011, I had been doing Paralympic swimming for only about three years," Beranbaum said. "I was at my second Can-Ams, and the coaches were like, 'Oh, you made the team!' It's really cool when you make your first team, especially when you're 15. I was just thinking, 'Woah, they think I'm fast!'"
Now, Beranbaum is practically a veteran. A resident athlete at the U.S. Olympic Training Center in Colorado Springs, she is headed to her second Parapan American Games in Toronto, Ontario, from Aug. 7-15.
There, she will represent Team USA alongside 19 swimming teammates of varied ages and levels of experience.
Some, like 12-year-old Nelya Schasfoort, will be competing in their first international meet for the United States. A few, like 57-year-old Curtis Lovejoy, already own a collection of hardware from multiple Paralympic Games.
While Rio 2016 would mark Beranbaum's first Paralympic Games, her experience in Guadalajara and at the 2013 IPC Swimming World Championships in Montreal make her a valuable source of advice and support.
"I think I'll be in a position where teammates can come to me for advice and feel comfortable asking questions," Beranbaum said. "It will be good for then newer swimmers to see what international competition is like and what the Games will possibly be like going into 2016 and 2020."
While she'll be providing plenty of encouragement to her teammates, Beranbaum is still ultimately focused on her own performance.
This past March, she won five medals – including three gold – at the 2015 Can-Am Para-Swimming Championships. That meet was held at the Toronto Pan Am Sports Centre, the same pool into which she'll dive at the Parapan Ams.
This time around, Beranbaum hopes to make the national team cut for the 50m butterfly and to make the finals for the 200m IM, a race in which she will be swimming up a disability class.
"I'd like to medal in every event that I swim," Beranbaum said. "For Team USA as a whole, we want to make sure we all succeed and do what we came to do – win medals and support our country."
The Parapan Ams do not have a direct influence on qualification for the 2016 Paralympic Games. Still, the meet offers a valuable opportunity to swim against competitors from across the Americas and compare times with the world's best – especially since the 2015 IPC Swimming World Championships in Glasgow, Scotland, recently wrapped up on July 19.
"If I swim fast in Toronto, I'll be able to compare myself to a couple of Brazilians who are competition for me," Beranbaum said. "With worlds finishing up too right now, I can compare my times to how the rest of the competition did in Glasgow. It'll definitely be nice to see where I'm sitting going into a Paralympic year."
Having recently moved to Colorado Springs to live at the U.S. Olympic Training Center, Beranbaum has the Games on her mind more than ever before.
"What I like most about the OTC is that all of us are here to train," Beranbaum said. "Back on my hometown club team, there were some who were just there to be in shape or their parents were making them swim, and they didn't have that motivation. I enjoy the challenge – the challenge is what pushes me. And I think it helps being surrounded by athletes whose goal is to go and medal at the Games."
Toronto 2015 will stage the largest Parapan American Games in history, with more than 1,600 athletes from 28 countries set to compete in 15 sports.
____________________________________________________________________________________________________________
Your support helps fuel athletes like Haley Beranbaum as they work toward their Olympic and Paralympic dreams each day. By giving to the U.S. Olympic and Paralympic Foundation (USOPF), you can help underwrite many of the United States Olympic Committee's high-performance initiatives, including athlete financial aid and operations at the three official U.S. Olympic Training Centers. Please consider making a gift to the USOPF today.