U.S. Olympic & Paralympic Foundation News
Athlete Career and Education Program awards more than $525K in athlete tuition grants in 2019
by U.S. Olympic & Paralympic Foundation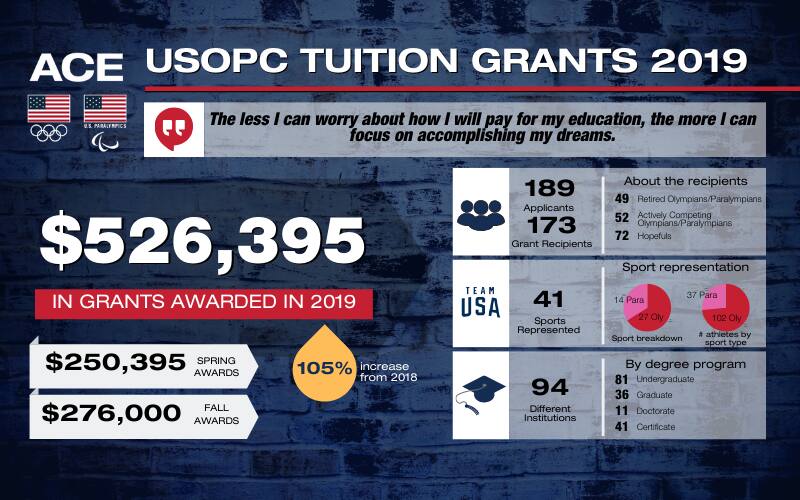 COLORADO SPRINGS, Colo. – The United States Olympic & Paralympic Committee, in partnership with the U.S. Olympic & Paralympic Foundation, today announced the disbursement of $276,000 in athlete tuition grants during the fall grant term by the Athlete Career and Education Program, bringing the total amount awarded this calendar year to $526,395. This represents a 105 percent increase in higher education award funding over 2018.
In total, 173 of the 189 applicants received tuition assistance this year, including 52 actively competing Olympians and Paralympians, 49 retired Olympians and Paralympians and 72 Olympic and Paralympic hopefuls. Athlete applicants came from 41 different sports.
"Team USA athletes continue to impress with their educational endeavors," said Leslie Klein, director of the ACE Program. "This year, athletes are pursuing a large array of degree programs attending institutions including Dartmouth, Harvard, Yale, Stanford, Rice and Brown, as well as state universities, community colleges and certificate programs around the country. We are proud to support them as they make their off-the-field dreams a reality."
Grant recipients in 2019 will be attending 94 different institutions. Eighty-one athletes are enrolled in undergraduate programs, with 36 enrolled in graduate programs and 11 pursuing doctorate degrees.
ACE tuition grants are largely funded by donors to the USOPF. In particular, $50,000 of last term's grant allocation was gifted by USOPF board member Benjamin Sutton, who has been contributing to the ACE Program since its inception in 2014.
Download the Team USA app today to keep up with all your favorite sports, plus access to videos, Olympic and Paralympic team bios, and more.
"These grants are made possible by donors' generous gifts, the hard work of USOPF staff to secure and steward their involvement, and by the dozens of USOPC colleagues who gave their time and thoughtfulness reviewing applications," Klein said.
In addition to donor contributions, $165,490 of this year's total disbursement came from the Utah Olympic Legacy Foundation.
Since ACE began administration of the USOPC's tuition grants in 2017, the program has distributed $960,467 in tuition grants to 287 athletes, in addition to the support provided by USOPC partner DeVry University, which celebrated its 100th Team USA graduate in 2018 and has awarded $3.95 million in full-tuition scholarships to athletes over the past three years.
But the need for education resources remains great. The total tuition costs incurred by the 189 athlete applicants this year amounted to more than $1.8 million, 28 percent of which ACE was able to fulfill.
"There is tremendous room to grow this program to accommodate even more tuition grant requests as our athletes continue to set ambitious higher education goals for themselves," Klein said.
ACE awards tuition grants twice per year, in the fall and spring. Athletes are encouraged to apply for the next grant term through ACE's website, or by contacting the ACE team. For more information on the USOPF and how to contribute to the ACE Program, please contact foundation@usopc.org.