U.S. Olympic & Paralympic Foundation News
U.S. Olympic and Paralympic Foundation leadership gather in Colorado Springs for 2015 Annual Meeting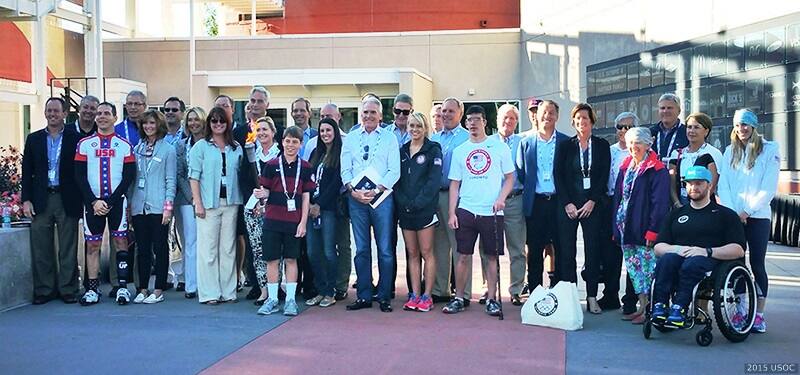 U.S. Olympic and Paralympic Foundation Directors and Trustees gather with Team USA athletes to light the torch at the U.S. Olympic Training Center in Colorado Springs.
For the first time in its two-year existence, the U.S. Olympic and Paralympic Foundation held its 2015 Board and Trustee Annual Meeting at the heart of the U.S. Olympic Movement – in Colorado Springs.
From Sept. 24-25, board members and trustees explored the ins and outs of the U.S. Olympic Training Center, met with Team USA athletes and connected with colleagues from across the country.
The event coincided with the USOC's Olympic Assembly, an annual gathering of all organizations that make up the U.S. Olympic and Paralympic family.
Foundation leadership attended the Assembly's general address on Thursday to hear remarks from U.S. Olympic Committee CEO Scott Blackmun and LA24 Chairman Casey Wasserman. Topics included a candid explanation of the decision to end Boston 2024's Olympic bid, an update on LA 2024 and an outlook ahead of the Rio 2016 Olympic and Paralympic Games.
On Thursday evening, an intimate dinner at the Garden of the Gods Club offered informal conversation with Team USA athletes, a pommel horse demonstration by U.S. men's gymnasts and a more detailed question-and-answer session with Wasserman.
During Friday afternoon's formal board and trustee meeting, guests were greeted by legendary men's basketball coach Mike Krzyzewski. Also known as "Coach K", Krzyzewski has coached the Duke University Blue Devils to five NCAA titles, and has been the head coach of the USA Basketball Men's Senior National Team since 2005.
At this private gathering, Krzyzewski thanked USOPF leadership for their involvement and reiterated the impact they have made on Team USA.
"I want to thank you for your financial support, your spiritual support, and your mind's support for this movement," Krzyzewski said. "There's a power of sport that transcends winning above all others – and when you see it, it raises you to a level as a human being that you would not have aspired to before. So when you're supporting something like this, it's not about just winning. It's about creating an environment that produces all these good things. And it's worth the effort, it's worth the money. It's worth getting more and more people involved."
"Coach K" was also the keynote speaker for Friday night's larger gala at the Antlers Hilton, which concluded the Olympic Assembly. Krzyzewski's speech focused on teamwork and collaboration at all levels of the movement, as well as the importance of being emotionally connected to the USOC's mission.
In addition to the Assembly activities, board members and trustees had the opportunity to tour the new Crawford Family U.S. Olympic Archives. Previously housed in a secluded basement of the Olympic Training Center, the archives were revamped and relocated to the USOC headquarters in 2014 thanks to the generous donation of funds and artifacts from Board Chairman Gordy Crawford.
For many board members and trustees based around the country, seeing the Olympic Training Center for the first time was an additional highlight. Guests participated in an in-depth OTC tour, which featured a walk through the new Ted Stevens Sports Services Center as well as onsite presentations from USOC sports medicine, sport psychology and coaching education staff.
At rotating sport demonstration sessions, OTC resident fencers, judokas and boxers showed off their skills and provided insight into their lives as Olympic and Paralympic hopefuls.
When it came time to talk strategy, USOPF leaders came prepared with thoughtful ideas and insights to help move the foundation's goals forward. The group split into various breakout sessions focusing on the foundation's key giving programs, from its newly formed Annual Fund to the ever-changing landscape of Olympic hospitality.
As a whole, the two-day event was one of camaraderie, celebration and productivity for the USOPF. It was much more than a business meeting – it was a heartfelt celebration of America's athletes.
Coach K said it best on Friday night, when he briefly described the purpose of such a gathering.
"You've heard and you've seen a lot in the last two days. It would really be a mistake if you leave here without feeling. You can put that 'USA' shirt on, and it goes over your heart, but if you don't feel, your heart will never be in it.
"It's about changing limits, about changing standards. And it's about having an imagination and an expectation of that change."
As the USOPF moves forward into its third year, the collaboration and insight shared at the 2015 Annual Meeting will surely help to guide that change.