U.S. Olympic & Paralympic Foundation News
Forbes: USOC creates Technology and Innovation Fund to aid in preparation for Tokyo Games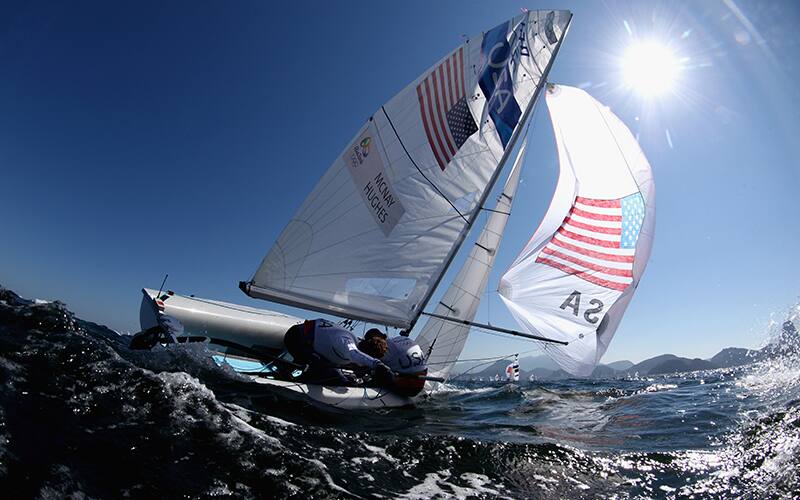 In conjunction with the U.S. Olympic and Paralympic Foundation, the U.S. Olympic Committee established the Technology and Innovation Fund to utilize the brightest ideas in technology and engineering to the benefit of Team USA's sports and athletes. With support from generous investors, the fund delivers groundbreaking improvements to current sport technology, drives future development and bridges the gap between innovation and utilization to put the U.S. Olympic Committee at the forefront of sport performance innovation. Read on below for more details on the fund from Forbes contributor Simon Ogus.
Team USA isn't set to travel to Tokyo until next summer for the Olympics, but training and preparation have long since gotten underway and that extends to both off the field of competition as well as on it. Sports, in general, but certainly for the preparation of National teams over the past few Olympics cycles have been greatly aided by advances in technology which can assist athletes to train smarter and more efficiently. In turn, an extremely competitive environment has unfolded, building pressure to keep up with the latest technology resources or risk a slip in performance on the international stage.
While a number of Olympic National teams receive significant support from their governments, the United States Olympic Committee (USOC) began to see this investment with other national team's begin to push forward results in their performance and began to brainstorm creative options in order to stay up to speed in the Olympics technological arms race despite no government funds being earmarked their way.

In response, the USOC began to work on a strategy to make them less reliant on factors outside of their control, while building connections to become more ingrained with both the technology infrastructure as well as venture capital. The goal was to build internally and, in turn, to tap into more intellectual capital to ensure that their athletes trained at world-class levels.

With these efforts, the USOC begin making inroads in Silicon Valley as the organization reached out to prominent venture capitalists to see how their perspectives could advance new ideas. They also tapped into the region's vast technological infrastructure that is already being used all over professional sports, including area teams such as the Golden State Warriors, San Francisco 49ers and Sacramento Kings. This outreach eventually led the USOC to the Warriors as co-owner Mark Stevens and Redpoint Ventures co-founder Geoff Yang, as the parties came together to create the USOC Technology and Innovation Fund, which would be backed by the two Silicon Valley veterans in conjunction with the Olympic Committee. The goals of the new fund are to support projects and companies that can aid athletes in all United States Olympic Teams for the upcoming Tokyo games in 2020, the games in Beijing in 2022, the next Paralympic Games in 2020 and, if all goes well, future Olympics.

"The fund and all of this advancement would not have been possible without our great partners in Mark and Geoff," said Fin Kirwan, the USOC's senior director of high performance. "What it comes down to is we were not keeping up to pace with our competitors and other countries were catching up to us on the tech side. We knew we had to change up the way we were doing things and take advantage of all the amazing technology talent we have in Silicon Valley and begin to turn that into an advantage."

The unique challenge of an initiative for a governing body like the USOC is the wide range of sports in the Summer and Winter Olympic games and the vast number of skills required to perform at a high level each for of them. While one form of technology could be useful for one of the Olympic Committee's sports, it could be completely obsolete for another. With this in mind, the USOC and the Technology and Innovation Fund has worked in lockstep with the athletes and coaches and their respective National Governing Bodies to learn about what is needed and to work with those most intimately involved to find solutions to further support preparation and training.

Kirwan also mentioned that the technologies they have been working with so far have a wide range of capabilities, including artificial intelligence, machine learning, data mining as well as training enhancement centered around health monitoring, which is especially vital for sports like track and field. The USOC has also been using radar technology, now used in golf and in MLB as well as in other sports, to get real-time feedback that makes the coaching process more efficient. Athletes are able to use data more quickly than in the past when the process was much more arduous to analyze training sessions or practice workouts.

With the Tokyo scheduled two years earlier than Beijing, the fund has initially focused on the preparation of the summer athletes. There are over 600 athletes that will be headed to Tokyo and, with travel that far, there are numerous immediate issues to address, such as sleep disruptions due to time differences, being sedentary for a prolonged period of time due to air travel, and facilitating training programs on the ground in Japan. The USOC wants to understand the best techniques for recovery so athletes can be ready to train/compete as soon as possible after their journey to be ready and in top form as soon as possible before the final training programs commence and they begin their competitions against the best athletes in the world.

"The technology innovation fund was put together four years ago and since the fund does not receive any US Government funds it was designed as a way for the USCO to try and get creative as other countries began to invest larger sums of money into their Olympic teams," said Stevens to me. "This had the ultimate goal of making it possible for the USOC and its athletes could continue to stay ahead of the curve and compete at the highest level."

The goal of the USOC is to eventually put into place an organized technological system in which third-parties will supply and help manage athletes, in order to keep the USOC ahead of the curve for all Olympic sports. With technology steadily making its way into the sports world, these earlier stage startup connections will be imperative to keep up with the latest training and recovery techniques that will also be on the radar of most other competing countries. Once they are able to go through a few Olympic training cycles, the USOC will have more data available to determine what is working and what could potentially be fine-tuned.

What the USOC eventually wants is to have as complete a picture of their athletes in all forms of their life that relates to competition. This program will result eventually in a system that can manage sleep cycles, training patterns and utilize AI to evaluate their results on an ongoing basis in order to adjust on the fly what works for the particular sport and athlete.

This will include wearable technology during training to analyze an athlete's motions and provide data to the coaching staff, even when the athlete is training elsewhere in the world. It is no small endeavor and will take many years of fine-tuning to get as close as possible to perfection, but with future technological advances, there will always be a new device or software to master to provide as up-to-date training data as possible. But if these efforts result in more medals for the USA and higher stature on the world stage, it will all be worth it and then some.