U.S. Olympic & Paralympic Foundation News
William E. Simon Olympic Endowment gives Team USA hopefuls an edge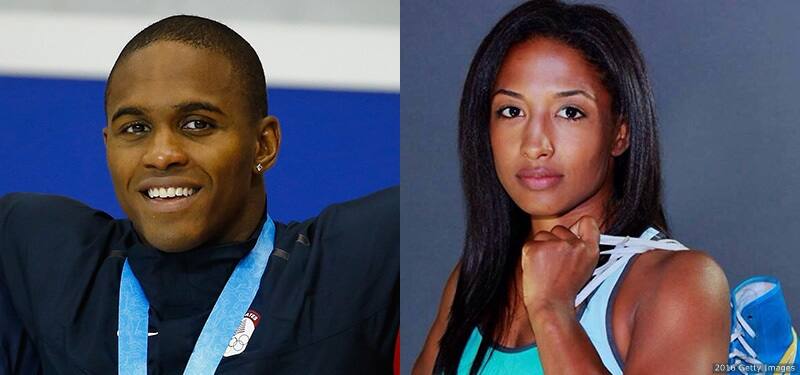 Swimmer Giles Smith and wrestler Victoria Anthony are two of the 12 U.S. athletes benefitting from the William E. Simon Olympic Endowment in 2016.
U.S. Olympic swimming hopeful Giles Smith consumes 4,000-5,000 calories per day.
That's what it takes to be a elite-level sprinter, contending with the likes of Michael Phelps in the 100-meter butterfly. Between three and four-a-day training sessions, proper fueling is extremely important.
All those calories, however, can add up to a pretty steep grocery bill.
That's one reason Smith is grateful to be a recipient of the 2016 William E. Simon Olympic Endowment for the Support of Athletes. The endowment, established in 1998 and named after the former U.S. Olympic Committee president, offers financial aid to a select group of athletes each year.
Since the grant's inception, more than $920,000 has been awarded by the USOC to nearly 200 athletes. Its aim is to offset training expenses, allowing athletes to focus more fully on chasing their Olympic and Paralympic dreams.
Smith is one of 12 Team USA hopefuls selected to receive support from the Simon Endowment in 2016. He plans to use the funding to aid in both nutrition and recovery.
"The grant allows me to be a little bit more consistent with putting quality food in my body, and really taking care of myself outside of the pool," Smith said. "Being able to afford massages when I need them, chiropractor visits – those things really help in terms of recovery."
The funding also offsets some of the expenses Smith faces when traveling for training camps and international competitions.
"When you're on the road with hotels and airfare, it adds up. And eating when you're on the road – you've got to eat well while you're competing," Smith said. "I'm very thankful to have the grant to be able to cover some of those costs."
Smith won gold in the 100m butterfly at the 2015 Pan American Games in Toronto last summer. Since then, he's had the flexibility to step away from a swim team coaching job – meaning hours on his feet in the sun after training – and commit fully to his athletic career.
Smith hopes to qualify for his first U.S. Olympic Team at the Trials for swimming in June, and he believes he has what it takes. Only the top two finishers in each event at Trials will punch their tickets to Rio.
"Obviously Michael Phelps swims my event, and he's the best swimmer in the world, hands down," Smith said. "And besides Michael, there are other guys who are great competitors. I think for me I'm just trying to swim my own perfect race, and if I do that, I believe I can get one of those spots."
For U.S. freestyle wrestler Victoria Anthony, receiving the Simon Endowment means being able to focus more on training and work fewer hours at her retail job at Dick's Sporting Goods.
"The Simon grant gives me the necessary support to increase the value of my training," Anthony said. "It allows me to relax financially, with the knowledge that I can afford the things that truly aid in great training – organic food choices, massages, recovery tools and travel expenses."
Anthony kicked off 2016 in winning fashion, taking the women's 48kg title at the Dave Schultz Memorial in Colorado Springs in January. She narrowly missed making the 2016 U.S. Olympic Team, finishing second at the Trials earlier this April.
The U.S. No. 2 is already looking ahead, though, with aims of making the team for the 2017 World Championships in Paris, France – and winning a world title once she gets there.
"In order to achieve that goal, I will compete in a handful of domestic and international tournaments along the way," Anthony said. "My goal is less to win those as it is to figure out what is and isn't working in my technique, fix it, and be prepared for the World Team Trials and the World Championships."
But for Smith, Anthony, and the 10 other Simon Endowment recipients for 2016, winning medals and setting records isn't all that drives them. Like most athletes of Team USA, they are motivated by something more.
"I want my story to inspire and encourage people to follow their dreams, regardless of being knocked down," Anthony said. "I lost this year in the finals of the Olympic Trials, but I'll be back better than ever because of it. I know my journey to the top will be one that others can pull encouragement from, in order to achieve whatever it is they are striving for."
Smith has a similar mission.
"It's really important to me to inspire minority kids," Smith said. "I'm an African-American swimmer, and there are not many of us out there. There's much more diversity on the pool deck than when I first started, but there's a lot that can be done. If I can impact that in any way – by my performance or by talking to a kid after a race – that's how you leave a legacy in a sport. You leave things better than they were when you were doing them."
For the full press release announcing all 12 Simon Endowment recipients for 2016, click here.