U.S. Olympic & Paralympic Foundation News
The Year in Review: A Look at the Foundation's Biggest Moments in 2015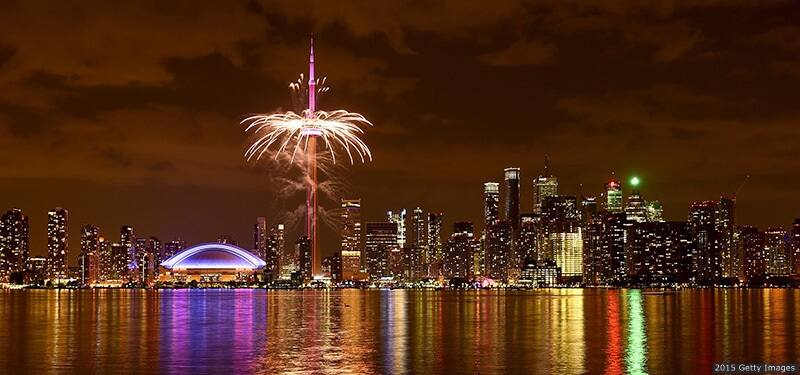 Fireworks shoot from the Toronto skyline during the Opening Ceremony of the 2015 Pan American Games. Team USA topped the medal count in Toronto.
In its second full year of operation, I am proud to say that the U.S. Olympic and Paralympic Foundation has raised unprecedented resources to support America's athletes. A broad base of loyal and generous donors showed our U.S. Olympians, Paralympians and hopefuls that they are truly dedicated to seeing them succeed.
With the Rio 2016 Games right around the corner, our Team USA hopefuls have proven they are ready for the challenge. This past year, American athletes were crowned world champions in ten summer sports. Gwen Jorgensen capped an undefeated ITU World Triathlon Series season with her second straight world title, Ashton Eaton won decathlon gold in record-breaking form at the IAAF World Athletics Championships in Beijing, and the U.S. became the first nation in history to win three FIFA Women's World Cup titles.
We saw the U.S. women's water polo team take home a world title, becoming the first team in history to hold Olympic, World Championship, World Cup and World League crowns at the same time. The U.S. Women's Gymnastics Team impressed with a third straight team world title, while standout Simone Biles earned five individual golds.
In July, the U.S. continued its decades-long streak atop the medal count at the Pan American Games in Toronto. At the Parapan Ams in August, Team USA hauled in 135 medals to finish third in the overall count, with two Americans setting new world records.
These are just a few of the many accomplishments of our athletes in 2015, and I could not be more proud of their efforts.
In addition to providing financial aid to current national team athletes, the foundation has also worked to support key U.S. Olympic Committee programs designed to advance the performance of Team USA in years to come.
The Athlete Career and Education program benefitted from increased funding in 2015, allowing the USOC to deliver high quality, comprehensive career and education services to both current and retired Team USA athletes.
The foundation supported diversity and inclusion initiatives such as FLAME (Finding Leaders Among Minorities Everywhere), an eight-day workshop for diverse college and graduate-level students to gain insight into the professional world of elite sport.
A new Technology and Innovation Initiative was launched in collaboration with the USOC's high performance and sport science departments, made possible thanks to the generosity of several USOPF Board Members and Trustees. This program will utilize science, technology and research like never before – all in an effort to put more American athletes on the podium than at any other time in Olympic and Paralympic history.
Finally, the foundation's annual fund, the Team USA Fund, gained strong momentum in 2015. An innovative symbolic giving campaign called the Team USA Registry was launched in April, successfully rallying donors and fans at all levels to support Team USA.
Meanwhile, the U.S. Olympic Committee launched a formal bid with Los Angeles in September to bring the Olympic and Paralympic Games back to the United States in 2024. The USOC and the LA 2024 bid committee will promote and refine the bid on local, national and international levels through Sept. 2017, when the International Olympic Committee will meet to select a host city from the international pool of candidates.
The USOC also hosted the 2015 Association of National Olympic Committees General Assembly in Washington, D.C., in October, the first time the event has been held in the U.S. since 1994. With representatives from 204 National Olympic Committees in attendance, the assembly was an opportunity to celebrate and advance the Olympic Movement on a global scale.
I am thrilled with the efforts of our donors, athletes and staff this past year, and am eager to see what 2016 has in store.
Many of our donors will be traveling to Rio as guests of the foundation for the 2016 Olympic or Paralympic Games – and I know the rest will be earnestly following the performances of our athletes from home.
Even before Rio, Team USA's up-and-coming athletes will compete at the Winter Youth Olympic Games from Feb. 12-21 in Lillehammer, Norway. I look forward to sharing success stories from those Games, knowing that many of the competitors are hopefuls for the 2018 Olympic Winter Games in PyeongChang, South Korea.
This year will be the foundation's busiest yet, but we remain committed to supporting our athletes in every way possible.
On behalf of all of our athletes, thank you for your generosity this past year and always. Let's hit the ground running in 2016!
In Olympic Spirit,
Jon Denney
President, USOPF