U.S. Olympic & Paralympic Foundation News
Entrepreneurship offers lucrative next step for Team USA athletes — and ACE Program helps them get there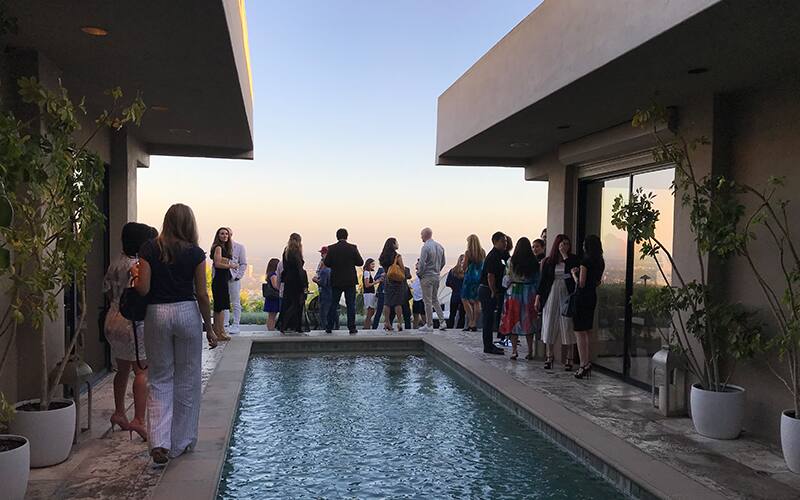 Team USA athletes network with entrepreneurs and businesspeople at the home of Alex Popa in Los Angeles, California.
One of the first clues that Team USA athletes were hungry for more opportunities in entrepreneurship came after the Olympic and Paralympic Games Rio 2016, during the Athlete Career and Education (ACE) Program's post-Games summit.

In one of the career sessions, a panelist asked athletes in the room to raise their hand if they were interested in potentially pursuing entrepreneurship after their athletic careers.

"And 50 to 60 percent of the room raised their hands," says Leslie Klein, director of the ACE Program. "It resonates with athletes as a career, as a venture, as a lifestyle."

Klein and her team knew they'd struck a nerve with entrepreneurship and began considering how best to respond to what appeared to be heavy demand for resources in the entrepreneurship space.

Enter Alex Popa, who is a member of ACE's working group, a partner at the investment firm Capital Group and a donor to the U.S. Olympic and Paralympic Foundation. Popa attended ACE's post-PyeongChang summit in Washington, D.C., this April, where he was inspired by the athletes he met.

"I have a passion for both entrepreneurship and competition, and when the USOPF staff and I were discussing potential areas of involvement, the ACE Program and its entrepreneurship subsection really jumped at me," Popa says. "I had never been more excited about a nonprofit opportunity and I jumped on it."

Popa approached Jillian Fontaine, director of major gifts for the USOPF's Los Angeles region, and ACE staff members with an idea for how to get Team USA athletes involved in entrepreneurship: gather them together alongside his colleagues, connections and friends for a night of network building and a bit of fun. The team refined their vision for the event, drafted the guest list and set a date.

On Aug. 3, entrepreneurs, investors, businesspeople and Team USA athletes joined Popa at his home and spent the evening connecting, setting goals and exploring ways to bring athletes' million-dollar ideas to life.

"When you put likeminded business folks together, people who are really passionate and eager to be successful — which Olympic athletes definitely are — when you put them in a room with people, you never know what can happen," says Allison Baver, an Olympic short track speedskater and bronze medalist who recently founded her own clothing line. "I was really excited to see folks who were specific to my business's needs at the event."

That carefully curated guest list was intentional, says Popa, who researched the athletes' backgrounds and entrepreneurial interests beforehand, so he could connect people with common interests.

"[The athletes] came to understand that this was really for them," Klein says. "It was catered to them and for them to help them, and they were blown away by that."

Baver and Jaime Komer, an Olympic silver medalist in the sport of water polo, were two of the 14 athletes in attendance in addition to 31 of Popa's entrepreneurially inclined connections. Thirteen sports — Olympic and Paralympic, summer and winter — were represented.

"I liked that it wasn't a forced situation of networking," Komer, who runs her own health and wellness coaching business as well as a new jewelry venture, says. "It was very casual, and you got to organically connect with whoever you chose to connect with, whoever you ended up speaking to, about whatever sparked your interest."

The event, which was the first of its kind, is something that Klein and the ACE team hope to duplicate in the future as more Team USA athletes express interest in entrepreneurship. In addition, the ACE Program is already planning a different kind of entrepreneurship event with the help of Eric and Liz Gasser, two more Team USA and ACE supporters.

Eric Gasser, who teaches at the University of California, San Diego, will host 10 athletes for a multi-day entrepreneurship workshop in November 2018. The application for the workshop, which opened in mid-August, has already exceeded 30 athletes, demonstrating to Klein just how passionate Team USA is about the subject.

"An athlete is often in charge of their own destiny. You may be in a team sport, but basically, you're me.com in terms of your employment," Klein says. "[Entrepreneurship] is a way to carry that forward. … I think going from the top of the podium to the top of the board room is really appealing."

In addition to entrepreneurship-related events, Team USA athletes are seeking education resources in the entrepreneurship space, which DeVry University fulfills with specialized bachelor's and MBA programs in small business management and entrepreneurship.

Some athletes have also taken part in the new Tuck School of Business Next Steps program at Dartmouth, which gives military veterans and retiring athletes from around the globe a 12-day course in entrepreneurship. ACE offers scholarships to cover the program costs and all graduates receive a Dartmouth certificate.

"Being involved in some way in an entrepreneurship event or program helps you figure out what you want, what's important to you, what you need to get done, whether it's right for you — it answers a lot of questions," Komer says. "You have to put yourself out there, even if you don't have all the answers."

As ACE addresses significant interest from athletes in entrepreneurship, the athletes who attended Popa's event can't help but acknowledge that many of the skills that make someone a successful entrepreneur — risk-taking, leadership, tenacity — also helped them reach the pinnacle of their sport.

"We're resilient. We're okay with making mistakes," Komer says. "You have to be okay with having setbacks and jumping right back in."

"We're able to self-motivate, and that's what makes a really successful entrepreneur. We're goal-oriented, we know how to execute things," Baver adds. "There's so much dedication and passion that goes into performing on the world stage and winning a medal. If you can win a gold medal, if you can be on the podium at the Olympic Games, you can do anything."
Interested in giving to the ACE Program or sharing your entrepreneurship expertise with Team USA athletes? Please email foundation@usoc.org.