U.S. Olympic & Paralympic Foundation News
The Year in Review: A Look at Team USA's Biggest Successes in 2014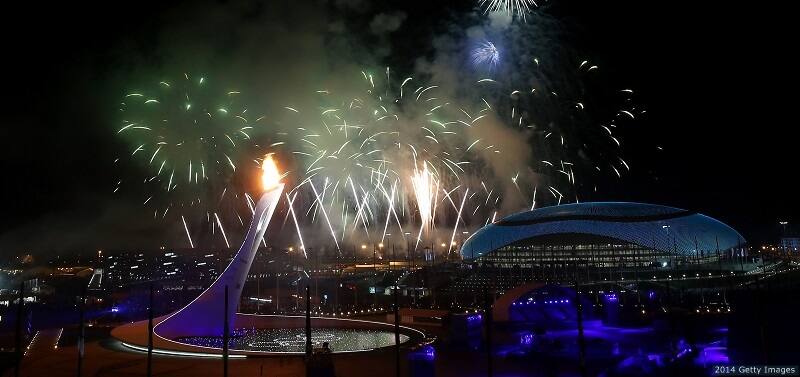 The torch is lit at the Opening Ceremony of the 2014 Olympic Winter Games in Sochi, Russia. U.S. Olympians and Paralympians earned a combined 46 medals at the Sochi Games.


A message from Jon Denney, USOPF President
A year ago, the USOC was making final preparations to send 230 Olympic and 80 Paralympic athletes to compete at the 2014 Olympic and Paralympic Winter Games in Sochi, Russia.
It's amazing to think about how much Team USA has accomplished since then.
In Sochi, U.S. Olympians and Paralympians earned a combined 46 medals, setting records and making history in the process. Team USA won its first-ever Olympic ice dance gold medal and achieved a podium sweep in men's slopestyle skiing. Another U.S. podium sweep came just weeks later in men's Paralympic snowboarding, followed by a repeat gold-medal performance by the U.S. Paralympic Sled Hockey Team. Historic progress was made on both the Olympic and Paralympic side in Nordic skiing, as Kikkan Randall earned the best-ever finish for an American woman in Olympic biathlon competition and Oksana Masters earned the first Paralympic medal for a U.S. woman in cross-country skiing in 20 years.
Just as importantly as the medals, each member of Team USA demonstrated the Olympic values of excellence, friendship and respect in Sochi both on and off the field of play. U.S. athletes inspired Americans nationwide, with an average primetime TV audience of 21.4 million during the Olympic Winter Games and an unprecedented 52 hours of Paralympic broadcast coverage on NBC and NBC Sports Network.
The summer of 2014 also marked two years until the 2016 Olympic and Paralympic Games in Rio de Janeiro, Brazil, and many of Team USA's Rio hopefuls tested their form against international competition. We saw U.S. national teams compete for world titles in several sports, including victories at the 2014 FIBA Basketball World Cup for men and FIBA Basketball World Championship for women, and a first-ever title at the FIVB Volleyball Women's World Championship. Simone Biles hauled in a record three gold medals at the FIG World Gymnastics Championships, and U.S. para-cyclists claimed seven world titles at the UCI Para-Cycling Road World Championships.
In August, Team USA's future stars traveled to Nanjing, China, for the 2014 Youth Olympic Games. U.S. Youth Olympians took home 22 medals in 11 sports, all while gaining valuable life skills and international experience through the International Olympic Committee's Culture and Education Program. Then, in September, the U.S. Olympic Training Center in Colorado Springs welcomed 200 U.S. military service members and veterans to the 2014 Warrior Games presented by Deloitte. This competition for wounded, ill and injured military service members acts as a new beginning for many men and women representing all branches of the Armed Forces – and for some, it can even open the door to elite Paralympic competition.
On the organizational side, 2014 was a landmark year for the U.S. Olympic and Paralympic Foundation (USOPF), which has become one of the USOC's highest strategic priorities. In its first full year of operation, the foundation defined its many giving opportunities, broadened its staff at all levels and established its regional presence throughout the United States. Such growth has allowed the USOC to provide more and more athletes with meaningful funding opportunities as they train for the Games. In 2015, we aim to continue growing that support to ensure that America's top athletes are poised for success on the Road to Rio.
Just as the 2014 Games year comes to a close, the one-year-out mark for the 2016 Games is rapidly approaching. Foundation staff, alongside the USOC's marketing, international games and high performance teams, are hard at work to make Rio a successful experience for Team USA's athletes. The competition is expected to be tougher than ever in 2016 – but we know we'll be prepared for the challenge.
Lastly, the USOC is ready to embark on an exciting campaign to host the Olympic Games in 2024. We look forward to working with our candidate city, which the USOC Board of Directors will choose from a list of four finalists – Boston, Los Angeles, San Francisco and Washington, D.C. – in early 2015. Alongside USOC CEO Scott Blackmun, Chairman Larry Probst and the rest of the organization, I am confident in our ability to mount an incredibly dynamic campaign. Importantly, for the first time in a long time, we can put forth a bid that won't face the impediments that have hampered previous efforts. In addition, the IOC's new Olympic Agenda 2020 reforms will allow for a more streamlined and less costly bidding process for all applicants.
I truly believe the U.S. can deliver a unique Games experience – one that both advances the global Olympic and Paralympic Movements and builds a meaningful legacy for an American city. We look forward to keeping you updated on the bidding process every step of the way.


Many thanks,
Jon Denney
President, USOPF