U.S. Olympic & Paralympic Foundation News
Denniston ready and willing to support Van Dyken-Rouen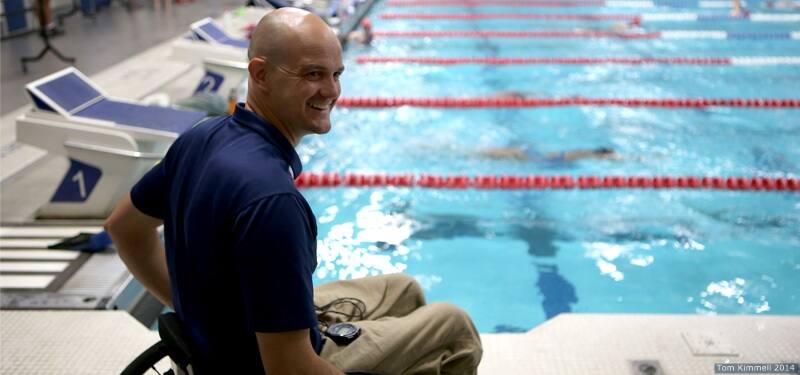 From 1997-98, Dave Denniston and Amy Van Dyken shared a lane as part of the Greenwood Tiger Sharks club swim team in Greenwood Village, Colorado. The longtime family friends pushed each other to work their hardest in the pool – but they'd also crack jokes all the way through practice.
That was after Van Dyken won four gold medals at the Atlanta 1996 Olympic Games but before she won two more at the Sydney 2000 Games. Denniston was just launching a fantastic athletic career of his own, one that saw him win an NCAA title at Auburn University before narrowly missing a spot on the Athens 2004 Olympic Team.
In 2005, however, Denniston's world was rocked. Less than a year after competing at the Olympic Trials, he was involved in a sledding accident that left him paralyzed and unable to walk.
Denniston rediscovered his freedom in the pool, ultimately representing Team USA at the Beijing 2008 Paralympic Games. Now head coach for the U.S. Paralympics Swimming National Team, Denniston has devoted his life to the Paralympic Movement.
"When I broke my back, Amy became extremely supportive of me, helped me out with some fundraising, and was just a friend there for me," Denniston said. "We didn't know the tables were going to turn, obviously, but they did."
When Denniston found out that Van Dyken-Rouen had injured her spinal cord in an ATV accident earlier this year, he was immediately prepared to offer his support. Since the accident, Denniston has spoken frequently with Amy and the Van Dyken family and fielded countless media requests on her behalf.
If Denniston knows one thing about Van Dyken-Rouen, it's that her strong spirit and incredible work ethic will carry her through any challenge that comes her way.
"She has a really funny sense of humor. It helps to be able to laugh at the situation or whatever might come up, and I've already seen that a little bit in her," Denniston said. "And the other part of it is that she really knows how to set goals. Being an Olympic swimmer, winning six gold medals – that doesn't happen by accident. So she'll know how to set the long-term goals, the short-term goals, the daily goals. All those little things will just come second nature to her."
Not only has Denniston experienced something similar to what Amy is going through, but as a head coach for U.S. Paralympics Swimming, he also works with athletes every day who have overcome some sort of disability.
"One of the things I've learned from coaching is that, especially with Paralympic athletes who all have completely different bodies, you've got to throw convention out the window and just try new things that might not make sense anywhere else, but might work for that one athlete," Denniston said. "And I think there will be situations like that for Amy, where it doesn't make any sense, but you've just got try it to see if it might work."
Denniston stressed that while it's not easy to learn a new way of getting around, Van Dyken-Rouen will adjust in time.
"I've figured out that I can do just about anything I want, but it's going to take more time," Denniston said. "Having the patience to go through the procedure, it's one of the more difficult lessons to learn and to accept. I think once you have that willingness to try new things and that patience, you're going to be just fine."
And eventually, Denniston said, Van Dyken-Rouen will discover the world of adaptive sports and find that she can be just as active as she ever was.
The Paralympic Champions Fund, a giving opportunity through the U.S. Olympic and Paralympic Foundation, helps afford athletes like Van Dyken-Rouen the opportunity to experience a variety of sports. The fund provides direct support for Paralympic athletes and programs, including equipment, facilities and services at the United States Olympic Committee's three official Olympic Training Centers.
"The beauty of U.S. Paralympics is that in addition to producing athletes that compete at the Paralympic Games, our bigger mission is to inspire people to get out and try all these sports," Denniston said. "Amy may not become a Paralympian, but she's got an opportunity to try sports besides swimming. Rather than saying, 'Oh, I think I want to try skiing.' Well, a sit-ski can cost $5,000. That's an expensive trial. U.S. Paralympics can provide some of that equipment and those opportunities for any athlete to try it out."
In fact, research shows that individuals with physical disabilities who are physically active have higher self-esteem, lower stress levels and secondary medical conditions, and higher achievement levels in education and employment.
The USOC, in collaboration with its National Governing Bodies and Paralympic Sport Clubs, is focused on building both the capacity and expertise to introduce people with physical disabilities to sports and recreation at the community level. In turn, that investment enhances the USOC's competitive pipeline, providing the opportunity for those who have the talent to pursue Paralympic dreams at the Games.
For Van Dyken-Rouen and thousands of other individuals with physical disabilities – including a large number of wounded military veterans returning from war – adaptive sport remains a vital piece of the rehabilitation process.
Denniston has a feeling that his old lane buddy will find herself back in the pool before long.
"I think she'll fall in love with swimming again, just because of how freeing it is," Denniston said. "You do feel a little bit confined in a wheelchair from time to time, and just being able to get out of it and be comfortable in that environment without relying on any adaptive equipment – it's an amazing experience."