U.S. Olympic & Paralympic Foundation News
Dartanyon Crockett offering hope, warm layers to homeless this winter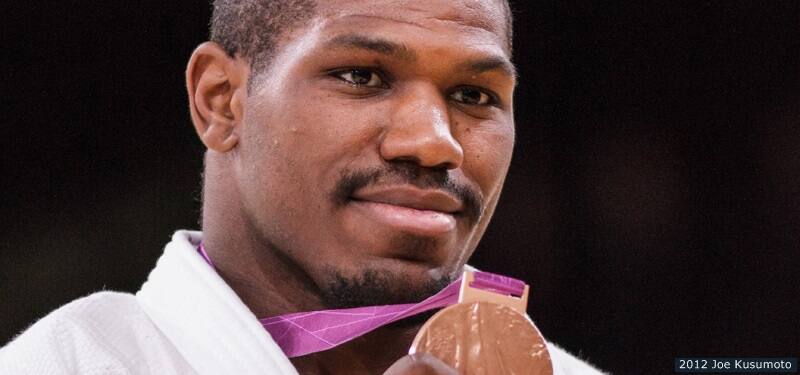 2014 Paralympic judo world champion Dartanyon Crockett is leading a coat drive for the homeless of Colorado Springs this holiday season.
This holiday season, Paralympic judo world champion Dartanyon Crockett isn't just giving thanks – he's also giving back.
For the second straight year, Crockett is leading a coat drive for the homeless in Colorado Springs. A resident athlete at the U.S. Olympic Training Center, Crockett is encouraging athletes and staff at the OTC and the U.S. Olympic Committee's downtown headquarters to donate their unneeded coats and sweaters as the weather turns colder.
In fact, it wasn't too long ago that Crockett himself wondered where he would live from week to week.
The Cleveland native grew up in a home life that was far from stable. His mother passed away when he was just 8 years old, while his father, who is now sober, struggled with drug and alcohol addiction.
Crockett was homeless for periods of time. Sometimes, his only meal of the day was a school cafeteria lunch.
Surrounded by uncertainty, Crockett found his peace on the wrestling mat. Despite being visually impaired due to a condition called Leber's disease, he was a standout on the Lincoln-West High School wrestling team.
All that is truly known about Dartanyon's condition is that he has a vision disorder called Leber's. There are two conditions called Leber's; Leber's Congenital Amaurosis (LCA), which begins at birth, and Leber's Hereditary Optic Neuropathy (LHON), also called Leber's Optic Atrophy, which causes a sudden loss of central vision.
Crockett's close friend Leroy Sutton was also a star wrestler at Lincoln-West who had his share of challenges – Sutton lost both legs in a train accident at age 11.
When ESPN reporter Lisa Fenn found out about Crockett and Sutton's remarkable friendship, she was compelled to tell their story. The resulting 2011 documentary, Carry On, garnered national attention – and led to so much more for the two young men.
Both Crockett and Sutton are now pursuing college degrees. Crockett, meanwhile, discovered a whole new world of sport when he was invited by coaches at the U.S. Olympic Training Center to try Paralympic judo, a combat sport for blind athletes.
Fast forward five years.
Today, Crockett's accolades include a bronze medal in judo at the London 2012 Paralympic Games and a gold medal at the 2014 International Blind Sports Federation Judo World Championships, which were held at the Colorado Springs OTC in September.
After all of that success, Crockett could have left his past behind.
Instead, he chose to use it for good.
As the budding judoka collected more and more team jackets, each one meant for a different competition or podium appearance, he realized he suddenly had more than enough.
"Every winter, I noticed how many coats I had that went to waste or that I ended up getting rid of," Crockett said. "I just thought I could do something better with them."
In 2013, Crockett launched his first coat drive at the OTC.
He set up a cardboard box outside of the training center's dining hall. He spread the word to athletes and staff, asking them to search through their storage.
Simple as that.
"A lot of people want to help, but they don't always know how," Crockett said. "It's simpler than most people think to give back."
Crockett's drive collected more than 115 articles of clothing that year, including coats, shirts and sweaters. He distributed the items personally at the Marian House Soup Kitchen.
"I've always wanted to do something like this, but I never really had the resources or time to put it together," Crockett said. "Now I have the resources and the time, and I can get in contact with more people."
This year, he hopes for increased participation both within and outside of the Olympic family. Crockett is teaming up for the first time with the Springs Rescue Mission, an organization that helps fight poverty in the Pikes Peak region.
The drive has even expanded beyond Colorado. Staff at the USOC's New York office, inspired by Crockett's efforts, are launching a drive of their own.
The coat drive is not the only way Crockett connects with his community. He is a popular choice to speak about perseverance and determination at local grade schools. He also serves as a Paralympic ambassador for the U.S. Department of State Sports Envoy Program, which promotes equality, inclusion and disability rights around the world.
Crockett is currently majoring in social work at Pikes Peak Community College, hoping to one day make a career out of helping others.
A talented athlete and a fierce competitor, Crockett pushes his limits daily in training in order to reach his goals. He has never let fear and uncertainty stand in the way of his dreams, and now he's refusing to let his busy life stop him from giving back.
"It's an incredible feeling," Crockett said. "It's just gratifying, knowing that I am able to affect somebody's life. Even if I'm just giving away a coat or a scarf, or something that most people would see as not that big of a deal. For these people who don't have much of anything, it's priceless."