U.S. Olympic & Paralympic Foundation News
Charlie Huebner awarded with Distinguished Public Service award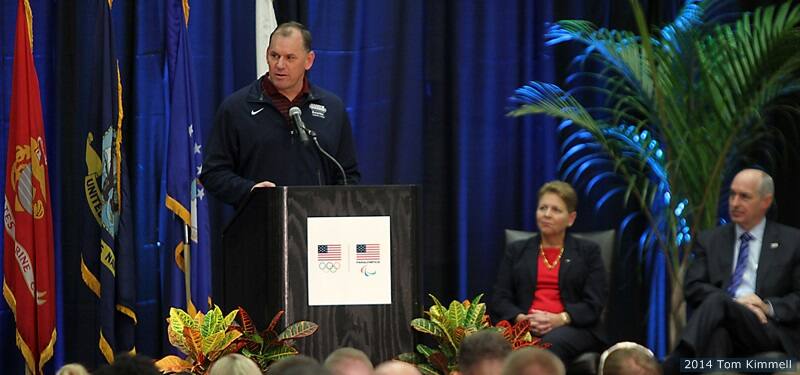 Charlie Huebner speaks at the Opening Ceremony for the 2014 Warrior Games presented by Deloitte.
The son of a retired U.S. Army member, Charlie Huebner began the United States Olympic Committee's Paralympic Military Program with a simple question to a colleague 10 years ago.
Then the chief of U.S. Paralympics, he asked John Register: "What can we do for these veterans who are coming back from Iraq and Afghanistan?"
Soon, Huebner and Register, the U.S. Paralympics associate director for community and military programs, arranged a wheelchair basketball clinic demonstration for veterans. The clinic included coach John Thompson Jr. and the entire Georgetown University men's basketball team. It was the opening act for a world-known program that now includes the annual Warrior Games presented by Deloitte and a long path of wounded, ill and injured military service members and veterans who are now winning medals at the Paralympic Games.
Huebner was honored for his services Saturday by receiving the prestigious Department of Defense Medal for Distinguished Public Service at the Air Force Academy versus Navy football game in Colorado Springs, Colorado. It is the highest honor that a civilian can receive from the U.S. Secretary of Defense.
The awards ceremony Saturday came the day after the fifth annual Warrior Games finished up at the U.S. Olympic Training Center and other Colorado Springs, Colorado, facilities including the U.S. Air Force Academy. The event featured more than 200 wounded, ill and injured service members and veterans competing in seven sports.
Huebner watched the action in his new role as vice president for Paralympic development for the U.S. Olympic and Paralympic Foundation.
"I think he's done incredible things for the Paralympic Movement," said two-time Paralympic gold medalist swimmer Brad Snyder, a retired Navy lieutenant who lost his eyesight while serving in Afghanistan, and now works with Huebner promoting Paralympic sport to military athletes. "One of the things I find most remarkable about him, it's very obvious that he's a true believer and very dedicated to being a service-oriented individual."
"It's obvious from the start, as soon as you meet Charlie, his passion for what he does," said 2008 Paralympic swimmer Melissa Stockwell, a retired U.S. Army first lieutenant who was the first female soldier in U.S. history to lose a limb in active combat. "Anyone that's heard him talk or heard him speak about what he does, the role that he plays for veterans, it's amazing the passion that he has. It's contagious.
"You hear him talk and suddenly you find yourself wanting to do more or wanting to get better, wanting to not only be a better athlete but a better person."
Under Huebner's leadership, the USOC Paralympic Military Program was conceived and implemented. Athletics were used as an instrumental resource and tool in the rehabilitation process for wounded, ill and injured service members. Huebner and his team worked with key military and community leaders to expand the number of athletic opportunities available to service members by leveraging existing programs that didn't require travel across the country to participate.
It's a model that is important to the program today even as the annual Warrior Games grows in popularity as a national event.
"The Warrior Games really is an opportunity to showcase Paralympic sports…," Register said. "But it's really to push back and open a conversation up about those everyday programs in communities. So we're concerned with, what are these service members doing the other 359 days of the year? That's going back to their local communities."
Beginning with that first wheelchair basketball clinic at Walter Reed Hospital, Huebner has been vocal in the Paralympic community by speaking at schools, communities, donor venues and other places.
"Charlie is really the heartbeat," Register said. "You won't ever see him taking credit for anything. He'll always deflect it, push it on to someone else. That's just the way it is, the way I've always seen him to be."
The effect of Huebner stretches back years. Prior to joining the USOC in 2001 as head of U.S. Paralympics when it was first founded, Huebner was executive director of the U.S. Association of Blind Athletes for 10 years. He is co-founder of the Colorado Springs YOT Club, which collects toys for underprivileged children. He serves on the board of directors for The Christopher Ames Matthews Project, The Grace Fund and Pennies for Nicoll.
In addition to helping to start the Warrior Games, Huebner has developed partnerships with military organizations and local and regional community government boards to expand Paralympic and adaptive sports programming. Partnerships at medical facilities have resulted in more than 20,000 service members participating in sports as a part of their rehabilitation process.
"He's very shrewd," Register said. "He knows the direction he wants, and he knows how to make those connections happen."
The success of the Warrior Games served as an inspiration for the United Kingdom to hold its inaugural Invictus Games this year. Snyder is among many service members who credits the Paralympic military program for changing his life following his injury in Afghanistan.
"To be able to participate in sport and succeed was really a great experience for me, it was a great experience for my family and it was a great experience for my community," Snyder said. "That was all enabled by Charlie Huebner's effort to establish the Warrior Games and support it over the last few years."
Stockwell echoed Snyder.
"As a wounded veteran and aspiring elite-level athlete, it was pretty phenomenal to know that there was a program to support veterans like myself," said Stockwell, who is now focusing on paratriathlon, a sport that will debut at the 2016 Paralympic Games. "Veterans who wanted to prove to ourselves and others that losing a limb … wasn't going to stop us."
Snyder now travels across the country with Huebner to speak to groups and inspire others.
"We kind of tag team in sharing that message," Snyder said. "He does a really, really great job of representing our ideals, representing our inspirational message."
The program has grown to the point where the athletes have a strong influence on others as role models.
"They are really doing a great job because they can walk the walk," Register said.
As the Rio de Janeiro 2016 Paralympic Games draw closer, Huebner will see a Paralympic movement that has established strength in numbers and attracted worldwide attention.
"I think we're really at an infection point as far as the Paralympics and the support we get in the U.S.," Snyder said. "I think Rio is going to be really a watershed moment for us. A lot of that is due to the herculean efforts of Charlie Huebner."
Paul D. Bowker has been writing about Olympic sports since 1990 and was Olympic assistant bureau chief for Morris Communications at the Atlanta 1996 Olympic Games. He also writes about Olympic sports for the Springfield (Mass.) Republican. Bowker has written forTeamUSA.org since 2010 as a freelance contributor on behalf of Red Line Editorial, Inc.