U.S. Olympic & Paralympic Foundation News
After birth of first child, wheelchair basketball standout Christina Schwab is back in the swing of things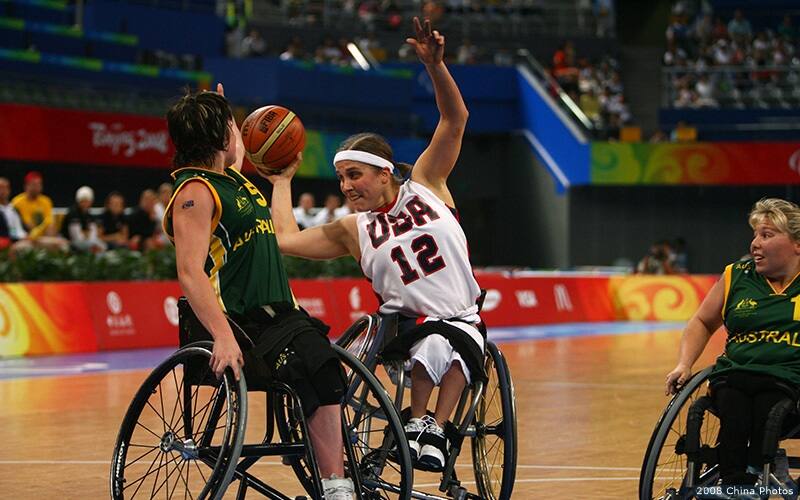 Christina Schwab (then Christina Ripp) in action at the Beijing 2008 Paralympic Games. Schwab is set to represent Team USA at the 2015 Parapan American Games in Toronto, Ontario.
Christina Schwab is no stranger to the pressure of Paralympic competition.
The four-time Paralympian will compete for the U.S. in wheelchair basketball at the 2015 Parapan American Games, set for Aug. 7-15 in Toronto.
The Parapan Ams will mark the 15th year that Schwab has donned the red, white and blue with Team USA. Her career began at the Sydney 2000 Paralympic Games, where she placed fifth as part of the U.S. Women's Wheelchair Basketball Team.
Schwab went on to win back-to-back gold medals with Team USA at the Athens 2004 and Beijing 2008 Games.
The agile athlete then transitioned to the sport of track & field, making the 2012 U.S. Paralympic Team for the women's 400, 800, and 5,000-meters on the track as well as the women's marathon.
After taking a year off to have a child, she is honored to once again wear "USA" across her chest.
"It's an honor. I have been named to a lot of different teams, and this one has meant a little more because I've come back from having a child," Schwab, whose son is now 2 years old, said. "I always feel proud to wear Team USA across my chest. I know our team's goal is to qualify for Rio, and to do that we have to come in the top two. But our main goal is to win."
Despite being a veteran of the sport, Schwab has had to refine her training routine to fit with her new lifestyle.
"My training regimen is a lot different, because I didn't have a child in the past," Schwab said. "I have to be more efficient with my time. I can't mess around at all; if I have a two-hour window for training I have to be in the gym. I have to get it done. I would say that's my biggest difference from the past."
As Schwab has grown and matured over the past fifteen years, so has her role on the women's wheelchair basketball team. A natural leader, Schwab embraces that role now more than ever – especially when working with younger teammates.
At this year's Parapan Am Games, Schwab and her team will look to identify their strengths and pinpoint where they need to improve before the Rio 2016 Paralympic Games.
"It's a stepping-stone for us," Schwab said. "Toronto will show us our strengths and our weaknesses. It will show us anything that we need to work on while moving towards Rio. We have a different team this year – a good front squad and a mix of veterans and young athletes. I think Parapan Ams will show us our strengths that we can build on more than anything."
Schwab asserts that the team travelling to Toronto will be one of the fastest the U.S. has ever fielded, both on defense and in transition. She expects strong competition, especially from defending world champion Canada.
"Our biggest strength is our speed," Schwab said. "We are a fast team. We are so fast. Our transition game should be great and so should our defense, because we're so quick. We also communicate well. Our toughest competition is going to be Canada. They're coming off a world championships win from last summer, but I think we will be ready to face them when we get there."
Coming off of a pre-Toronto team camp at the U.S. Olympic Training Center in Colorado Springs, Schwab is among the long list of athletes to sing the praises of the world-class campus.
"It's awesome to come here and be able to use the facilities, which are top-notch," Schwab said. "Also, the nutrition that we get here is amazing. It's really nice to come here for four or five days and not have to worry about cooking for yourself. There are always nutritious options here, and we also have great places to stay. It has everything we need."
While Schwab said she may one day return to the track, she said she feels more at home in the team-sport atmosphere of wheelchair basketball.
"For now, I prefer wheelchair basketball," Schwab said. "I always wind up going back to basketball. Both sports are completely different, one being an individual sport and the other a team sport. I personally know now from getting to that level in track that I am more of a team-sport athlete. I like to have people around me, and I like to work together collectively with people."

__________________________________________________________________________________________________________
Your support helps fuel athletes like Christina Schwab as they work toward their Olympic and Paralympic dreams each day. By giving to the U.S. Olympic and Paralympic Foundation (USOPF), you can help underwrite many of the United States Olympic Committee's high-performance initiatives, including athlete financial aid and operations at the three official U.S. Olympic Training Centers. Please consider making a gift to the USOPF today.