U.S. Olympic & Paralympic Foundation News
Q & A with Jordan Burroughs, 2012 Olympic gold medalist in wrestling
by U.S. Olympic and Paralympic Foundation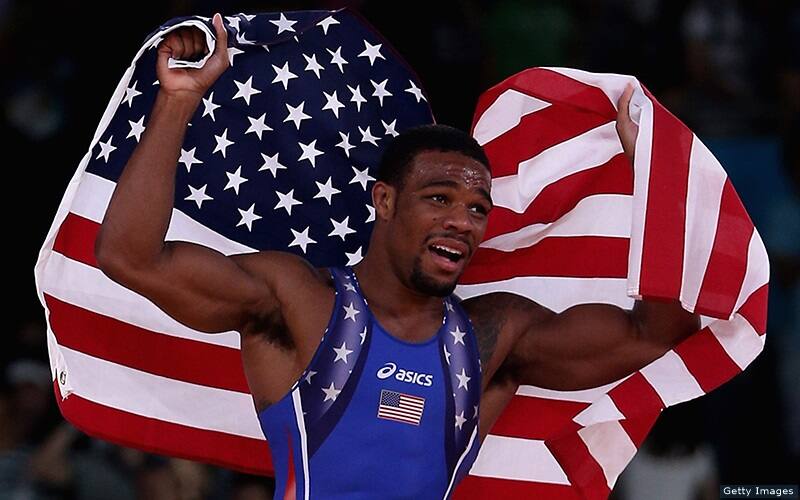 Jordan Burroughs celebrates his gold medal win in the 74-kilogram freestyle wrestling event at the Olympic Games London 2012.
Two-time Olympian Jordan Burroughs has a Twitter handle that has long doubled as his personal mantra: "All I see is gold." After winning two NCAA national wrestling titles at the University of Nebraska, Burroughs took his talents to the world stage in London, where he made good on his mantra by winning gold at the 2012 Olympic Games. Four years later, he finished ninth in Rio, setting up what could be a golden comeback in Tokyo.
During his career, Burroughs has scored myriad victories at the collegiate and senior levels, most recently winning gold at the 2017 World Wrestling Championships in Paris. Now, as a father of two, he reflects on what it means to be a role model and an Olympian — and shares what the support of the Team Behind the Team has meant to him on his Olympic journey. Answers have been lightly edited for clarity and consistency.
What does it mean to be an Olympian, both as a person and an athlete?

I try not to let my occupation define me as an individual. However, knowing that someone is an Olympian speaks volumes about their character. To become an Olympian takes an enormous amount of dedication, focus and a real commitment to excellence. There is an unspoken appreciation all Olympians have for each other. That's what makes the Opening Ceremony of the Olympic Games so special. During the parades, you may not recognize someone or know their accomplishments, but seeing them in that Team USA uniform makes its own statement. They're qualified. Respect.
What support have you received from USOC over the course of your career and how has it helped you in your journey?

The USOC has provided tremendous support on my Olympic journey. The most monumental part of that support is being able to train at the Olympic Training Center in Colorado Springs. Access to this state-of-the-art facility has provided me with the high level of training I need to continue to perform at my best. Funding from the USOC to our national governing body, USA Wrestling, has provided financial support for my family, allowing me to focus full-time on my training while being able to provide for my family. Also, the USOC is host to an extensive network of global sponsors and organizations that athletes can leverage to further our dreams, both on and off the playing field.
What does it mean to have the support of average Americans as you compete?

I come from a small town, and I was raised in a working class family. I am the average American. As a kid, I watched the Olympic Games on TV and could never have imagined that one day I would be not only a participant, but a champion. I am the active representation of every small town athlete with big dreams. Through my hard work and perseverance, I'm able to show that their dreams are possible. Someday, they too can become an Olympic gold medalist. Americans takes great pride in our country and their athletes. Knowing that, my motivation becomes much larger than myself. I represent not only myself, but an entire nation.
What does it mean to you when you see a child looking up to you as a role model?

It's an incredible feeling. In high school, I would practice writing my autograph in my notebook hundreds of times, hoping that one day people would think enough of me to ask for it. It was also during that time that I learned the difference between reputation and character. Your reputation is what people think of you, but your character is who you are when no one is watching. Character defines you. When I finally became a recognizable athlete by accomplishing the goals I had set for myself, I made an emphasis on being an authentic hero. I didn't just want to project the attributes of a hero, but actually live them. I want to lead by example both in words and in action. I want to be the hero my own children can look up to.

What do you do to give back? What does it mean to you to have that kind of a platform?

I have a passion for pouring into the future generations of my sport. I spend a significant amount of time each year touring the country, teaching young wrestlers about how wrestling closely replicates life, and how it's the perfect sport to prepare them for their own journey. I started wrestling at 5 years old, and 25 years later, I'm thankful that this is the sport I chose for life. Wrestling teaches the principles necessary to be successful both on and off the mat. I want to encourage kids to recognize that the character and integrity they will build from their participation in wrestling is valuable. It may not be glamorous, but it's worth it. Having a platform is very beneficial. My accolades demand respect. When someone has already done what you're trying to do, you pay attention. It's good to have them watching and listening.

What do you want donors to know about you and your Olympic journey?

I'd like donors to know how extremely thankful we are. When I began this journey, I had no idea the opportunities that would present themselves to me and my family because of this community. Donors are a very integral piece of our career. Olympic gold medalist wrestler Dave Schultz once said, "If I broke down my medal, and gave a piece of it to everyone who has ever helped me on my journey, each piece would be the size of a speck of dust." That really resonates with me. Whether it was a parent who encouraged me through the years, a coach who helped maximize my potential or a donor deciding to contribute to Team USA, you are all equally important to our success.

What would you say to donors to convince them to support the Team USA Fund and Olympians like you who have a positive impact on society?

Thank you, donors. Truly. Your contributions have made a life-altering impact on countless individuals. Because of you, we are able to focus fully on our dreams of being Olympic champions. And because of our ability to become Olympic champions, we have inspired future generations to achieve their own dreams. The residuals can't be quantified, but the impact is unquestionable. Thank you for allowing me to become someone's hero. Now more than ever, the world needs more of them.
After your collegiate career, all you famously saw was gold. What do you see now?

I still see gold, but now I see much more than gold. I see family. I see an opportunity to compete at the highest level of my sport and the ability to leave a lasting legacy that will have an impact on the Burroughs name for generations — not just for me, but for my children. I've realized in my journey that it's less about what you win and more about who you become. It's not always the victory that matters, but the pursuit. I want my impression to go beyond the wrestling mat, and for anyone who ever meets me or watches me compete to walk away better because of it. I want to embody the true essence of a champion, not just in sport, but in life.