U.S. Olympic & Paralympic Foundation News
Military family promotes impact of Paralympic sport with matching gift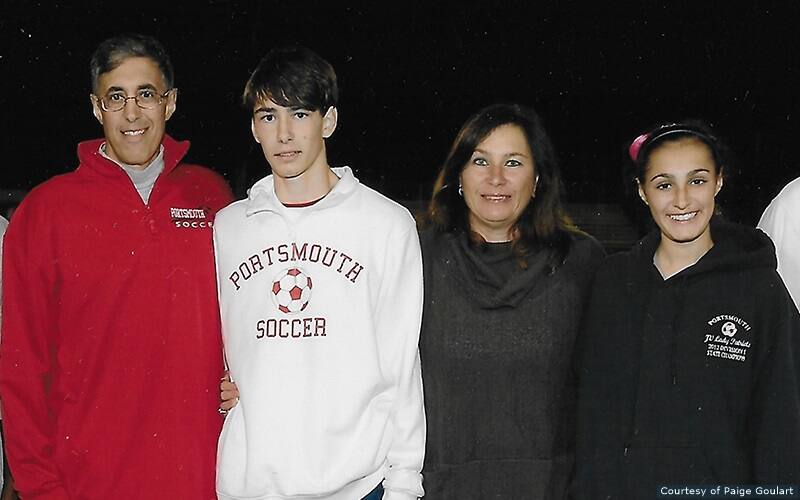 Mark and Paige Goulart pose with their children, Ryan and Meagan, after a varsity soccer game.
At their core, Mark and Paige Goulart of Portsmouth, Rhode Island, are part of a military family.

In the 1980s, Mark followed his father and several uncles by serving in the U.S. Army. Mark's brother also served in the U.S. Navy. Paige is a self-proclaimed "Navy brat," whose father graduated from the U.S. Naval Academy, was a career Naval Officer and now serves as a Blue and Gold Officer for the U.S. Naval Academy.

"I still go to the base to do my banking," Paige says. "Every time I go on to the base … I have this feeling of being home."

Their personal connections to the military are only part of their story. Mark, a principal at Deloitte, has spent over 30 years serving clients in the Department of Defense and the Department of Veteran Affairs. He also leads Deloitte's support to military service members and veterans.

"You just want to make an impact at the end of the day," Mark says.

The Goulart family's impact extends beyond military veterans to include other communities with physical disabilities, too. Mark, Paige and their two children, Ryan, 23, and Meagan, 21, have been regular volunteers with the New England Handicapped Sports Association. The family is also active in sport, with both Ryan and Meagan playing three sports apiece in high school, including varsity soccer.

They soon discovered they could combine their work with military veterans, physically disabled communities and their love for sport by supporting Paralympic athletes and the Paralympic Movement through their philanthropy.

From its inception in 2010 until 2014, Mark led Deliotte's support to the Warrior Games – the annual multi-sport event for injured military personnel now run by the U.S. Department of Defense – with the U.S. Olympic & Paralympic Committee. He and Paige attended the Paralympic Games London 2012, and since then, they've found joy in interacting with the Paralympic athletes they've impacted with their giving.

"We've gotten to know the athletes as people, and that's the best part," Mark says. "[To be able to] look beyond what you see in front of you and realize that they're just the same as you and me."

This Veterans Day, they provided a matching gift in support of Paralympic athletes and programs. Every gift given to the U.S. Olympic & Paralympic Foundation's Veterans Day campaign will be doubled, up to $10,000, thanks to their support.

To them, the gift was an easy decision.

"It wasn't difficult for us to say: 'We're going to up our ante here,'" Paige says.
As a soccer family, they had another compelling reason to get involved with the campaign. The campaign's featured signer, Seth Jahn, won a bronze medal with the Paralympic 7-a-side soccer team in Lima this summer at the Parapan American Games.

The Goularts want their gift to not only increase funding for Paralympic athletes and programs, but to raise awareness about Paralympic sport. They've seen firsthand how sport and physical activity can transform people's lives—especially those recovering from injury, like combat-wounded military veterans. Mark, in particular, works with veterans transitioning out of military service, and he helps them understand how they can use sport to overcome obstacles and achieve success.

"We've done other things on Veterans Day, but given our family connection, it felt like the right fit," says Mark. "Knowing that for us a little bit of effort can make a big impact… that's what's important."

The family hopes their story will inspire others to get involved, whether with local Paralympic sport clubs or with veteran service organizations in their community—or through giving to the U.S. Olympic & Paralympic Foundation in support of Paralympic athletes, many of whom are military veterans.

"I think getting the word out about the athletes and how sport has impacted their lives – and, in many cases, given them purpose – is really what we're hoping to achieve," Paige says. "If it can touch us, and touch a few of our friends, maybe it can touch people we don't know. That's what we'd like to do."Paralympic sport changes the lives of military veterans injured in combat, giving them the chance to represent their country in a new way as members of Team USA. You can help transform lives with a gift to U.S. Paralympics. Give now to help fulfill new dreams.