U.S. Olympic & Paralympic Foundation News
Headed to Pan Ams with Team USA, Norik Vardanian feels right at home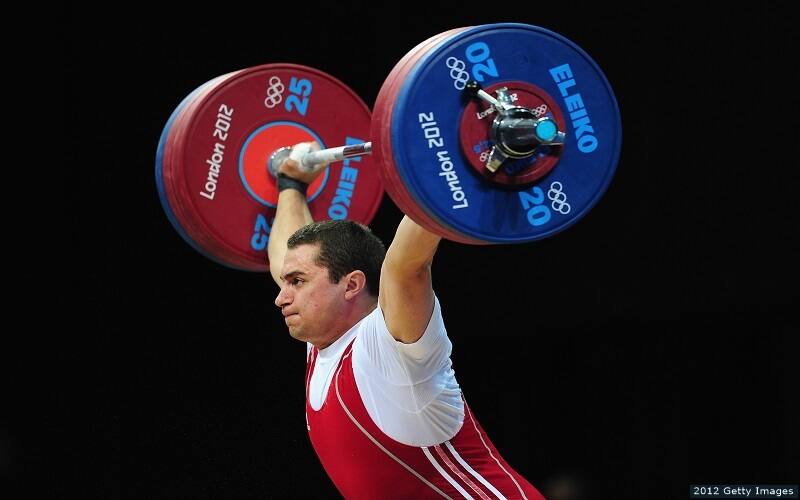 Norik Vardanian competes in weightlifting at the London 2012 Olympic Games, where he represented Armenia. Vardanian will compete for Team USA at the 2015 Pan American Games in Toronto.

Having represented both Armenia and the United States as an elite weightlifter, Norik Vardanian says he feels right at home at the U.S. Olympic Training Center in Colorado Springs.
Vardanian was born in Armenia and competed for that country at the London 2012 Olympic Games, where he placed 11th in his weight class.
But when Vardanian dons the red, white and blue at the 2015 Pan American Games – set for July 10-26 in Toronto, Ontario – it will mark his first time competing for the U.S. internationally since 2009.
"It means a lot to me because this is the first competition, since being back from Armenia, that I fought for a spot and was able to make the four-man U.S. team," Vardanian said. "This helps me out in the lead-up to Rio, because we only have a three-man team for the Olympics. Knowing that I can hang with the top guys helps my mentality, and Pan Ams are really the first step to the Olympic Games."
Now training as a resident athlete at the Colorado Springs OTC, Vardanian said he is much more comfortable with his surroundings and thrilled to compete in Toronto.
"Competing for Team USA means more to me personally just because I grew up here, and I feel like I am more American than I am Armenian," Vardanian said. "I kind of felt a little out of place there. So it's great to come back and make my first international team on my first try, and I'm really excited about it."
Although the U.S. finished last in the weightlifting medal standings at the 2011 Pan American Games in Guadalajara, Vardanian believes the team has made important strides since then. He has high hopes for himself and his teammates in Toronto.
"We all want to win, and I think we all have a good chance of winning," Vardanian said. "As a team we should do very well – we should all medal, at least."
Vardanian grew up around the sport of weightlifting; in fact, his father Yurik is a seven-time world champion and 1980 Olympic gold medalist.
Now surrounded by elite athletes of various sports at the OTC, Vardanian has nothing but great things to say about his training environment. He even asserts that the training center saved his weightlifting career.
"I feel like if I weren't here at the OTC I would not be lifting weights right now. I would have a different job, and I wouldn't want that," Vardanian said. "I would rather lift weights. It means everything to me. Before I came back to America, I called and expressed interest in being a resident, because this is honestly the best place to train. If you want big numbers, this is where you have to come."
The OTC has done more for Vardanian than continue his career. It has also taught him new disciplines, allowed him to take advantage of professional recovery services, and helped him grow as an athlete.
"I'm a lot more aware of stretching post-exercise and things like that," Vardanian said. "I go to the recovery center every day, and it makes a big difference. We didn't have that in Armenia. So I am able to perform at a higher level for more days out of the week."
After the 2015 Pan Am Games, Vardanian has his sights set on Rio. He sees Toronto as the first step toward making the U.S. Olympic Weightlifting Team, and he is looking forward to the opportunity that it presents.
"If we do well in Toronto, then the three spots we have for Rio might go up to four or five," Vardanian said. "That just tells me that I'm right there where I need to be in order to make the Olympic Games, which is the number one goal. I'm really excited about it."
Vardanian believes the USA Weightlifting program has the potential to become one of the best internationally in the coming years. With more financial support than ever and increased interest from American athletes, the sport is on track for success.
"I honestly think we're on a very good path. When I left here in '09, weightlifting was not as popular. We didn't have much funding, but it has gotten a lot better," Vardanian said. "We have many more resident athletes now (at the OTC), and the funding is getting there. I just want to see the continued growth of weightlifting."
Your support helps fuel athletes like Norik Vardanian as they work toward their Olympic and Paralympic dreams each day. By giving to the U.S. Olympic and Paralympic Foundation (USOPF), you can help underwrite many of the United States Olympic Committee's high-performance initiatives, including athlete financial aid and operations at the three official U.S. Olympic Training Centers. Please consider making a gift to the USOPF today.