U.S. Olympic & Paralympic Foundation News
Team USA Endurance runners support America's athletes in unique way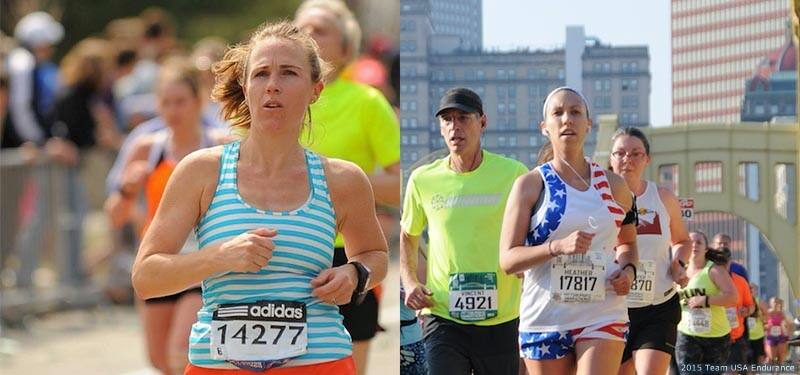 Team USA Endurance members Jennifer Burrows (left) and Heather Fuller are fundraising for Team USA as they train for the 2015 New York Marathon.
Heather Fuller's most memorable Olympic moment happened in a dive bar in Pittsburgh, Pennsylvania.
It was the summer of 2008. Fuller and her friends went out for a beer, and the men's gymnastics final of the Beijing Games happened to be on TV.
"The crowd in the bar was not the typical gymnastics crowd, and Team USA wasn't even expected to medal," Fuller remembers. "As the competition went on, the team was hitting routine after routine and slowly people started to pay attention. By the end, everyone had their eyes glued to the TV while the last American finished on pommel horse."
The U.S. men went on to win the bronze medal in Beijing. The bar crowd, now unlikely gymnastics fans, started chanting, "USA! USA! USA!"
"Sometimes the best Olympic moments are not gold-medal moments," Fuller recalls. "That's what makes the Olympics so special."
Seven years later, Fuller remains an avid Olympic fan. This year, she's taken her support a step further by signing up to run the New York City Marathon with Team USA Endurance.
This unique fundraising platform invites fans to not only support Team USA, but to become a part of Team USA through a premier race experience. Team members pledge to fundraise at least $3,500 each for the U.S. Olympic and Paralympic Foundation throughout their training. In exchange, they are granted entry into the NYC Marathon.
Runners then receive a detailed training plan developed by USA Track & Field coach Andrew Allden, select Team USA apparel and a monthly newsletter with nutrition and injury prevention tips.
All funds raised go to support U.S. Olympians and Paralympians on the road to Rio 2016, Pyeongchang 2018 and beyond. Proceeds strengthen the U.S. Olympic Committee's programming in all areas, from high-performance training camps to coaching seminars to direct athlete financial aid.
"This is my first full marathon, so I'm really just excited to be a part of it and to cross the finish line," Fuller says. "I'm also excited to work toward our fundraising goal. With the Rio 2016 Olympic and Paralympic Games less than a year away, there are many athletes who need our support. That will definitely be my motivation!"
Fellow Team USA Endurance member Jennifer Burrows has completed 16 marathons since 1999. Still, she expects the 2015 NYC Marathon to be a new experience since she will be racing for reasons beyond herself.
"Helping to support the next generation of U.S. athletes is truly an honor," Burrows says. "Every athlete needs our support!"
Wheelchair racer Tatyana McFadden, an 11-time Paralympic medalist and three-time winner of the NYC Marathon's wheelchair division, is captaining Team USA Endurance for the third straight year.
In this role, Tatyana provides training tips, guidance and encouragement to the runners in the lead-up to the race. She will meet with the team on race weekend for a pep rally, tune-up run and last-minute words of wisdom.
Then on race day, the star Paralympian will go for her fourth NYC Marathon title, while the members of Team USA Endurance hit the pavement for a challenge of their own.
McFadden knows the value of programs like Team USA Endurance – and in fact, she believes the generosity of American fans is more important now than ever. While the U.S. Olympic Committee relies fully on sponsors and donors, the governments of its top competitors are steadily increasing the financial support they provide to Olympic and Paralympic programs.
"Because the USOC is a nonprofit organization, we are not funded by the government," McFadden explains. "In order for athletes like me to continue to do what we do, it takes a lot of money – for equipment, lodging and travel, all those expenses."
Last year, 25 members of Team USA Endurance combined to raise nearly $100,000. That's enough to fund two full years of residency for an athlete at a U.S. Olympic Training Center, fly 100 athletes to an international competition or even cover the cost of 4,000 sports medicine massages.
When the runners of Team USA Endurance toe the line in New York on Oct. 30, they will have 26.2 miles of challenges ahead – but the difference they are making for America's athletes will be worth every step.