U.S. Olympic & Paralympic Foundation News
Tokyo Tips: Ginza
by U.S. Olympic and Paralympic Foundation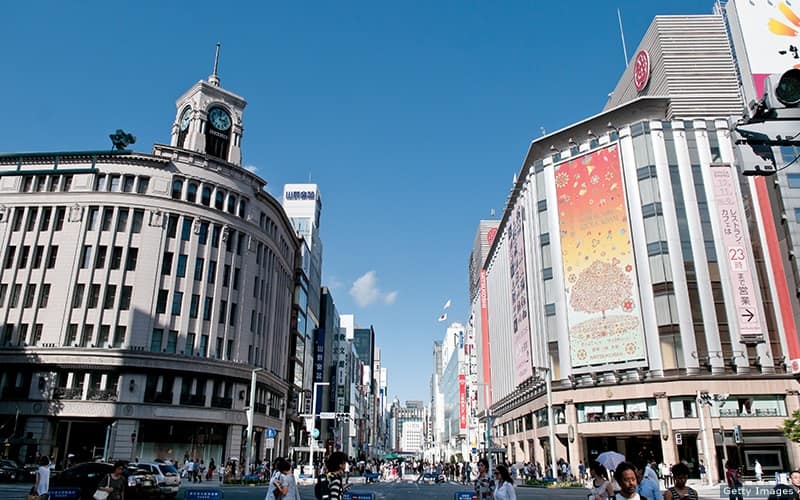 Tokyo Tips is a content series designed to help you make the most out of your time in Tokyo, before, during and after the Olympic Games. With less than two years to go before the Opening Ceremony, Tokyo Tips will deliver a new recommendation each month so you can fill your itinerary with some of the most exciting attractions the city has to offer. Get up to speed on shopping in Tokyo with our primer on the Ginza district.

Fifth Avenue in New York, Oxford Street in London: Each international city has its own unique shopping district that stands out over the rest. In Tokyo, it's Ginza, which blends high fashion and department store luxury with local boutiques and Michelin-starred restaurants — more than any other district in Tokyo.

Ginza rose from humble beginnings. Its foundations were laid upon a former swamp, filled in during the 16th century, and nearly all of it burned down in 1872. This prompted the city of Tokyo to designate Ginza as a "model of modernization," and officials hired Irish-born Thomas Waters to create architectural plans for the area. What arose was a Western-style shopping district that failed to impress locals or foreign tourists until newspapers and magazines declared it trendy.

Ginza's popularity soared in the 20th century as the district evolved beyond its Westernized landscape. Today, it's home to the Ginza Wako and the Mitsukoshi, more traditional department stores peddling jewelry and fine goods, as well as places like the Ginza Six and Marronnier Gate, which house local boutiques and businesses that cater to a broad spectrum of hobbies and interests. There's even nine floors of art and stationery supplies at Itoya, a Japanese craft brand.

The district of Ginza is located in Chūō, Tokyo's second-smallest special ward and one of the main commercial centers of Tokyo proper. Ginza is near the Olympic venues within the Tokyo Bay Zone and sits about five miles from the new Japan National Stadium.

To learn more about the USOPF's philanthropic giving levels that allow you to reserve your spot at the Tokyo Games, please email foundation@usoc.org.