U.S. Olympic & Paralympic Foundation News
Capture the Olympic Spirit: An Evening to Remember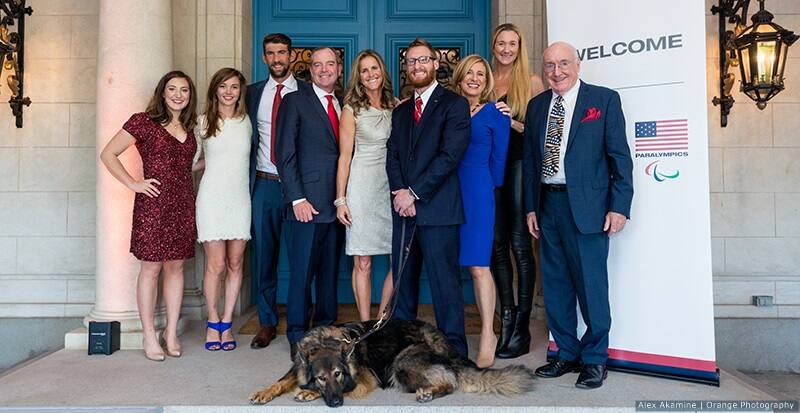 U.S. Olympic and Paralympic champions Kaitlyn Farrington, Michael Phelps, Brandi Chastain and Kerri Walsh Jennings pose with members of the host committee at the Carolands Chateau in Hillsborough, California.
For years, Lynda and John Marren have furthered the success of Team USA through leadership, insight and personal financial investment as board members of the U.S. Olympic and Paralympic Foundation.
This past fall, however, the Marrens wanted to make an even bigger difference.
"Contributing financially is just one way of showing support," Lynda Marren said. "We are honored to be a part of the USOPF Board in a creative and community-oriented capacity as well."
In October, the Marrens led the planning and hosting of a celebration of Team USA entitled Capture the Olympic Spirit. The event brought together USOPF leadership and guests at the beautiful and historic Carolands Chateau in Hillsborough, California.
With U.S. Olympic and Paralympic champions Michael Phelps, Brandi Chastain, Kerri Walsh Jennings, Kaitlyn Farrington and Bradley Snyder in attendance, guests were truly in the presence of sporting legends.
A host committee of USOPF board members and trustees – including the Marrens, Gayla and Kevin Compton, Dona and Gordy Crawford, Marcia and John Goldman, Tracy and Greg Johnson, Michael Meldman, and Amy and Geoff Yang – collaborated to make the event possible.
Jeremy Bloom, a two-time U.S. Olympian in freestyle skiing and former NFL wide receiver, was also a member of the host committee.
"We have attended two Olympic Games as part of the USOPF's hospitality program – Vancouver in 2010 and London in 2012," Marren explained of her motivation for hosting the event. "Our Olympic experiences showed us firsthand what athletes can accomplish with commitment, motivation and resilience.
"Hosting this event gave us the opportunity to raise money for our hardworking U.S. Olympic and Paralympic athletes while introducing others in our community to the hospitality program, as well as the five U.S. gold medalists and their inspiring stories."
The evening began with a cocktail hour highlighted by demonstrations from members of the U.S. National Table Tennis Team.
"Our gold medalists were scheduled to be taking photos with guests, but the table tennis players were too much of a draw! Soon, Brandi Chastain and others were saying, 'Hold it – I can take you on!'" Marren said. "The best thing about most Olympians is that they're as intense when they unwind as they are when they compete, so you get the best of both worlds."
As guests took their seats, the featured athletes – Chastain, Farrington, Phelps, Snyder and Walsh Jennings – shared anecdotes with the crowd in a question-and-answer panel.
"One standout moment of our athlete panel was when three-time gold medalist Kerri Walsh Jennings explained how she juggles the all-consuming and important tasks required to be an engaged mom, including planning play dates and making mac and cheese, all while training, winning gold medals and traveling to back-to-back Olympics," Marren said. "Another was Brandi Chastain explaining what it was like to be asked to kick the 1999 World Cup final penalty kick in front of 90,000 people in the stadium and all the fans watching on TV."
While guests were moved by the words of each of the Olympic legends, it was Paralympic swimmer Bradley Snyder who truly left attendees in awe.
Snyder, a retired Navy lieutenant, lost his vision after stepping on an improvised explosive device (IED) while serving in Afghanistan. A year to the date of the accident that took his eyesight, Snyder won a gold medal in the 400-meter freestyle at the London 2012 Paralympic Games.
"Brad Snyder's talk left everyone in the room with chills up their spines and tears streaming down their faces," Marren said. "A year after Brad was airlifted to safety, he went on to compete in the Paralympic Games as a blind swimmer – in part to thank the U.S. medics and naval officers who saved and supported him. Just incredible."
A highlight of the evening was a live auction in which guests had the opportunity to bid on unique experiences with athletes – including a day of snowboarding with halfpipe gold medalist Kaitlyn Farrington, a golf outing with swimming legend Michael Phelps, and cooking lessons with soccer star Brandi Chastain.
The premier auction item – a Rio 2016 Olympic Games hospitality package for two – offered the rare opportunity to travel to the Games this summer as a VIP guest of the foundation. Two families took advantage of this opportunity, and will be headed to Rio as part of the U.S. delegation in August.
In total, Capture the Olympic Spirit raised $800,000 for Team USA, exceeding the event's initial fundraising goal by more than 50 percent. Those funds will be put to work immediately to prepare U.S. athletes for the Rio 2016 Games.
Just as importantly, the gathering helped build a loyal community and lasting base of support for U.S. Olympians, Paralympians and hopefuls. Many guests were introduced to the work of the USOPF for the first time, and others were touched by Team USA's spirit in a more meaningful way than ever before.
"We experienced firsthand, when our daughter Kelly was on the U.S. Snowboard Team, how much commitment and support it takes to be an Olympic athlete," Marren said. "We hope our small efforts will help support gifted athletes in their goals of being a part of the delegation representing the U.S. at the 2016 Games in Brazil."