U.S. Olympic & Paralympic Foundation News
74 wins, 1 loss: Boxer Claressa Shields has big goals for Rio 2016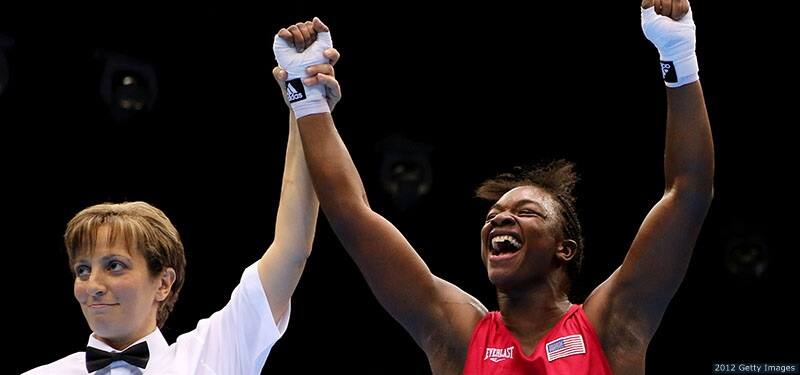 Claressa Shields is announced the winner of the women's middleweight final bout at the London 2012 Olympic Games.
Telling Claressa Shields she can't do something is the best way to guarantee she will do it.
Shields is the first-ever female Olympic boxing champion, earning that title as a 17-year-old when the sport debuted for women at the London 2012 Games.
A native of Flint, Michigan, Shields had her first taste of boxing at age 11. Speaking with her dad after he was released from seven years in prison, she asked what he was passionate about before his sentence.
He talked about boxing. He talked about the legendary Muhammad Ali, and how Ali's daughter Laila went on to become a professional boxer herself.
"He would talk about how Muhammad Ali had sons, but it was his daughter Laila who took after him," Shields remembered. "And when he said that, I thought he was telling me he wanted me to take after him, since my dad used to be a boxer also."
But when Shields asked him the next day to be signed up for boxing classes, his reaction wasn't quite what she'd expected.
"He said no," Shields said. "He said, 'You're too pretty to box,' and that boxing was a man's sport. I said, 'That's the dumbest reason you could ever give me.'
I went to the gym about five days later, and my dad signed me up."
So there she was – an 11-year-old girl, practicing alongside the boys. Refusing to let them treat her any differently. Proving the doubters wrong.
Shields didn't have an easy path to athletic success. Her mother struggled with drug and alcohol abuse throughout her childhood, and contact with her father was on-and-off. Often, she was unsure where her next meal would come from – or whether or not she would have a bed to sleep in from night to night.
Boxing was her outlet. A space for her to feel empowered.
"It was this atmosphere I had never encountered before," Shields said. "From day one when my coach started teaching me, I was attentive, I listened, I was learning. He always pushed me past my limits – I thought my arms were going to fall off."
As Shields got stronger and started climbing the ranks to national-level competition, boxing became a pathway to a brighter future.
She started to understand her potential when at 15, she boxed against the world No. 2 in a heavier weight class – and won.
"There was a 20-pound weight difference. She was taller than me, her arms were bigger than mine," Shields said. "I thought, for her to be No. 2 in the world, I've got to be No. 1. That was when I knew I could be an Olympic gold medalist at age 17."
With here eye on the Olympic Games, Shields moved in with her trainer and his family – a change that added some stability to her life outside the gym. Then in the home stretch before London, she was invited out to Colorado Springs to hone her skills at the U.S. Olympic Training Center.
The London Games were a huge success. Shields went undefeated throughout the tournament, winning decisively against Russia's Nadezda Torlopova in the gold-medal bout.
And suddenly, she had made history.
"I gave up a lot of my childhood for boxing, sacrificed being with my family," Shields said. "I put in all that hard work and all that time, so to actually come out and accomplish my dream was something huge to me. I always wanted to be the first woman to win a gold medal."
She was a senior at Flint Northwestern High School at the time of her Olympic success – and later that year, she became the first member of her family to graduate from high school.
Shields' career record is now a phenomenal 74-1, her lone loss coming at the 2012 World Championships before the London Games.
In Rio, she has the chance to become the first-ever back-to-back Olympic boxing champion for the United States – male or female.
"Everyone was telling me after London that Rio was going to be harder, but I just haven't seen it yet," Shields said. "I've been really focused. I've been training, and I've been able to glide through these tournaments."
For the past year, Shields has been back at the Colorado Springs Olympic Training Center. There, she said, the environment is all about sport performance.
"At the Olympic Training Center, I'm a priority," Shields said. "They cook every day – breakfast, lunch and dinner. If I have any injuries, in two minutes I can get over to sports med. There's a doctor there, a masseuse there. They make sure you have the best medicine, your body's not sore, and you're not overtraining. All I have to worry about is boxing, training and sleeping."
Should she win gold in Rio, Shields hopes she can manage what she couldn't quite after London – giving her family the opportunity to move out of Flint. She thought she would end up with numerous sponsorships and endorsements after her historic win, but most of those only came her way recently in the lead-up to Rio.
With more exposure now and a second Olympic appearance around the corner, she takes her position as a role model seriously.
"I think I set an example for the younger kids in Flint that look up to me, and kids from all over," Shields said. "I just let them know that even though you come from a bad background, look how far you can actually go. Don't be afraid to be different – everybody's not going to agree with what you're doing.
To this day, I have an Olympic gold medal, two world championships and all types of international wins – and there are still people in this world who say I box well, but women shouldn't be in the ring. There's always going to be someone, but you have to block that out. Whatever you put your full effort and passion into; it's going to work out. And when you love what you're doing, the job is easy."
The women's middleweight competition, in which Shields is the defending Olympic champion, will begin August 14 at Riocentro – Pavilion 6 in Barra Olympic Park.