U.S. Olympic & Paralympic Foundation News
Highlighting roles that women in STEM play in Olympic and Paralympic sport, NBC launches series in collaboration with Lyda Hill Philanthropies
by U.S. Olympic & Paralympic Foundation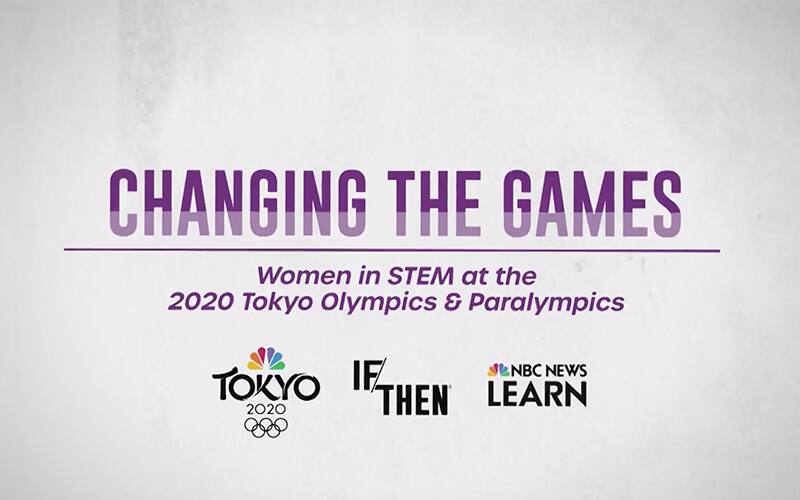 Today, NBC News Learn, the education division of NBC News, and NBC Sports launched "Changing the Games: Women in STEM at the 2020 Tokyo Olympics & Paralympics," an original video series showcasing the female Science, Technology, Engineering, and Math (STEM) professionals behind the Olympic and Paralympic athletes. The series is sponsored by Lyda Hill Philanthropies as part of their IF/THEN® initiative aimed at inspiring more young women and girls to pursue STEM careers. The series release comes during Women's History Month, and in the same week as the Olympic torch lighting in Greece on March 12.


Narrated by NBC Sports Host and Anchor Kathryn Tappen, the 10-part series explores key areas in STEM and takes viewers behind the scenes as United States Olympic & Paralympic Committee (USOPC) staff members and others help athletes prepare for the 2020 Tokyo Olympic Games, beginning July 24, and Paralympic Games, beginning August 25. Each video features a female STEM professional and Olympic and Paralympic athletes from a variety of sports talking about the integral role that STEM plays in their respective sports. Viewers will learn about topics ranging from the science behind preparing for the heat and humidity in Tokyo to the role that math and statistics play in beach volleyball to how psychology and mindfulness are incorporated into paratriathlete Hailey Danz's training.


The following Olympic and Paralympic athletes and STEM professionals are featured in the series:


1. "Volleyball Stats & Analytics"— April Ross and Alix Klineman, USA Beach Volleyball; Jennifer Kessy, Coach, USA Beach Volleyball

2. "Growth & Impact"—David Boudia, USA Diving; Katrina Young, USA Diving; Susie Parker-Simmons, Senior Sports Dietician, U.S. Olympic & Paralympic Committee

3. "Injury Prevention"— Adeline Gray, USA Wrestling; Sarah Wilson, Research Engineer, Steadman Philippon Research Institute

4. "Strength & Conditioning"— Katie Ledecky, USA Swimming; Haley Anderson, USA Swimming; Amanda Fleece, Senior Strength & Conditioning Coach, U.S. Olympic & Paralympic Committee

5. "Biomechanics & Prosthetics"— Allysa Seely, Paratriathlon; Dr. Amber Donaldson, Senior Director, Sports Medicine Clinics, U.S. Olympic & Paralympic Committee

6. "Brain Stimulation"— Riley McCusker, USA Gymnastics; Christian Taylor, USA Track & Field; Katrina Young, USA Diving; Vincent Hancock, USA Shooting; Dr. Lindsay Shaw, Sr. Sports Psychophysiologist, U.S. Olympic & Paralympic Committee

7. "Track & Field's Doctor"— Brittney Reese, USA Track & Field; Dr. Monique Burton, Physician, USA Track & Field

8. "Heat & Humidity"— Jennifer Valente, USA Cycling; Lindsay Golich, Exercise Physiologist, U.S. Olympic & Paralympic Committee

9. "Keeping USA Soccer Healthy"— Julie Ertz, USA Soccer; Megan Rapinoe, USA Soccer; Crystal Dunn, USA Soccer; Kelley O'Hara, USA Soccer; Dr. Monica Rho, Team Physician, U.S. Women's National Soccer Team

10. "The Power of Mindfulness"— Hailey Danz, Paratriathlon; Dr. Sara Mitchell, Sport Psychologist, U.S. Olympic & Paralympic Committee


"The 'Changing the Games' series combines the journalism of NBC News with the important message of Lyda Hill Philanthropies' IF/THEN initiative during Women's History Month—a celebratory time for women across the globe," said Soraya Gage, General Manager of NBC News Learn and VP of Education, NBC News. "It depicts a unique narrative that amplifies the voices of women in STEM and empowers the next generation to pursue STEM careers."


"The Olympics capture the imaginations of fans of all ages. We are especially excited to partner with NBC News Learn, the USOPC and Lyda Hill Philanthropies to inspire young women interested in STEM careers by building connections to Olympic sports through the many dedicated women – both athletes and the professionals who support them in so many ways – who power Team USA to such great success," says Joe Gesue, Senior Vice President, Olympics and Executive Editor, NBC Sports Group.


"STEM is everywhere and Changing the Games spotlights female STEM professionals who represent the science behind the sport, helping these incredible Olympic and Paralympic athletes succeed," said Nicole Small, CEO of Lyda Hill Philanthropies and co-founder of the IF/THEN® Initiative. "We deeply believe that, 'IF she can see it, THEN she can be it,' and while not everyone can be an Olympian, this series presents a window into the many STEM career opportunities in sports for young women."


The series will be released on NBC News Learn's K-12 and Higher Education platforms, which reach millions of students and teachers around the country, and will also be available to the public on NBCNewsLearn.com. Each video segment aligns with state and national learning standards. Viewers can learn more about the series and join the discussion by following @NBCNewsLearn on Facebook and Twitter.
Lyda Hill is a donor to the U.S. Olympic & Paralympic Foundation and generously funded this series through her charitable organization, Lyda Hill Philanthropies. For more information on how to get involved with the USOPF, please contact foundation@usopc.org.