U.S. Olympic & Paralympic Foundation News
"Girl on Fire" Mackenzie Brown aiming for the podium in Rio as Team USA's sole female archer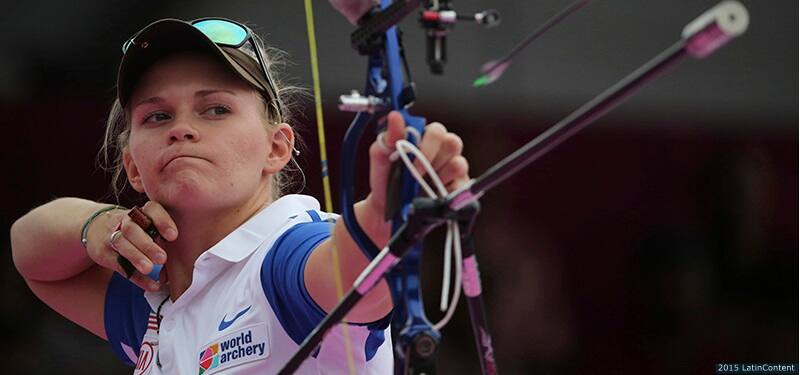 Mackenzie Brown, shown competing at the 2015 Archery World Cup Finals, will be Team USA's sole female archer at the 2016 Olympic Games.
Archer Mackenzie Brown may have let her nerves get the best of her in 2012.
Brown made her Olympic Trials debut at age 16, finishing in the top-16 but narrowly missing a spot on Team USA for the London 2012 Olympic Games.
Fairly new to international competition, Brown couldn't quite contend with four-time Olympian Khatuna Lorig, two-time Pan American champion Jennifer Nichols or 2011 Pan Am silver medalist Miranda Leek.
Still, coming so close to the status of "Olympian" resonated with Brown. A former competitive swimmer, she had harbored Olympic dreams for much of her life.
She wasn't about to settle for "almost".
After the London Games, Brown was invited to join the residency program at the U.S. Olympic Training Center in Chula Vista, California. There, she honed her skills alongside fellow national team members and elite coach Kisik Lee.
So when the 2016 U.S. Olympic Team Trials – Archery approached, Brown was prepared to fight for that ticket to Rio.
"I focused on what I had done in training and managed my mind to the best of my abilities," Brown said. "Archery is a very mentally taxing sport, and it's important to have a strong mental game. I have been training full time to reach the level I needed to in order to earn a spot on this team."
The Trials for archery were split into three phases. The first, held in September in College Station, Texas, narrowed the field to the top 16. In April, the field was further cut to eight at a shoot in Chula Vista. Then in late May in Newberry, Florida, the top-three men and top-three women were determined.
For Brady Ellison, Zachary Garrett and Jake Kaminski, Trials were the last stop on the road to Rio – all three men were named to the team. But for the women, who had not yet qualified an international quota in the team event, only the first-place finisher – Brown – was safe on Team USA.
This time, it was the newbie outperforming the legends – notably Lorig, for whom Rio would have marked a sixth Olympic Games.
"I gained a lot of perspective during my first Olympic Trials, and I think that helped quite a bit this go-around," Brown reflected. "I had a better understanding of what it takes to be one of the best, and what I needed to do to train harder and smarter."
The second and third-place finishers from Trials, Hye Youn Park and Lorig, could only qualify if the U.S. team finished top-three at a June world cup event in Antalya, Turkey.
The Antalya shoot didn't go as planned, however, and the U.S. women lost in the quarterfinals.
Thus, Brown is the lone female archer who will compete for Team USA at the 2016 Games. Disappointed not to have her teammates by her side, Brown is nevertheless thrilled to be making her Olympic debut.
"It's an exciting culmination of emotions – making the team means more to me than I can put into words," Brown said. "It makes all the sacrifices my family and I have made to get here worth it, and I am so honored to represent the U.S. in Rio."
Nicknamed the "Girl on Fire," the 21-year-old has high hopes for her performance in Rio. She was a standout on the youth circuit as a teenager, finishing fifth at the World Archery Youth Championships in 2013.
A product of USA Archery's Junior Olympic Archery Development Club, Brown has steadily improved throughout her career. In her last shoot as a youth archer, the 2015 World Archery Youth Championships, she came away with individual silver.
After being named as an alternate for both the senior-level 2015 World Archery Championships and the 2015 Pan American Games, Brown rose to the occasion at the Aquece Rio tournament (also known as the Rio test event) last September.
There, on a challenging, hot and windy day, Brown took home bronze – the only American woman to win a medal.
"My goal is the podium," Brown said of her plans for Rio 2016. "I shot really well in the Olympic Test Event, and I feel very confident that I can do the same or better in Rio."
Brown begins competition in Rio on August 5 at the Sambódromo stadium, located within the Games' Maracanã Zone.