U.S. Olympic & Paralympic Foundation News
U.S. Olympic and Paralympic Foundation leverages $1 million lead gift from Anthony R. Abraham Foundation to establish Paralympic Fund
by U.S. Olympic and Paralympic Foundation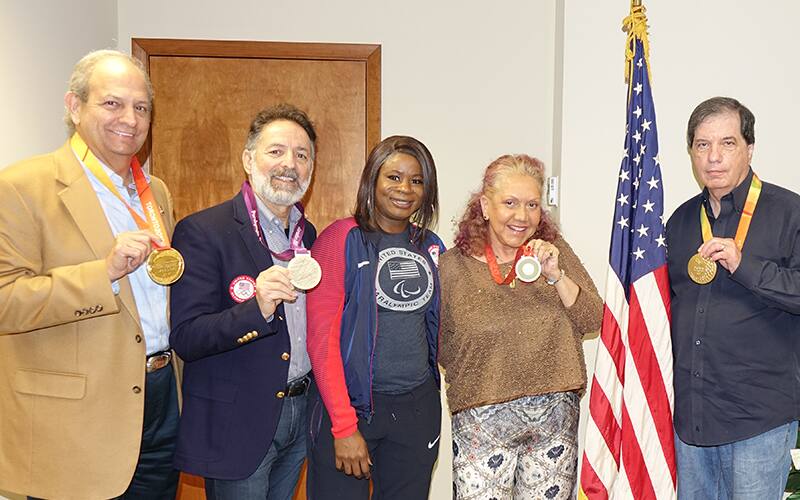 Thomas Abraham (second from left) poses with other members of the Abraham family alongside Paralympian Kari Miller.
The U.S. Olympic and Paralympic Foundation today announced the launch of a new Paralympic Working Group and Paralympic Fund underwritten in part by a $1 million lead matching gift from the Anthony R. Abraham Foundation, based in Coral Gables, Florida.

The USOPF's newly formed working group will assist in creating Paralympic gift opportunities and identifying new donors to support the fund.

The fund will aim to generate philanthropic resources for U.S. Paralympic programs, specifically focusing on youth and military participation, as well as targeted Paralympic-awareness campaigns.

"Paralympic sport is about far more than athletic performance every two years at the Paralympic Games: Creating opportunities for Americans with Paralympic-eligible impairments to participate in physical activity significantly improves their quality of life," said Jim Benson, USOPF board member and chairperson of the working group. "This passionate group of donors and the Paralympic Fund will help us expand programming and, via awareness campaigns, reach all those parents and family members of those with physical disabilities who don't know about the importance and impact of Paralympic sport."

"The USOC is committed to elevating the level of services we provide to Paralympic athletes and hopefuls, and the Paralympic Fund will make that possible," said Julie Dussliere, chief of Paralympic sport. "We are grateful to Thomas Abraham and the Anthony R. Abraham Foundation for their dedication to Team USA athletes and the values they represent."

The Anthony R. Abraham Foundation's lead gift was spearheaded by USOPF Trustee Thomas Abraham, who joined the Trustee Council in 2017. Mr. Abraham is a longtime advocate for Paralympic sport. He intends for the gift to drive pipeline development and awareness of Paralympic programs both locally, in his home community of South Florida, and nationally.

Additionally, the Anthony R. Abraham Foundation aims to inspire donors at all levels to match its initial $1 million contribution; so far, donors to the USOPF have contributed more than $600,000 toward the effort.

"By supporting Paralympic sports, the Anthony R. Abraham Foundation has fulfilled one of its mission statements by being a part of making a difference in [Paralympic athletes'] lives," Abraham said. "Through Paralympic sport, a whole new door of opportunity opens to those who weren't presented with other avenues to improve their well-being."

The USOPF Paralympic Working Group consists of the following members:
• Jim Benson, USOPF board member and chair of the Paralympic Working Group
• Thomas Abraham, USOPF trustee
• Nomi Bergman, USOPF donor
• Flip Corboy, USOPF board member
• Joan Criswell, USOPF board member
• Dan and Liz Huber, USOPF donors
• Rusty and Alyson Kennedy, USOPF donors
• Vadim Nikitine, USOPF trustee
• Steve Raymond, USOPF trustee

To learn more about the Paralympic Fund, please contact foundation@usoc.org. To make a Paralympic-specific gift to the fund, please click here.