U.S. Olympic & Paralympic Foundation News
Excitement, energy high at U.S. Olympic & Paralympic Foundation's 2019 Annual Meeting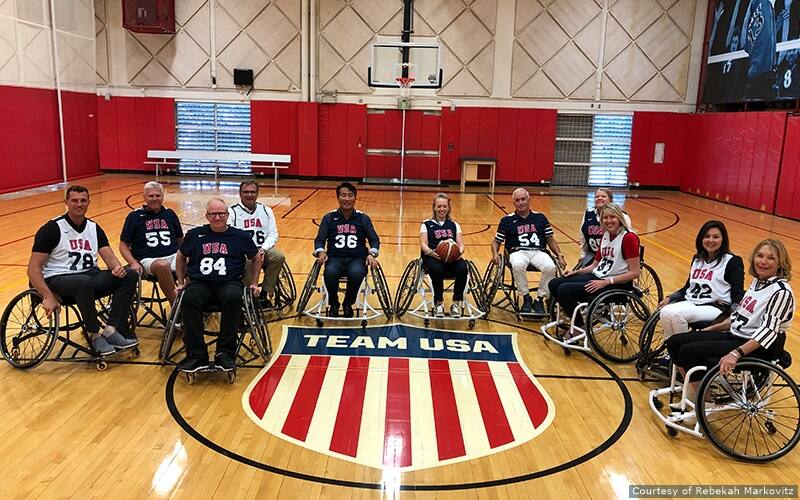 USOPF board members and trustees try wheelchair basketball at the Colorado Springs Olympic & Paralympic Training Center.
Nearly 60 of Team USA's top philanthropic supporters descended on Colorado Springs, Colorado, from Sept. 17-18 for the U.S. Olympic & Paralympic Foundation's 2019 Annual Meeting. It was the largest gathering of foundation leadership since its inception in 2013.

Featuring U.S. Women's National Team star and two-time FIFA Women's World Cup champion Ali Krieger, the annual meeting was themed around Team USA's journey to the Olympic and Paralympic Games Tokyo 2020.

The agenda included meetings of the Executive Committee, the Paralympic Working Group and the Technology and Innovation Advisory Group in addition to the annual meeting, which included USOPF board members and trustees in attendance as well as those on the phone.

"We are incredibly grateful for the leadership and support this group has offered us, whether they were founding members or joined just a few months ago," said Paul Florence, USOPF senior vice president of strategy and operations. "We were especially excited to have Ali in attendance at our annual meeting to speak about her experiences and the impact of support from the Team Behind the Team."

In addition to the week's meetings, on Tuesday, board members and trustees had the option of participating in a hard-hat tour of the U.S. Olympic & Paralympic Museum and participating in a reception at the Colorado Springs Velodrome, where Team USA's para-cycling resident program trains.

There, they met cyclists Jason Macom, Chris Murphy and Justin Widhalm and had the opportunity to "race" against the athletes on watt bikes.

Wednesday began with activities at the Olympic & Paralympic Training Center, including a virtual reality demonstration, a competitive wheelchair basketball match and small-group sessions of strategic planning. At lunch, donors interacted with para snowboarders Brittani Coury and Noah Elliott, boxer Amelia Moore and gymnast Eddie Penev.

The annual meeting was held from 1-4 p.m. on Wednesday afternoon, followed by a Tokyo-themed barbeque, with taiko drummers and a Japanese-inspired menu. At the reception were Ali Krieger, para alpine skier Tyler Carter, modern pentathlete Amro El-Geziry, triathlete Hunter Kemper, para-cyclist Brandon Lyons, paratriathlete Allysa Seely, para judoka Ricky Ties and javelin thrower Kara Winger.

During the two-day event, 17 new trustees also attended an orientation with Gordy Crawford, chairman of the board, and Florence. The USOPF is supported by 87 trustee families, in addition to 57 individuals and families on the board of directors.

"Our board members and trustees are critical in providing Team USA athletes with the best resources available, and their engagement and enthusiasm is so appreciated on the road to Tokyo 2020," Florence said.

For more information on the annual meeting or the foundation, please email foundation@usopc.org.